Whippet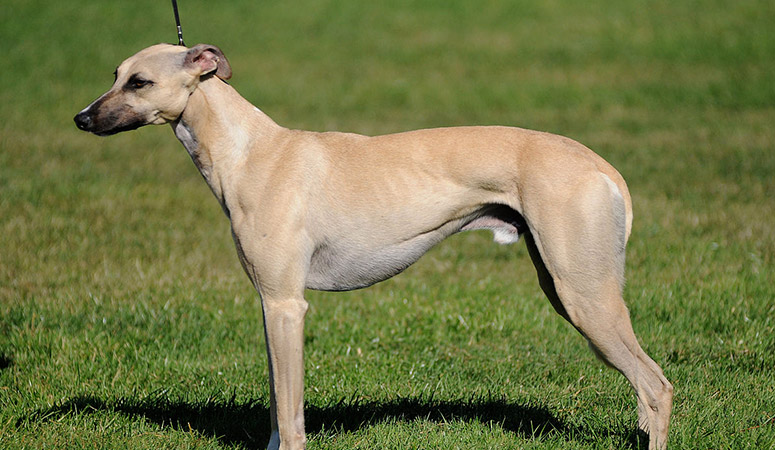 Sleek, beautiful, and athletic, the Whippet is a dog breed of medium size. The Whippet is descended from Greyhounds that originated in England. They have a peaceful, gentle demeanor who love their family members and are also kind to strangers. Besides, they are hunter's best friends, too, as they are speedily going after rabbits and other small game.
| | |
| --- | --- |
| Other Names | English Whippet, Snap Dog |
| Color | Black, Blue, Red, White |
| Height | Males: 18-22 inches. Females: 17-21 inches. |
| Weight | Males: 25-40 pounds. Females: 25-40 pounds. |
| Life Span | 12-15 years |
| Personality | Affectionate, Playful, Calm |
| Exercise | Regular Exercise |
| Origin | |
| | |
| --- | --- |
| Popularity | #57 |
| Groom Needs | Occasional |
| Kids Friendly | Yes with supervision |
| Dog Friendly | Yes |
| Watch Dog | |
| Family Dog | |
| Litter Size | 1-10 |
Introduction
In the wild pursuit of game, the Whippet takes on an undeniable resemblance to the larger Greyhounds, but on a closer look, you'd find they are actually smaller in size. Fierce at the chase of rats and rabbits, but gentle and friendly around the house, Whippets can be a reliable source of joy around the house. Their sleek and swift nature has earned them the name "Poor Man's Racehorse", as they were originally owned by the commoners of Medieval times' England. Their short and dense coats, come in almost any color at all, except Merle.
A standard Whippet will stand at 19-22 inches from shoulder to paw and weigh around 28-42 pounds, regardless the gender. They are smaller than the Greyhounds, although they share a lot in common. Playful and calm, Whippets make good companions in the house. On average, they live to about 11-14 years before they die.
History
The oldest piece of writing that had the name Whippet in it dates back to 1610. Whippets have a vague and long-winded origin that seems to elude specificity and agreement amongst historians. There are several theories as regards the history and pedigree of this breed, but the most plausible and well developed is the report which links the Whippets to certain miniature Greyhounds of old times, England.
The Greyhounds used to be the popular hunting dogs of Medieval times' England, prized by the nobility of England for their speed, agility, and intelligence, and yet not permitted for common people to own. Greyhounds owned by common people were mutilated as punishment. However, peasants and families alike relied on hunting of rabbits and other forest games and it was as much as they could do to decide to create a smaller breed from the Greyhounds, which would share similar features with the Greyhounds. These miniature Greyhounds are believed to be the ancestors of the Whippets.
For decades, these miniature Greyhounds were employed in ratting and rabbit catching. Gradually, they rose to prominence mainly for their swiftness and remarkable strength. Even after the regulations on ownership of Greyhounds were rescinded, Whippets were still popular among folks and breed fanciers. Later, in the 19th century, dog coursing or racing became a popular sport in many regions of England, and the Whippet enjoyed the fancy of the sport's enthusiasts due to its incredible speed.
Whippets were officially recognized by The Kennel Club in 1891, although prior to that (in 1888), the American Kennel Club recognized the breed as a distinct breed. The Whippet is ranked 61st most popular dog breed in America by the American Kennel Club.