West Highland White Terrier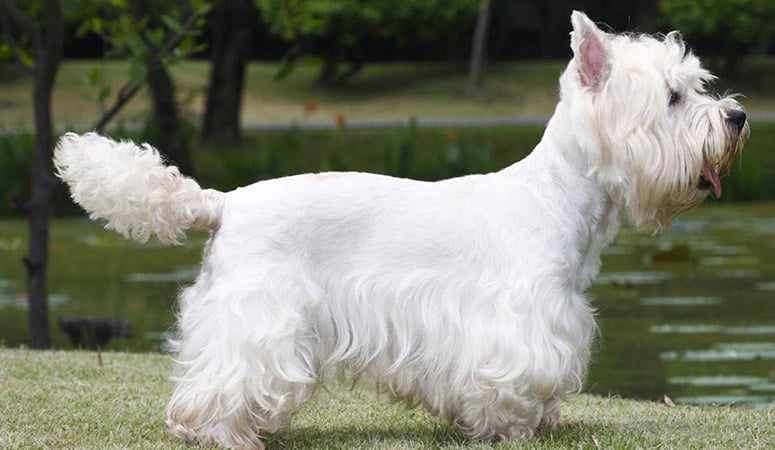 Being active, alert, smart, confident, the West Highland White Terrier is adorable among the most popular of the small terriers. With strong and tough body, the dogs are bred to Bred to hunt rats and other underground rodents. With enough patience and time during their training, they will become faithful and intelligence.
| | |
| --- | --- |
| Other Names | Westie |
| Color | White |
| Height | Males: 10-12 inches. Females: 9-11 inches. |
| Weight | Males: 15-22 pounds. Females: 15-22 pounds. |
| Life Span | 13-15 years |
| Personality | Loyal, Happy, Entertaining |
| Exercise | Regular Exercise |
| Origin | |
| | |
| --- | --- |
| Popularity | #44 |
| Groom Needs | Daily Brushing |
| Kids Friendly | Yes |
| Dog Friendly | Yes with supervision |
| Watch Dog | |
| Family Dog | |
| Litter Size | 3 to 5 |
West Highland White Terrier Video
Introduction
This little dog, the West Highland White Terrier which you don't see around a lot, a rare jewel – smart and stubborn and very independent. He's full of fun and is lively, needing a firm hand in training. He comes related from the Scottie and Cairns, weighing around 19 pounds and standing about 11 inches at the shoulders. They have short white hair and are nicknamed the "Westie". Even though they are quite stocky, they are agile and fast. Their tough short hair allows them to shed dirt easily. They are generally easy dogs to keep and need plenty of exercise. Don't leave your Westie to his own devices, because he can wreck your garden and bark a lot as well. They enjoy human company, but you need to socialize them to kids. The dogs were actually bred to have big barks so that hunters could hear them underground – their bark is a good alarm. Still, don't expect them to be good guard dogs – they are way too friendly for that!
Living with West Highland White Terrier
History
It originates from the British Isles.
When King James I ruled in the early 1600s, this little dog was known as the dog of Argyleshire.
The breed was established later by Colonel Malcolm of Poltalloch in the 1800s –he used them for hunting. The legend goes that a reddish dog of his was mistakenly shot for a fox. Malcolm was devastated and decided there and then to only breed white dogs that could be easily identified in the field. His dogs were named after his estate.
The Westie was officially listed as the West Highland White Terrier in 1907 at the Crufts dog show in England. They chose the name because of the rugged character of the dogs as well as the area of their development.
George Campbell, the 8th Duke of Argyll was also trying to breed all-white terriers under the name Roseneath terrier, after his castle by that name. It was this breed that was accepted by the American Kennel Club in 1908 as the Roseneath Terrier. Later the name was changed to the West Highland white terrier a year later.
The Westies arrived in the United States in 1907 and the West Highland White Terrier Club of America was founded in 1909.