Welsh Springer Spaniel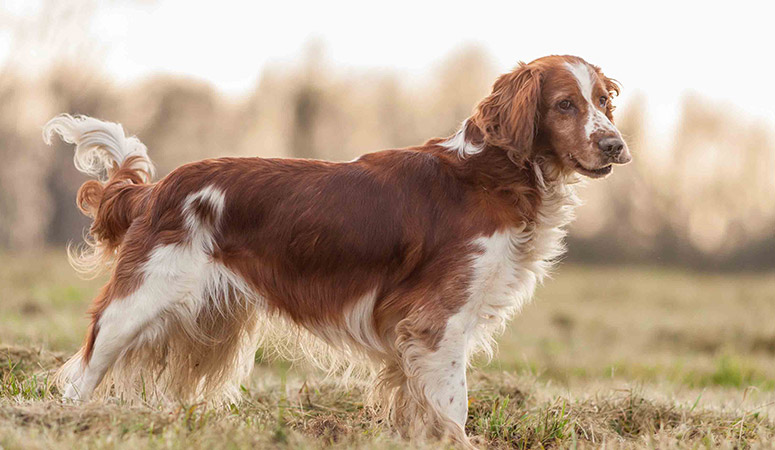 The Welsh Springer Spaniel has a uniquely tapered head and an eye-catching coat of bold red and white patterns, which distinguish them from other spaniels. With a muscular build, this breed is a loyal retriever with energy to spare. They are loving and loyal with their family, but decidedly reserved with strangers.
| | |
| --- | --- |
| Other Names | Welsh Springer, Welsh Starter |
| Color | Red & White |
| Height | Males: 18-19 inches. Females: 17-18 inches. |
| Weight | Males: 35-45 pounds. Females: 35-45 pounds. |
| Life Span | 12-15 years |
| Personality | Happy, Reserved, Upbeat |
| Exercise | Needs Lots of Activity |
| Origin | |
| | |
| --- | --- |
| Popularity | #130 |
| Groom Needs | Weekly Brushing |
| Kids Friendly | Yes |
| Dog Friendly | Yes with supervision |
| Watch Dog | |
| Family Dog | |
| Litter Size | 6-8 puppies |
Welsh Springer Spaniel Video
Introduction
The American Kennel Club (AKC) placed them as members of the Sporting Group. However, Welsh Springer Spaniels are a breed of dogs with a happy disposition, and yet a tendency to recluse into themselves. They are medium-sized dogs bred originally for their springing abilities (that is, they are bird dogs). They come with a tapered head that distinguishes them from most other spaniels. Normally, they have a straight and soft coat which is never wiry. This coat is usually white and red in color, according to acceptable standards.
Being medium-sized dogs, Welsh Springer Spaniels stand close to 19 inches at the shoulder, although the females run quite smaller in size. A full-grown male weighs around 40-55 pounds, while a similar female packs a lesser pound weight of 35-50. Welsh Springer Spaniels are one of England's oldest spaniels. They have an average lifespan of 12-16 years.
Living with Welsh Springer Spaniel
History
The Welsh Springer Spaniel has been, over time, described under different names in a different era. At some point, they were known as the Welsh Starter, when they were popular as springing dogs, at another time they were called the Welsh Spaniel. It is known that the Kennel Club had once registered Welsh Springer Spaniels as Cocker Spaniels in its Studbook. The history of the Welsh Springer Spaniel is not exactly easy to place, although it is believed that they had evolved from red and white types of Land Spaniels which made their way into the Welsh valley some years ago. Historians agree that these Land Spaniels which had been depicted in paintings and old artworks share marked resemblance with modern Welsh Springer Spaniels, even in their coat color.
The breed remained in a state of obscurity all through the 1800s, and it wasn't until the period leading up to the 20th century that they came into the limelight. Mr. A. T. Williams of Ynis-y-Gerwn was credited with the rise of the Welsh Springer Spaniel to fame with his dog team's escapades at the Sporting Spaniel Club Trials in 1900. Afterward, the breed was recognized by the Kennel Club in 1902, as the Welsh Springer Spaniel.
Welsh Springer Spaniels were imported into the U.S in the 19th century, rose to fame quickly, and gained AKC (American Kennel Club) recognition in 1906. World War I brought the breed to its knees, leaving in its wake Welsh Springer Spaniels, whose parents didn't have a registered pedigree. Breeders of the 1920s and 1930s rose to the occasion to breed the remaining unregistered dogs into what we know today as the modern Welsh Springer Spaniel. A breed club, the Welsh Springer Spaniel Club, was established in the United Kingdom, in 1923.