Vizsla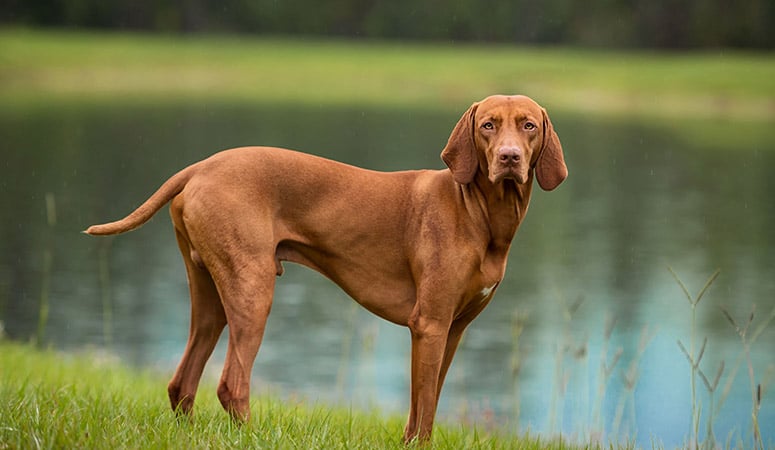 Vizslas were developed in Hungary to work as a pointer and retriever dog breed, they have a distinctive, unicolor appearance and their golden rust color is a symbol of this breed. Their gait is graceful, and the light but muscular built gives them speed and endurance in the field. You can see his athletic ability in his figure and agility.
| | |
| --- | --- |
| Other Names | Hungarian Vizsla, Magyar Vizsla, Hungarian Pointer, Drotszoru Magyar Vizsla |
| Color | Golden Rust, Golden, Red, Red Golden, Rust, Rust Golden, Sandy Yellow |
| Height | Males: 22-25 inches. Females: 21-24 inches. |
| Weight | Males: 44-66 pounds. Females: 44-66 pounds. |
| Life Span | 12-14 years |
| Personality | Affectionate, Gentle, Energetic |
| Exercise | Energetic |
| Origin | |
| | |
| --- | --- |
| Popularity | #34 |
| Groom Needs | Weekly |
| Kids Friendly | Yes |
| Dog Friendly | Yes with supervision |
| Watch Dog | |
| Family Dog | |
| Litter Size | 6-7 |
Introduction
Originating from Hungary, this fast running dog can run very fast, topping speeds of 64-66 km; it makes sense – they have agile bodies built for athleticism, stamina, and inner strength. They weigh around 65 pounds and are 24 inches at the shoulders. They have many names actually; Hungarian Vizslas, Hungarian Pointers, Drotszoru Magyar Vizslas, and Magyar Vizslas. Their color is red-golden. They're born with vivid blue eyes, but as they get older, they change to a very striking orange-yellow color. People are known to call the Vizsla 'Velcro Dogs' because they become so attached to their loved ones. They are known to love the water as well, and if you look at their feet, they are webbed, giving them a great ability in the water. They are smart and alert and need lots of activity, making great family dogs in an active household. It has a short, smooth, and sleek coat with no undercoat, so just a weekly brush is required.
History
The Vizsla, in Hungarian, means "Pointer". That's because, when it first came into existence, it would point towards the direction of its prey, allowing hunters to quickly kill the game the Vizsla had pointed out.
They are believed to have been bred by the Magyar Tribe who settled in Hungary way back in time, around 800 A.D., for hunting purposes.
After World War I, this dog nearly became extinct but was fortunately preserved by some Vizsla fanciers. In 1945, during World War II, many Hungarians fled away from the Russian occupation, not forgetting their Vizslas behind.
Around 1930, people realized these dogs weren't suitable for hunting in the really cold snowy areas because of their short coats. Breeders started crossing the Vizsla with other dog breeds that had thick wiry coats. These were the German Wirehaired Pointers and maybe the Griffons – they produced a whole new breed which was later called the Wirehaired Vizsla.
They were imported to the USA in the 1950s, Sari was the first Vizsla to be imported and just 10 years later, the Vizsla got recognized by the American Kennel Club as being a distinct breed in 1960, ranked 33rd in the American Kennel Club registry.
One dog named Chartay became the AKC champion dog in 2000 winning amazing trophies – she was given the Vizsla Club of America Hall of Fame award for her superb versatility and excellence in several different canine sports – an unforgettable, much-loved dog, the Vizsla.