Sealyham Terrier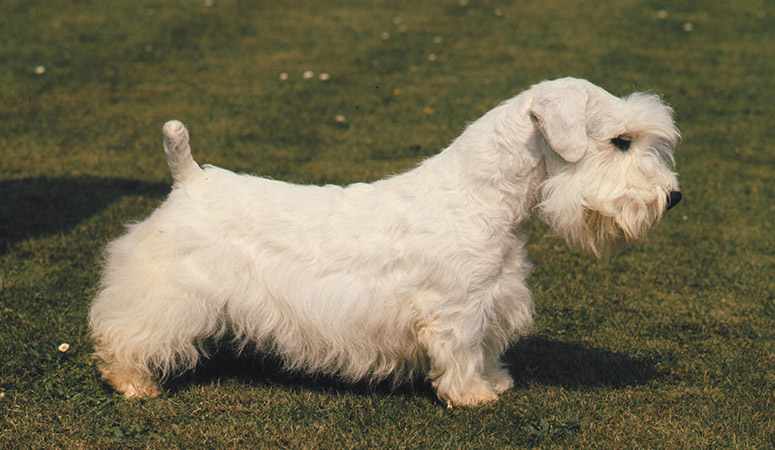 The Sealyham Terrier is a rare Welsh breed of small to medium-sized terrier that originally bred in Wales for hunting otters, foxes, and badgers. Their body is short-coupled, strong, and substantial, allowing for plenty of flexibility. Now, they are great primarily companion dogs and good options for novice pet parents.
| | |
| --- | --- |
| Other Names | Welsh Border Terrier, Cowley Terrier |
| Color | Black, Blue, Brown, Cream, White, Yellow |
| Height | Males: 10-12 inches. Females: 10-12 inches. |
| Weight | Males: 20-25 pounds. Females: 18-21 pounds. |
| Life Span | 12-14 years |
| Personality | Alert, Outgoing, Sense Of Humor |
| Exercise | Regular Exercise |
| Origin | |
| | |
| --- | --- |
| Popularity | #154 |
| Groom Needs | 2-3 Times a Week |
| Kids Friendly | Yes with supervision |
| Dog Friendly | Yes with supervision |
| Watch Dog | |
| Family Dog | |
| Litter Size | 3-6 |
Introduction
A Sealyham barely feels forlorn or neglected when its crowd of friends takes their leave, but it doesn't mean that they aren't sociable. In fact, a Sealyham gets really vocal and boisterous around the company, a characteristic that qualifies them as lovable companions of the family. They come in a double coat of white color, requiring regular brushing to prevent matting. The undercoat is dense, while the topcoat is long and wiry. Sealyhams usually have markings around the face that vary in different color varieties including blue, black, badger, and brown.
A standard Sealyham is low to the ground, measuring around 9-11 inches from shoulder to paw. Generally, the males weigh slightly heavier than the females, perhaps due to more muscle mass. A full-grown dog is likely to weigh around 22-24 pounds. Sealyhams are humorous little clowns and are true members of the Terrier Group. They have an average lifespan of 12-14 years.
Living with Sealyham Terrier
History
The Sealyham became a popular dog amongst British Royals and Hollywood stars in the course of history. These little dogs with powerful jaws and wiry coats were originally developed in Wales, bred by John Edwardes. The place of its origin is believed to be the Sealyham House in Pembrokeshire. The Sealyham breed was created around the 1850s and although Edwardes never kept a definite record, historians agree that the Welsh Corgi, English White Terrier, and Fox Terrier had given a foundation to the breed. Edwardes' Sealyham dogs were bred to exterminate vermin and other small games, especially badgers which they executed with finesse.
After the death of John Edwardes in 1891, some other British breeders took over and began to modify Edwardes' breed. Prominent amongst these was Fred Lewis whose efforts served to promote the Sealyham in subsequent years. The Sealyham Terrier Club was formed in 1908, five years after the first exhibition of the dog. In 1911, the Kennel Club recognized the breed. In the early period of its recognition, the Sealyham was otherwise referred to as the Cowley Terrier or Welsh Border Terrier. Soon, its popularity spread and it was imported into the United States, where a breed club was later formed for it in 1913. After World War I, the influence of the Sealyham had spread abroad to a large part of the English-speaking world, it became one of the best known Welsh dog breeds.
Also, in the 1920s, the Sealyham had its share of companionship with the elites of Hollywood. In recent years, however, the Kennel Club had listed the breed amongst the most endangered native breeds.