Scottish Terrier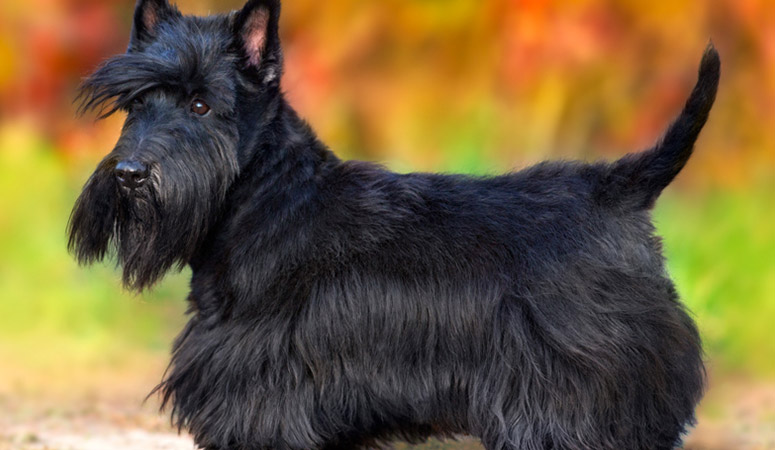 The Scottish Terrier has short leg and relative heavy bone which leave people the impression of great power in a small package. As a true terrier, the Scottish Terrier is sensitive to blame and praise with independence, intelligence, which makes them a good watchdog. And their terrier persistence has earned the breed the nickname "the Diehard."
| | |
| --- | --- |
| Other Names | Aberdeen Terrier |
| Color | Black, Brindle, Black Brindle, Red Brindle, Silver Brindle, Wheaten |
| Height | Males: 10-11 inches. Females: 10-11 inches. |
| Weight | Males: 19-22 pounds. Females: 18-21 pounds. |
| Life Span | 12 years |
| Personality | Confident, Independent, Spirited |
| Exercise | Regular Exercise |
| Origin | |
| | |
| --- | --- |
| Popularity | #56 |
| Groom Needs | Occasional Shedding |
| Kids Friendly | Yes |
| Dog Friendly | Yes with supervision |
| Watch Dog | |
| Family Dog | |
| Litter Size | 1-6 |
Introduction
The Scottish Terrier is a distinct and well-recognized dog breed with erect ears and generous furnishings on the beards. They have a sturdy frame fixed between their short and heavy legs. The Scottish Terrier has a double coat with different textures to each layer. While the outer coat is hard and wiry, the inner coat is soft and dense. The color varieties of this breed include black, brindle, and wheaten.
Their aloofness to strangers makes them remarkable watchdogs– combined with their tough and persistent attitude, Scottish Terriers have retained attributes of their hunting ancestors. They are small but highly confident with a diminutive shoulder height of nearly 10 inches for both males and females. Both sexes weigh in the range of 18-22 pounds by standards and they have an average lifespan of 10-12 years.
Living with Scottish Terrier
History
Once known as the Aberdeen Terrier and the Highland Terrier, amongst other discrete names, the Scottish Terrier hails from an old tradition of hunting and springing dogs of Scotland. They had probably only become popular on a global scale during the time of King James VI of Scotland, who later because King James I of England in the 17th century. King James was reputed to have a striking fondness for Scottish Terriers, so much that it was documented that he sent them as gifts to a French monarch of the time.
The precise ancestry of this breed is hazy and wasn't properly documented. What there are on the subject consist of paintings and writings of old, depicting features or facts that alluded to the modern-day Scottish Terrier. Although it isn't clear what breed of dogs they originated from, it is accepted as fact that the Scottish Terrier shares a common origin with the West Highland White Terriers, both of which have ancestors from the Blackmount region of Perthshire and the Moor of Rannoch.
The Scottish Terrier was initially used for hunting vermin on the farm and springing foxes and badgers in the wild. It wasn't until the late 19th century that the Scottish Terrier found its place as a breed name in the registry. The Highlands of Scotland, including the region of the Isle of Skye, were popular with terriers of a kind generically recognized as Shorthaired Terriers or Little Skye Terriers, at that time. They weren't distinctly grouped into breeds till around the 1870s when these terriers made their way to dog shows, then they were classified into three categories; Skye Terrier, Cairn Terrier, West Highland White Terrier, and Scottish Terrier.
The first breed standard for the Scottish Terrier was drafted in 1880. They were introduced into America in the 1890s but only became popular in World War I. The club breed in America was founded in 1900.
Helpful Information
Breed Club: SCOTTISH TERRIER CLUB OF AMERICA
Breed Club Link: http://www.stca.biz/
Breed Club Rescue: