Russell Terrier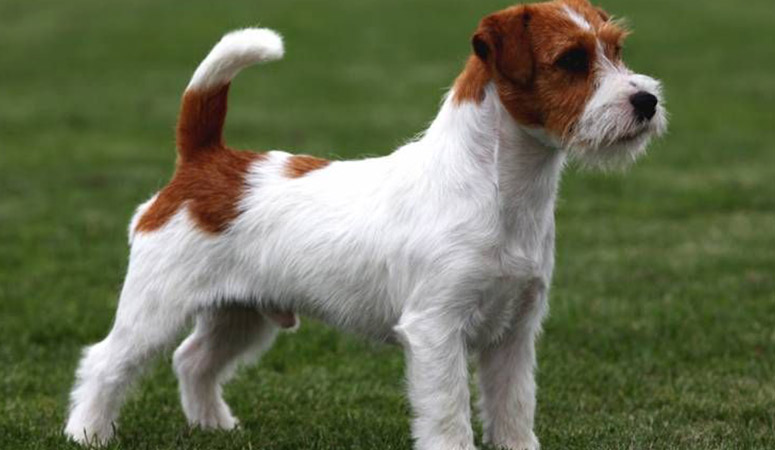 Cheerful, active, curious, and friendly, and developed in England some 200 years ago to hunt foxes, the adorable Russell Terrier looks like a plush toy but is an eager, tireless working terrier. This breed is commonly confused with the Parson Russell Terrier, and he is confident, alert, and always ready for work.
| | |
| --- | --- |
| Other Names | Jack Russell Terrier, Russell Terrier |
| Color | White, Piebald, Black & White, White & Tan |
| Height | Males: 9-13 inches. Females: 9-13 inches. |
| Weight | Males: 11-18 pounds. Females: 11-18 pounds. |
| Life Span | 12-14 years |
| Personality | Alert, Inquisitive, Lively |
| Exercise | Needs Lots of Activity |
| Origin | |
| | |
| --- | --- |
| Popularity | #75 |
| Groom Needs | Weekly |
| Kids Friendly | Yes with supervision |
| Dog Friendly | Yes |
| Watch Dog | |
| Family Dog | |
| Litter Size | 4-8 |
Introduction
We have to get one thing straight here straight away, and that is that the Russell Terrier is not the Jack Russell terrier. There is a difference, and it has to do with their size and height. The Russell Terrier for example is shorter, at around 12 inches. The Parson Russell Terrier stands around 15 inches tall. The Russell Terrier is known as the English Jack Russell Terrier and the Irish Jack Russell Terrier in different places. However, they are in fact smaller dogs according to the Kennel Club's definition of the Jack Russell Terriers. The Russel Terrier measures about 12 inches at the shoulder and should be longer at his withers than actually taller. He weighs about 15 pounds. He is a high-energy, active little dog this, needing regular activity. He is fearless and confident. He has a weatherproof coat that is mostly white with patches of black or tan, or both colors. Weekly brushing will keep his coat in good condition. They make good guard dogs, because they have excellent hearing, making them extra alert to what is happening around them. Also, they are alert and inquisitive, being naturally curious and observant.
Living with Russell Terrier
History
This breed originated in England in the middle of the 1800s as fox and vermin hunters. They were small enough to be carried in terrier bags on horseback.
The Russell Terrier and the Parson Russell terriers do share a common heritage as fox-working dogs. Rev. John Parson Russell owned kennels, but since his day, the lines of these two terrier breeds have gone separate ways. Today they are recognized as two distinctly separate breeds.
The Russell Terrier was bred to be swift enough to run with the hounds and still be tough and compact as well.
It was in the country of development, Australia, that the Russell Terrier was standardized by the Kennel Club with the name "Jack Russell Terrier". Unfortunately, the name was conflicting, because in the US, a terrier conforming to the Australian/FCI standard is simply called a Russell Terrier.
A dog named Paint was the first-ever Russell Terrier that was registered in the United States. Now, the Russell Terrier, like the Parson Russell Terrier, is recognized by the American Kennel Club (AKC).
Did you know that the Prince of Wales and Duchess of Cornwall released a photograph of themselves with their two dogs to mark their 15th wedding anniversary during the coronavirus lockdown? The photograph was taken of them at Balmoral estate in Aberdeenshire, Scotland, with Prince Charles holding his Russell Terrier named Beth. Camilla is seen holding another Russell Terrier called Bluebell. That just shows how popular this bundle of joy is!
Helpful Information
Breed Club: AMERICAN RUSSELL TERRIER CLUB
Breed Club Link: http://www.theartc.org/
Breed Club Rescue: