Rat Terrier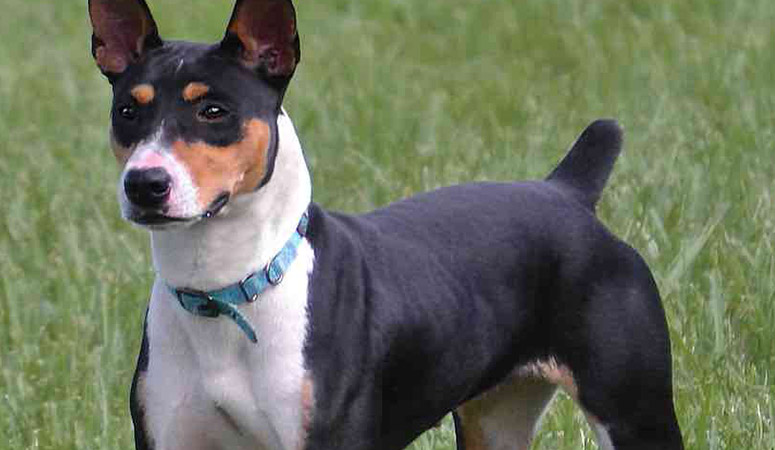 As an American dog breed, Rat Terrier has a background as a farm dog and hunting companion. Coming in two size varieties, the breed is intelligent and active with balanced and compactly built, which is kept both for pest control and as a family pet.
| | |
| --- | --- |
| Other Names | American Rat Terrier, Benchlegged Feist, Rat Terrier Type A, Rat Terrier Type B, Teddy Roosevelt Terrier |
| Color | Black & White, Black, Tan, Chocolate, Blue, Grey Isabella, Lemon & Apricot. May be tri-color or bi-color, with at least one color being white. |
| Height | Males: 13-18 inches. Females: 13-18 inches. |
| Weight | Males: 12-35 pounds. Females: 12-35 pounds. |
| Life Span | 12-18 years |
| Personality | Friendly, Inquisitive, Lovable |
| Exercise | Regular Exercise |
| Origin | |
| | |
| --- | --- |
| Popularity | #91 |
| Groom Needs | Weekly Brushing |
| Kids Friendly | Yes |
| Dog Friendly | Yes with supervision |
| Watch Dog | |
| Family Dog | |
| Litter Size | 5 to 7 puppies |
Introduction
Revered for their unmatched ratting ability are the Rat Terriers, a breed name that says almost everything about it. They belong to the Terrier Group according to the American Kennel Club. The smooth and shiny coat of the Rat Terrier carries different pied varieties of patches, likened to those of a horse. They come in a variety of colors, including blue, black, tan, chocolate, pearl, or lemon, and apricot. Bi- and tri-colored varieties exist, of which one of the colors was usually white. Greyhounds and Whippets crosses are thought to be the origin of the blue Rat Terriers.
The Rat Terrier is peculiar in that it appeared in two different sizes, both acceptable — miniature and standard sizes. A miniature Rattie stands 10-13 inches at the shoulder while a standard one rises above it to around 14-18 inches of height, encompassing both sexes. The standard weight is usually between 11 and 25 pounds. The Rat Terrier is a compact, tough bred dog with a friendly and charismatic disposition. They lead happy lives up to an average of 12-18 years before they die of age.
History
Developed from a mixed breed of vermin hunting dogs, originally called Feists, the Rat Terrier was so named probably by President Theodore Roosevelt who had about three of this breed dog, the most popular, named Skip. He was said to have been enamored with his dogs and called them Rat Terriers, fascinated by the unique prowess and skillful dispatch with which dogs of this breed exterminated rats. They later grew to a place of importance in American and English farms around the early to mid 20th century as rats were a constant sight in the barns and sheepfolds and needed some taking care of.
Their history has most probably begun in the 1820s. Modern Rat Terriers emerged from a number of crosses to improve an initial foundational stock of Feists. These Feists had resulted probably from the popular cross between a Smooth Fox Terrier and a Manchester Terrier. Like their Feist ancestors, the Rat Terrier had uncommon expertise in hunting and ratting.
The beginnings of the Rat Terrier are credited with 19th century England, after which it was hugely developed in the United States. Around the latter part of the 19th century leading up to the turn of the 20th century, certain British miners traveled from their homeland to the United States, on business. History holds that these miners brought their Feist dogs with them. It was after this period that the Feists were repeatedly crossed with other breeds to add some attributes to their gene pool. Amongst the breeds, it was crossed with includes mainly the Smooth Fox Terrier, which served in stabilizing the core attributes of the Rat Terrier breed. Hence, the modern Rat Terrier began to unfold slowly to what we have today. Greyhounds and Whippets had gone into the breeding of the modern breed to improve their speed.