Portuguese Water Dog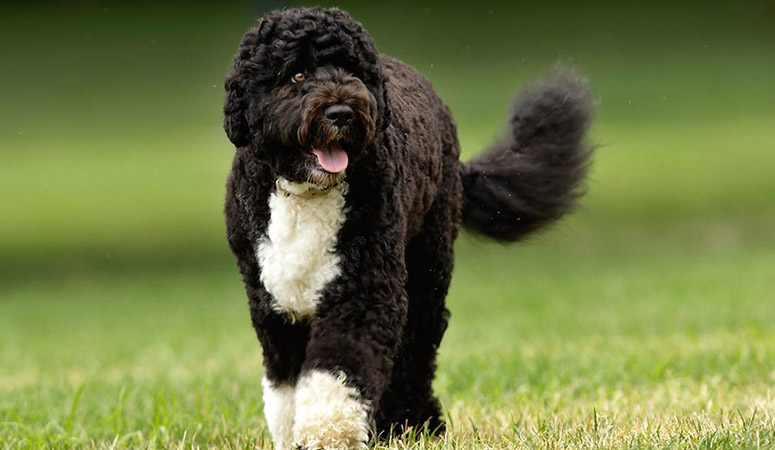 Intelligent, enthusiastic, and energetic, the Portuguese Water Dog was bred to be a fisherman's assistant. The Portuguese Water Dog has a wavy coat and robust build, with stout legs. They are eager and athletic companions built for water work, also do well as a family pet and to get along with other animals.
| | |
| --- | --- |
| Other Names | Cao De Agua, Cao De Agua Portugues, Portie |
| Color | Black, Brown, White |
| Height | Males: 19-23 inches. Females: 16-21 inches. |
| Weight | Males: 42-50 pounds. Females: 35-50 pounds. |
| Life Span | 11-13 years |
| Personality | Affectionate, Adventurous, Athletic |
| Exercise | Energetic |
| Origin | |
| | |
| --- | --- |
| Popularity | #49 |
| Groom Needs | Daily |
| Kids Friendly | Yes |
| Dog Friendly | Yes with supervision |
| Watch Dog | |
| Family Dog | |
| Litter Size | 4-8 |
Portuguese Water Dog Video
Introduction
The Portuguese Water Dog is a breed with origins from the Portuguese region of the Algarve. Some of its common nicknames are Portie, PWD, and Water Dog. Algarvian Water Dog or Portuguese Fishing Dog are some of the names by which the dog is known in Portugal. The first name, Algarvian Water Dog, is given to the breed with wavy hair while the second name, Portuguese Fishing Dog, is given to the breed with a curly coat. The Standard Poodle is thought by many to be the closest relatives to the Portuguese water dog and they share similar features such as curly coats, webbed toes for swimming, and, also, intelligence.
Portuguese water dogs are characterized by a single-layered coat that does not shed. Most coat colors are entirely black, black and white, brown, or silver. White spots on the chest as well as paws or legs on the black- and brown-coated dogs is a common sight. There are also coats known as "Irish marked" or "Parti" which have irregular white and black spots and are rare but striking in appearance. There are two coat types that are associated with Portuguese Water Dogs; the curly coat and the wavy coat. The curly coat is made up of compact, cylindrical curls though the hair on the ears is sometimes wavy while the wavy coat is made up of hairs that fall in waves and not curls.
A male Portuguese water dog stands 20-23 inches at the shoulder and has a weight of 42-60 pounds. A female Portuguese water dog stands 17-21 inches at the shoulder and has a weight of 35-50 pounds. There are a variety of temperaments you can find in a Portuguese water dog. While some are laid back, some are strong-willed and some are just in-between.
Its lifespan is 10-14 years. This dog is classified as a working dog by the AKC and is known to be an independent and affectionate dog that can be easily trained in skills such as obedience and agility. They enjoy being petted and are friendly, even to strangers.
Living with Portuguese Water Dog
History
The Portuguese Water Dog breed was one which was almost extinct until a Portuguese ship magnate, Vasco Bensaude, began searching for fishermen's dogs so as to re-establish the breed. The magnate's kennel was named Algarbiorum and Leao, his most famous dog is a likely ancestor to many Portuguese water dogs presently because he was bred to many females.
The Portuguese Water Dog Club of America, Inc. (PWDCA) was formed in 1972 by Deyanne Miller, the person most responsible for the rise of the breed in the United States.