Pointer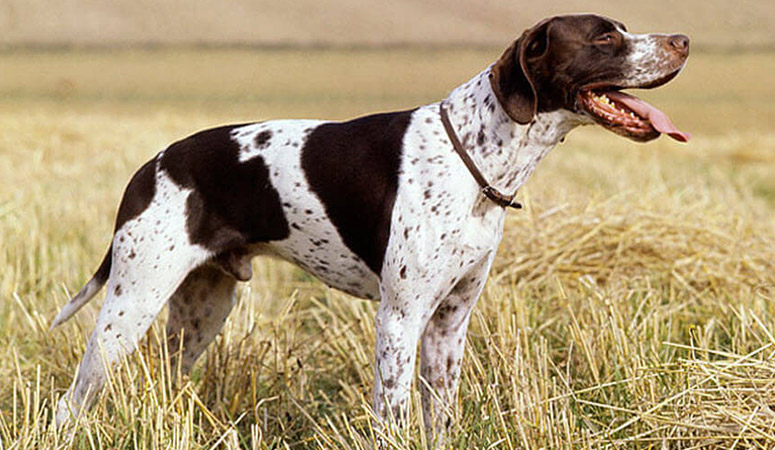 With short and dense coat, the Pointer has a clean streamlined appearance, and he combines athletic grace and power with a noble head, noble carriage, a lean, muscular body, and alert expression. Agility, focus, and ace scenting skills make them exceptional field companions for centuries. Congenial and enjoying spending quality time with their families, the breed makes excellent playmates for children, adults and other dogs.
| | |
| --- | --- |
| Other Names | English Pointer, Pointer |
| Color | Black, Lemon, Liver, Orange, Black & White, Lemon & White, Liver & White, Orange & White |
| Height | Males: 25-28 inches. Females: 23-26 inches. |
| Weight | Males: 55-75 pounds. Females: 44-65 pounds. |
| Life Span | 12-17 years |
| Personality | Loyal, Hardworking, Even-Tempered |
| Exercise | Needs Lots of Activities |
| Origin | |
| | |
| --- | --- |
| Popularity | #115 |
| Groom Needs | Weekly Brushing |
| Kids Friendly | Yes with supervision |
| Dog Friendly | Yes |
| Watch Dog | |
| Family Dog | Yes |
| Litter Size | 8 and 12 puppies |
Introduction
The Pointer dog is powerful yet beautifully graceful to look at, and as his name suggests, he has been used to do just that – point out prey for hunters. He has plenty of energy and capable of agility and speed – this makes him a good running companion to an owner who enjoys running. These dogs are full of affection, making them ideal family pets. The Pointer stands at around 20 inches at the shoulders and weighs about 75 pounds. His coat is short and is mixed with colors such as white with liver, orange, lemon, and black markings; it needs brushing regularly to keep it tip-top condition. Some are just one solid color. He is affectionate and loving, loyal, and devoted to his family. They are also a non-aggressive breed, making them good with children and other pets. They make a good watchdog because of their alert nature. They require regular and daily exercise, being given plenty of opportunities to play off-leash in a garden that is fenced – like most dogs, if left alone, they can become destructive. He is a devoted companion and thrives on positive reinforcement like treats, praise, and other rewards.
History
The Pointer is believed to have originated from Spain; but like a lot of the dog breeds, their history is not all that clear. In England, there are dogs known as pointing-type dogs that been around for as way back as 1650. But some say English officers brought the Spanish Pointers back from the Netherlands. The Netherlands at that time was under Spanish control in 1713, when the British officers participated in the war of the Spanish Succession.
A lemon and white Pointer called Sensation was imported into America in 1876, becoming the emblem of the Westminster Kennel Club, which was founded in 1877.
Judy was an English Pointer that was the only dog to be registered as a Second World War Prisoner of War!
You can see the shape of the Pointer – the long head, the finely pointed tail; always lifting that one foot off the ground to point the hunter in the direction of the prey. Thanks to its sporting heritage, this breed is a natural at sports.
It's very likely that the Pointer arrived in America with the early colonists. They were recognized by the American Kennel Club (AKC) when it was founded in 1884.
There were two very famous British Pointers called Pluto and Juno; owned by Colonel Thornton.
The American Pointer Club was founded in 1938. Today, the Pointer is fairly uncommon.