Pharaoh Hound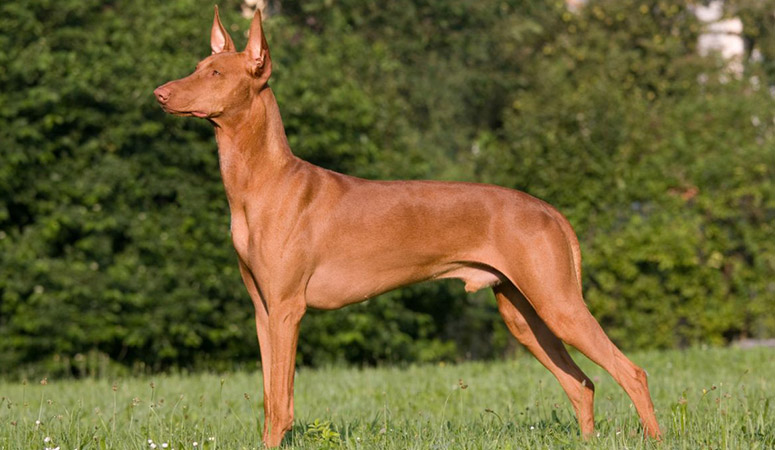 The Pharaoh Hound, ancient "Blushing Dog" of Malta, has hunted by sight and scent, as well as hearing with greyhound-like build. His good nose and large mobile ears can help him follow animals underground. Pharaoh Hounds like to delight their humans with clownish antics and want to make you laugh, which makes him a loyal friend for life.
| | |
| --- | --- |
| Other Names | Kelb Tal-Fenek |
| Color | Chestnut, Red Golden, Rich Tan, Tan |
| Height | Males: 22-25 inches. Females: 21-24 inches. |
| Weight | Males: 45-55 pounds. Females: 45-55 pounds. |
| Life Span | 12-14 years |
| Personality | Friendly, Smart, Noble |
| Exercise | Needs Lots of Activity |
| Origin | |
| | |
| --- | --- |
| Popularity | #161 |
| Groom Needs | Weekly Brushing |
| Kids Friendly | Yes with supervision |
| Dog Friendly | Yes |
| Watch Dog | |
| Family Dog | Yes |
| Litter Size | 6-8 puppies |
Introduction
The Pharaoh Hound has the build of an elegant and powerful dog. The wedge-shaped head and long, muscular neck are erect when it is alert. Although it doesn't appear too muscular, the Pharaoh Hound is a strong and athletic breed with the right amount of fervor and bulk to support it. They come in a short coat without feathering. The coat must not become so flurry that it begins to stand away from the skin. The only accepted coat color by most kennel clubs is red, although the shades of red vary widely. White markings on the chest, toes, and few other areas can be tolerated.
A full-grown male stands 23-25 inches from shoulder to paw and weighs close to 55 pounds. A similar female weighs in the range of 45-50 pounds, and measures around 21-24 inches tall. Pharaoh Hounds have an average life expectancy of 11-14 years.
Living with Pharaoh Hound
History
Pharaoh Hounds are the only Maltese dog breed with international recognition from the Fédération Cynologique Internationale. They are native Maltese dogs, originally used in hunting rabbits in the rocky landscape of the Maltese Islands, where they are called Kelb tal-Fenek (meaning, rabbit dogs). Although the name suggests an ancient ancestry linking it to an Egyptian descent, modern DNA studies have revealed why the Pharaoh Hound couldn't have originated thus. Rather, they had possibly originated from a group of modern breeds. However, some historians claim that certain Phoenician traders from the region of Lebanon who plied the Mediterranean some 2000 years ago, along with their Egyptian hounds, had probably distributed these dogs around Europe and even Malta. This, they claim, was the origin of what came to be ancestors of the Pharaoh Hounds.
The breed was basically a total Maltese affair until around the 1930s when it was imported into the UK, although documentation was lacking. The first litter to be sired outside of Malta, was recorded in the UK in 1963. The FCI accepted the breed in 1963 and classified it until the Spitz and Primitive Group (other Mediterranean breeds in this group include the Podenco Andaluz, Portuguese Podengo, Podenco Canario, and Cirneco dell'Etna). The Pharaoh Hound entered the U.S in 1967, slowly moved up the popularity ranks, and later gained an AKC recognition in 1983. In 1969, the Pharaoh Hound was declared the national dog of Malta. A British breed club was formed for the Pharaoh Hound, and soon a standard was drafted. The breed standard was endorsed by the Kennel Club of England in 1974.
Helpful Information
Breed Club: PHARAOH HOUND CLUB OF AMERICA
Breed Club Link: http://www.ph-club.org/
Breed Club Rescue: