Petit Basset Griffon Vendéen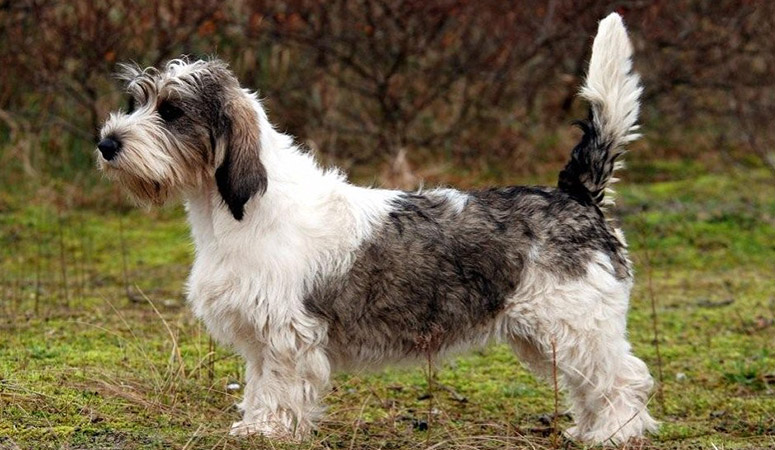 The Petit Basset Griffon Vendéen was developed to hunt rabbits through thick underbrush, originated from France. They hunt in packs and have the tenacity and energy to pursue their quarry all day. The dog's alert and friendly expression reflects this breed's true nature. They love to company his family and often give a tail-wagging welcome to friends and strangers.
| | |
| --- | --- |
| Other Names | Basset Griffon Vendeen, Petit, Kleiner Basset Griffon Vendeen, PBGV, Pequeno Basset Grifon Vendeano |
| Color | Black & Tan, White & Black, White & Gray, White & Grizzle, White & Lemon, White & Orange, White & Sable, White Black & Tan |
| Height | Males: 13-15 inches. Females: 13-15 inches. |
| Weight | Males: 35-45 pounds. Females: 35-45 pounds. |
| Life Span | 12-14 years |
| Personality | Alert, Happy, Vivacious |
| Exercise | Needs Lots of Activity |
| Origin | |
| | |
| --- | --- |
| Popularity | #152 |
| Groom Needs | Weekly Brushing |
| Kids Friendly | Yes |
| Dog Friendly | Yes |
| Watch Dog | |
| Family Dog | |
| Litter Size | 4 – 6 puppies |
Petit Basset Griffon Vendéen Video
Introduction
The Petit Basset Griffon Vendeen is truly just the cutest looking little dog; winning you over with those round, friendly, and happy eyes. And you get an adorable companion because that's what he loves doing, being with you and trying to please you. Just be careful though, too little attention and this dog can get into some excessive digging and barking. With kids, he is gentle and kind. The color of his coat is black and tan, fawn, and white, tri-color, black and white, or fawn and black. He stands at around 15 inches and weighs around 44 pounds. To brush this cutie pie, you will need a pin brush and a 2-in-1 comb. You just wet his coat with a water mist from a spray bottle. Start at his shoulders, go through his coat with the brush, and then move in the direction of the hair growth. Work through any matting with your fingers, continuing with the comb. He is stubborn and clever and will need someone who love him and laugh at his antics and still are firm with him, but not harsh. He is not suitable for novice dog owners or couch potatoes. He just spreads happiness and fun, this gorgeous friend!
Living with Petit Basset Griffon Vendéen
History
This lovely little dog, the Petit Basset Griffon Vendeen originates in France from the region of Vendeen in the 1500s. It was bred to hunt hare and rabbit.
What does the long name, Petit Basset Griffon Vendeén actually mean – well, in French, it means "small, low, and rough-coated from Vendéen." And that's just what he is. He is also known as a PBGV.
Because the land he worked on was covered in rocks, thick brambles, and underbrush, the right dog needed a thick, tough coat and short legs to speed through the underbrush to chase rabbits. This dog fitted the bill perfectly, and also never seemed to get tired doing it!
It could be that the PBGV might have been associated with the Basset Hound during the mid-1800s in England, albeit the PBGV was nimbler and his legs were longer.
PBGVs were imported to the United States in 1983 by Mrs. Elizabeth Streeter of Pennsylvania. There was great interest shown in the breed when a 12-week old puppy called Alexander defeated 3,000 other dogs at the "Super Match" to win "Best in Match."
The American Kennel Club officially recognized the breed in 1990.