Pembroke Welsh Corgi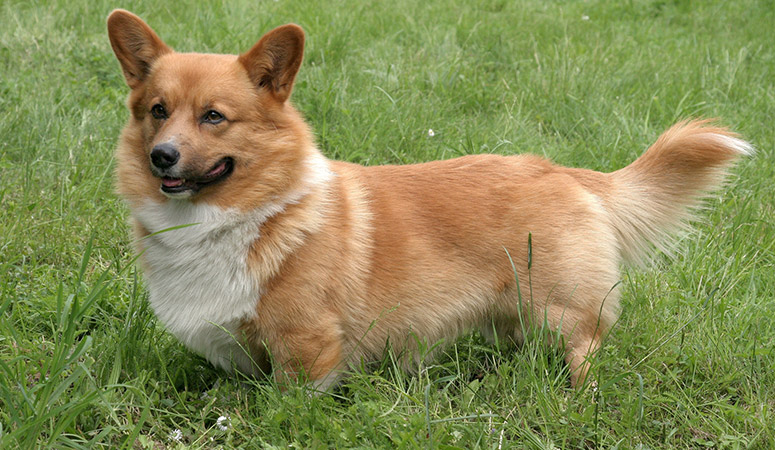 Here come Corgis, they're once bred as an assistance of herdsman. Pembroke Welsh Corgis are longlasting herding companions as they are perfect for stamina. Their alertness makes them assistant herders, while their gentleness makes them favored by owners.
| | |
| --- | --- |
| Other Names | Pem, Pembroke, Pembroke Corgi |
| Color | Black, Tan, Blue, Red, White |
| Height | Males: 10-12 inches. Females: 10-12 inches. |
| Weight | Males: 22-30 pounds. Females: 20-28 pounds. |
| Life Span | 12-13 years |
| Personality | Affectionate, Smart, Alert |
| Exercise | Energetic |
| Origin | |
| | |
| --- | --- |
| Popularity | #10 |
| Groom Needs | Weekly Brushing, Regularly Shedding |
| Kids Friendly | Yes with supervision |
| Dog Friendly | Yes with supervision |
| Watch Dog | |
| Family Dog | |
| Litter Size | 6-8 puppies |
Pembroke Welsh Corgi Video
Introduction
Among other popular herding dogs, the Pembroke Welsh Corgi stands out clearly. Endeared for their lively and amicable behavior, these small dogs can double as watchdogs too. Pembroke Welsh Corgis have sable-colored, thick, and weather-resistant double coats. However, some varieties come in red, fawn, or tan colors. They have powerful legs and well-built bodies suited for their services as cattle herding dogs and watch-dogs. Surprisingly, a standard male would weigh around 30 pounds, despite having a dwarf size with a shoulder height of barely 11 inches. A well-fed female equally stands to a similar height, although falling short of the hefty male pound-weight by a mere 2 inches or thereabouts. With a fair treatment of support and companionship, a Pembroke Welsh Corgi would thrive and possibly live up to an impressive age before they die naturally around their 13th year.
Living with Pembroke Welsh Corgi
History
The Corgis are a classic breed of dogs with an ancient history mingled in folklores and stories. There are two breeds of Corgis; the Pembroke Welsh Corgi and the Cardigan Welsh Corgi. Both breeds share a similar origin, but the Pembroke Corgi is probably a recently refined breed. Corgis are generally believed to originate from Wales, the Pembroke Welsh Corgi being associated with Pembrokeshire.
Although there are varying opinions attached to the origin of the Corgis, as to where and when they originated, more testimonials attest to their being descendants of the Nordic and Spitz types. Old folklore suggests that the Corgis used to be war dogs amongst fairies, until once upon a time two children, playing around in the woods, happened upon a party of mourning fairies who gifted them two Corgi puppies which they took home. According to the same lore, the Corgis became a popular breed amongst humans and were later employed in herding animals such as geese, cattle, and sheep. This account supported the belief that the Corgis are a divine gift to the human race.
Some historians believe that the Corgis were brought into Wales by the Viking travelers and Flemish weavers somewhere around the 1100s, while several ancient breeds, including the Swedish Vallhund, have been implicated in the ancestry of the Corgis. Many authors agree that such an account as this, perhaps, most plausible and realistic.
The Corgis were popular as herd dogs on farmlands until common people in Wales were permitted to farm their own lands.
In 1925, when the Welsh Corgis first featured in the show ring there was no separation between both breeds. After the Corgi Club was founded, efforts to distinguishably develop the two breeds were fostered by the club, especially after the club split into two factions later on. It was rather in 1928 that they were regarded as two varieties of the same breed, and by 1934 kennel clubs had begun to recognize them as separate breeds. The first Corgis were imported into the United States and they later became affiliated with royalty.