Parson Russell Terrier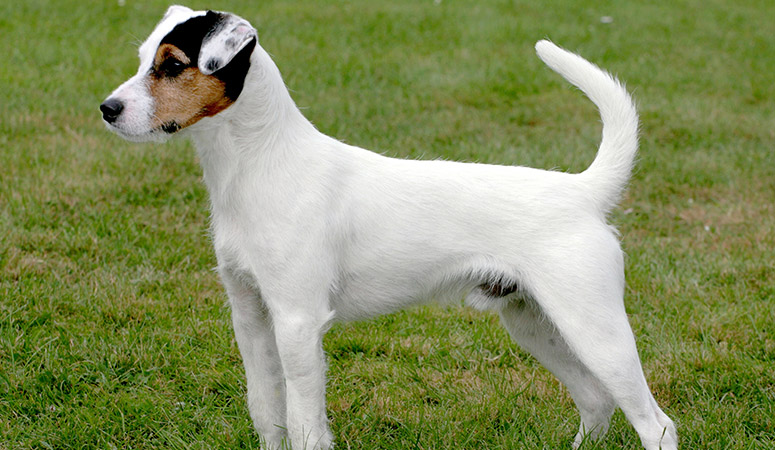 The Parson Russell Terrier is a bold and clever terrier. They are small with a mostly white coat, and this breed is named after the Reverend John "Jack" Russell who developed this type of dog in the 1800s. Parsons are suited to live with a family who has an active lifestyle and can spend time with their dog.
| | |
| --- | --- |
| Other Names | Parson, Parson Jack Russell Terrier |
| Color | White |
| Height | Males: 9-13 inches. Females: 9-13 inches. |
| Weight | Males: 11-18 pounds. Females: 11-18 pounds. |
| Life Span | 13-15 years |
| Personality | Friendly, Clever, Athletic |
| Exercise | Needs Lots of Activity |
| Origin | |
| | |
| --- | --- |
| Popularity | #118 |
| Groom Needs | Weekly |
| Kids Friendly | Yes with supervision |
| Dog Friendly | Yes |
| Watch Dog | |
| Family Dog | Yes |
| Litter Size | 8-10 |
Parson Russell Terrier Video
Introduction
The Parson Russel Terrier is mostly white in color and comes in a smooth, rough, or broken coat. They are clever and feisty dogs with a tendency to get independent. Parson Russel Terriers (PRTs) are wonderful terrier dogs, exceptional for bolting foxes from their lairs. They appear larger than the older Jack Russel type, now having longer legs equivalent to the length of their bodies, larger head, and chest. Their mostly white coat may have black, tan, or tricolor markings.
Classed as members of the Terrier Group by the American Kennel Club, PRTs are fast and eager to please. A standard member of the breed is likely to stand 12-14 inches at the shoulder, regardless of the gender. They weigh between 13 and 18 pounds. Parson Russel Terriers have an average lifespan of 12-15 years.
Living with Parson Russell Terrier
History
Formerly identified in the United Kingdom as Parson Jack Russell Terrier towards the 21st century, the Parson Russel Terrier is a white terrier breed named for Reverend John Jack Russel who was credited with the development of this dog breed. It was the initial Fox Terrier of the 1800s in England. Around the late 1810s, John Russel bought a white and tan terrier bitch from Elmsford hamlet. This formed the foundation of a breed of dogs which later came to be associated with Russell's name, and by the mid-19th century, they were distinct enough to be recognized as a breed of Fox Terriers.
Arthur Blake Heinemann founded the Devon and Somerset Badger Club towards the turn of the 20th century and drafted a breed standard for the Jack Russel's breed. Even though the Jack Russel Terriers were popular as foxhunts, the club formed by Heinemann bred them for the purpose of digging Badgers from underground. After some time, the club name changed to Parson Jack Russell Terrier Club. It folded in the build-up to World War II.
The Parson Jack Russell Terrier Club (PJRTC) returned in 1983 to pursue the recognition of the breed by kennel clubs. Initial petitions were turned down, and it wasn't until 1990 that the Kennel Club of England recognized it. Other kennel clubs followed suit shortly — the United Kennel Club in 1991 and the American Kennel Club in 1997. The name for this breed up to this point was the Parson Jack Russel Terrier before it was changed to Parson Russel Terrier at the turn of the 21st century. The FCI recognized the Parson Russel Terrier breed in 2001.