Papillon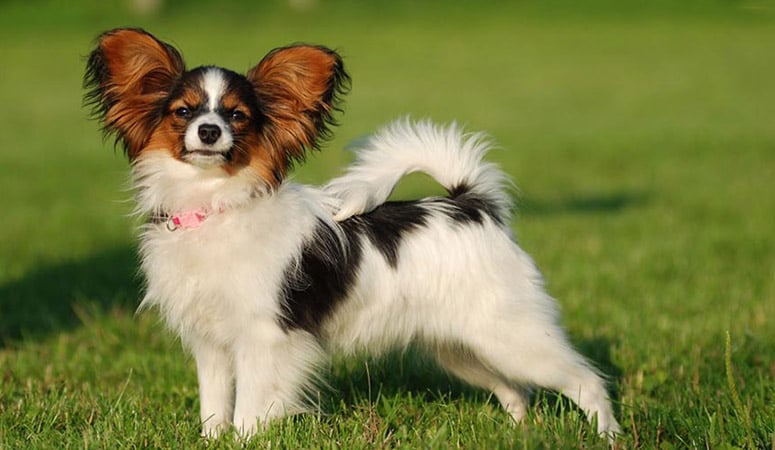 Friendly, intelligent, adventurous, Papillon is a toy group dog breed who earns its name from its butterfly-like look of the long and fringed hair on the ears. Papillon is energetic and is a good competitor in agility and obedience. They could get along with human and other pets if got socialized training from puppyhood.
| | |
| --- | --- |
| Other Names | Continental Toy Spaniel, epagneul Nain Continental, Phalene |
| Color | Black, Black and Tan, Brown, Red, Silver, White |
| Height | Males: 8-11 inches. Females: 8-11 inches. |
| Weight | Males: 5-11 pounds. Females: 5-11 pounds. |
| Life Span | 14-16 years |
| Personality | Friendly, Alert, Happy |
| Exercise | Regular Exercise |
| Origin | |
| | |
| --- | --- |
| Popularity | #53 |
| Groom Needs | Weekly |
| Kids Friendly | Yes |
| Dog Friendly | Yes with supervision |
| Watch Dog | |
| Family Dog | |
| Litter Size | 2-4 |
Introduction
Also known as the Continental Toy Spaniel, the Papillon is one of the oldest toy spaniels in the world. A Phalene is the name given to a papillon with dropped ears and the word, which is French, translates to "moth". Papillons are known to have a high level of intelligence which makes it easier for them to learn new tricks; they are also known to be self-assured. The papillon's coat is long and silky and has a wide variety of coat colors; each with a unique AKC-given code with AKC-recognized markings which also have unique codes. The coat colors are black, brown and white; black, red and white; brown and white; fawn and white; red; red, white and sable; sable; white; white and black; white and lemon; white and liver; white and red; white and sable; white and silver; white, black and tan. Though there are a lot of coat colors, an all-white or a dog with no white on its coat is not seen as a papillon. The markings that go along with the coat colors are black markings, black mask, sable, and tan markings.
A male papillon stands between 8 to 11 inches (20-28 cm) at the shoulders and has a weight of 8-10 pounds (3.6-4.5 kg). A female papillon stands between 8 to 11 inches at the shoulders as well but has a different weight to that of a male papillon; weighing around 7-9 pounds (3.2-4.1 kg).
The lifespan of a papillon is 13-15 years. The papillon is known to be friendly to both children and strangers alike, though it is also known to be reserved around new faces. It is an energetic breed that has a high sense of alertness. The breed has two ear variations — there is the completely upright-eared papillon which is more common, and there exists, also, the dropping ears of the Phalene variety, which have been likened to their spaniel ancestors.
History
The history of the Papillon breed is closely connected with paintings. There is a painting of Queen Sophie Dorothea of Prussia with a Phalene, which was done in 1737 alongside other papillon paintings done at different times. Italy is where the earliest toy spaniels which resemble the papillon are found– an artist, Tiziano Vecelli, had included them in famous paintings from around 1500. In 1935, the AKC first recognized the papillon and the Papillon Club of America was then formed. The World Wars affected the club's activities and it was closed, but in the year 1948, it was revived.