Otterhound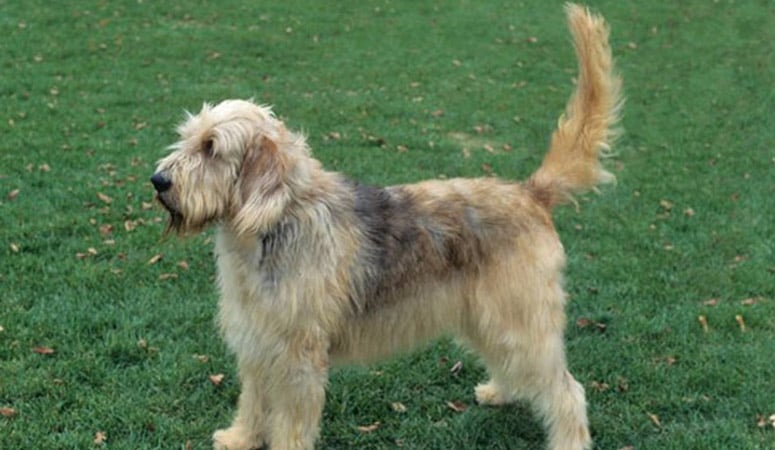 Here comes Otterhounds, cute and adorable. Owners need some time and efforts to train them to behave good. Anyway, they are good companion dog. Playful and energetic all day long. Suitable for many competitions and trails activities. Hound groups are all energetic and atheletic.
| | |
| --- | --- |
| Other Names | None |
| Color | Black and Tan, Blue, Gray, Red, White |
| Height | Males: 26-27 inches. Females: 23.5-24 inches. |
| Weight | Males: 110-115 pounds. Females: 77-80 pounds. |
| Life Span | 10-13 years |
| Personality | Even-Tempered, Amiable, Boisterous |
| Exercise | Regular Exercise |
| Origin | |
| | |
| --- | --- |
| Popularity | #172 |
| Groom Needs | Weekly Brushing and Seasonal Shedding |
| Kids Friendly | No |
| Dog Friendly | Yes with supervision |
| Watch Dog | |
| Family Dog | |
| Litter Size | 2–14 puppies |
Introduction
The Otterhound is a unique hound dog, strong in build and able to perform hard jobs. It has webbed feet and a sizeable head. Well adapted to its original role as a hunting dog, it hunts prey both on land and in water as it has an oily, waterproof coat. The double coat is composed of a softer undercoat and a longer, rougher top coat. They come in a wide variety of colors, plus color combinations. The whole colors include red, grizzle, sandy, blue, and wheaten, possibly with white markings around the legs. Combination varieties include, white with badger pied, lemon or blue markings; tan in combination with blue or black, and a host of others.
A male Otterhound stands 26-28 inches at the shoulder and weighs around 115 pounds, while a female measures about 23-25 inches tall, from shoulder to paw, and weighs between 75 and 90 pounds. They have an average life expectancy of 10-13 years.
History
Queen Elizabeth I is regarded as the first woman to have owned a pack of Otterhounds. In medieval times, otters were notorious for killing fish and depleting their population in open water bodies. Around this period, Otterhounds were used to hunt these otters and consequently preserve the community of aquatic life. However, it is believed that fish became less of a popular food choice and otters were later being hunted as a sport. Otterhounds were owned by the squires and noblemen, who were known to enjoy the otter hunting sports, although the sport never grew to the fame of the foxhunt. Originally, it was believed that the Otterhound had originated from interbreeding the Southern Hound and the Welsh Harrier, although more recent theories point elsewhere; one theory presents that the Otterhound had sprung off the Old Water Spaniel and the English Bulldog, while another claims Griffon Nivernais and the English Foxhound as its progenitors. However, a common opinion shared by these theories is that linking the Bloodhound to the origin of the Otterhound.
The population of otters began to drop in the course of time, which led to less and less interest in the Otterhound breed amongst the British. The Otterhound was imported into the United States in the early 1900s and was exhibited at an Oklahoma dog show. Later in 1909, the American Kennel Club recognized the Otterhound, registering it in the Hound Group. The Otterhound has never been really popular in America, even after the establishment of the Otterhound Club of America in 1960. The Kennel Club includes the Otterhound amongst its vulnerable native breeds.