Old English Sheepdog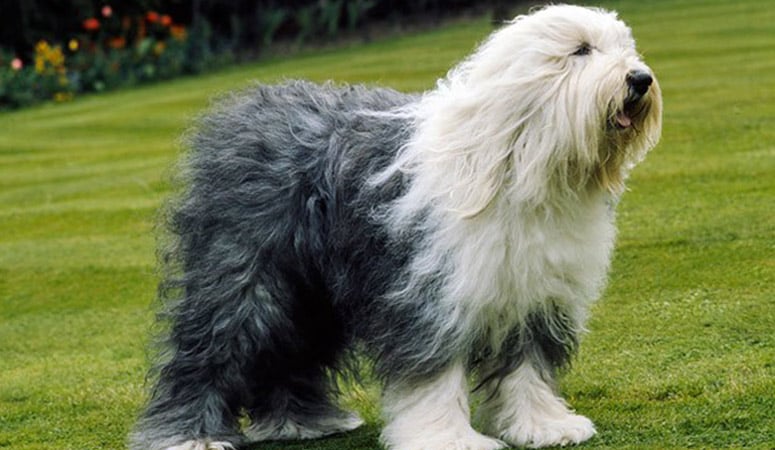 The Old English Sheepdog is a big, athletic dog breed with a profuse coat and peak-a-boo hairdo, the most distinguishing feature of him is the abundant, shaggy coat that hangs over his eyes. These dogs' original job was cattle herding in England, but now they have become companion dogs beloved for their friendly, often easygoing personalities.
| | |
| --- | --- |
| Other Names | Bob, Bob Tail |
| Color | Any shade of grey, grizzle, black, blue, or blue merle, with optional white markings |
| Height | Males: 22-24 inches. Females: 21-22 inches. |
| Weight | Males: 60-100 pounds. Females: 60-100 pounds. |
| Life Span | 10-12 years |
| Personality | Adaptable, Gentle, Smart |
| Exercise | Regular Exercise |
| Origin | |
| | |
| --- | --- |
| Popularity | #70 |
| Groom Needs | 2-3 Times a Week |
| Kids Friendly | No |
| Dog Friendly | Yes with supervision |
| Watch Dog | |
| Family Dog | Yes |
| Litter Size | 5-8 |
Old English Sheepdog Video
Introduction
The Old English Sheepdog is smart and independent, but as a pet, you are going to love their remarkable sense of humor and his antics – sheer entertainment! That being said, he is strong-willed and needs a firm hand to guide them on the right path. This gorgeous dog is around 22 inches at the shoulders and weight is about 90 pounds. He is not considered a guard dog, but he can get pretty protective, using his loud bark to warn against intruders. Some, if left to their own devices for too long, can become nuisance barkers though and will dig, bark, and chew stuff if they are not exercised or mentally challenged enough. In France, they call his bark "pot cass" which means to sound like a broken jar or a cracked bell! Or it sounds like two pots banging together! He has a thick double coat which requires plenty of grooming, at least 3-4 hours a week – be prepared to be committed Old English Sheepdog owners. He is a loving pet that needs plenty of interaction with the family. He walks much like a bear but, remember, a bear needs plenty of exercise!
Living with Old English Sheepdog
History
He originates from the southwestern counties of England. His name might have the word 'old' in it but actually he hasn't been around for thousands of years. Neither is he technically a sheepdog when you compare him to some ancient breeds – his breed is only a couple of hundred years old. In fact, the Scottish Bearded Collie is thought to have played a huge role in the development of the Old English Sheepdog. Others claim he was developed from the Russian Ovcharka. That seems possible if you look at this dog, doesn't it!
In the 1880s, a man called William Wade – an industrialist from Pittsburgh – he promoted this breed to the point that in just 20 years, five of the richest families in the USA owned the Old English Sheepdog – these included the Vanderbilts and the Guggenheims.
Then there was Slumber, the Old English Sheepdog who won the "Best" category at the Westminster Kennel Club Dog Show in 1914, hands down. It was Slumber's win that is credited with having promoted the popularity of the breed. The judge himself said Slumber came close to be the accepted model of perfection in any dog he had ever seen.
Did you know that singer Paul McCartney sang about his very own Old English Sheepdog in his song "Martha My Dear"?
He was registered with the AKC in 1888.