Norwich Terrier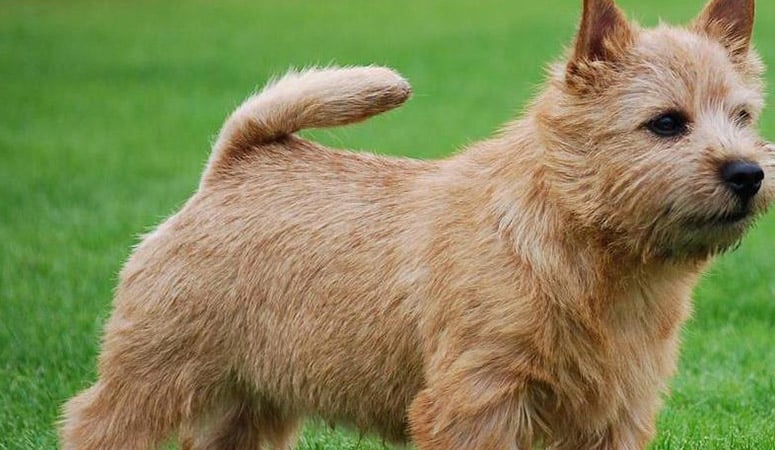 As one of terrier brethrens, Norwich Terrier was once bred to hunt vermin. Nowdays, they are more of a companion than a hound. Tolerant and sociable as Norwich Terriers are, these companions still have hunting instincts. Any protentially unprovoked behaviors should be hold back.
| | |
| --- | --- |
| Other Names | None |
| Color | Red, Black and Tan, Wheaten, Grizzle |
| Height | Males: 9-11 inches. Females: 8-11 inches. |
| Weight | Males: 11-12 pounds. Females: 10-11 pounds. |
| Life Span | 12-15 years |
| Personality | Affectionate, Alert, Curious |
| Exercise | Energetic |
| Origin | |
| | |
| --- | --- |
| Popularity | #102 |
| Groom Needs | Weekly Brushing/Seasonal Shedding |
| Kids Friendly | Yes |
| Dog Friendly | Yes with supervision |
| Watch Dog | |
| Family Dog | |
| Litter Size | 1-3 puppies |
Introduction
The Norwich Terrier was bred as a sociable terrier in the United Kingdom, around the 19th century, to assist in extirpating vermin, mostly rats, and in bolting foxes out of their burrows. They are small working terriers not disposed to frequent barking, however, they have a way of announcing the presence of a stranger they aren't comfortable with. They come in a double coat, which is hard and wiry, with a soft undercoat. The color varieties include red, black and tan, grizzle, and wheaten.
A Norwich Terrier is among the smallest terriers with origin in England. A full-grown dog of this breed stands 9-11 inches, measured from shoulder to paw, and would likely tip the weighing scales at around 11-12 pounds. There's hardly a size difference between male and female types of this breed due to their toy size. On average, they sire a litter of up to 4 before they die of age at 12-16 years.
Living with Norwich Terrier
History
The Norwich Terrier is closely associated with the Norfolk Terrier. For the most part of their history, they were regarded as two varieties of the same breed, under the name Norwich Terrier with distinctions in Studbooks to indicate the drop-eared and prick-eared varieties. However, it wasn't until around mid-1900s that they were recognized as separate breeds, the drop-eared dogs designated Norfolk Terriers, while the prick-eared ones were the Norwich Terriers. Norwich Terriers are of British descent, believed by many to have originated in Norwich, although there are reports that claim that this breed was developed in Trumpington.
A dog named "Rags" is believed to be the ancestor of modern-day Norwich Terriers. Rags was a Trumpington Terrier, according to several reports. It was owned by a Norwich-based farmer who bred it to produce several litters. And with that began the bloodline of the Norwich Terrier. Later in 1914, some of Rags' progenies were sold out to Frank Jones who further bred these dogs by, perhaps, crossing with certain Irish terriers and Cairn-type terriers. This formed a foundation for the Norwich Terrier breed, one of these puppies (named Willum) was exported to Philadelphia where it became first of the Norwich Terrier breed in America.
Until 1930, the Norwich Terrier was bred in varieties of dropped ears and pricked ears. The drop ears were cropped by some breeders until it was considered illegal. In the 1930s efforts to distinguish these varieties into different breeds were intensified, although it wasn't until 1964 that the drop-eared variety was distinctly recognized as the Norfolk Terrier by the Kennel Club of England. Kennel clubs in America and Canada followed suit in 1979.