Norwegian Lundehund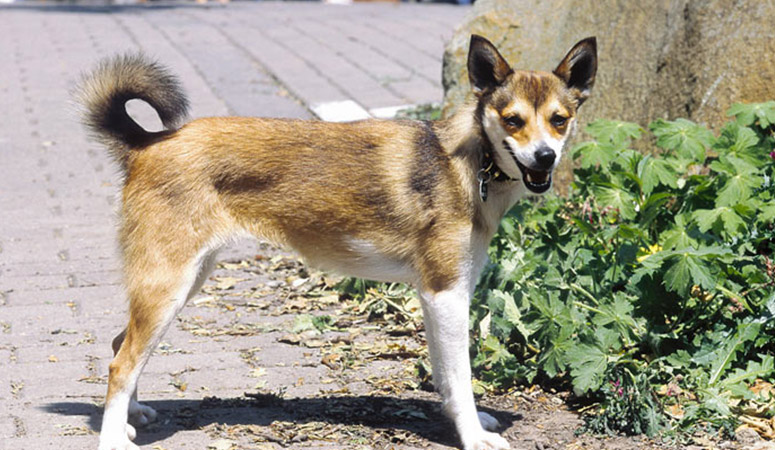 The Norwegian Lundehund was bred to hunt, originated from Norway. They usually scale coastal cliffs to retrieve live seabirds, such as puffins, and bring them back to his handler with six toes on each foot, and all of them are double- or triple-jointed, which give them an amazing range of motion. Friendly and athletic, Lundehund is a good companion of their family.
| | |
| --- | --- |
| Other Names | Lundehund, Norsk Lundehund, Norwegian Puffin Dog |
| Color | Black, Gray, Brown, White, Yellow, Sable & White |
| Height | Males: 13-15 inches. Females: 12-14 inches. |
| Weight | Males: 14-16 pounds. Females: 12-14 pounds. |
| Life Span | 12-15 years |
| Personality | Loyal, Energetic, Alert |
| Exercise | Needs Lots of Activity |
| Origin | |
| | |
| --- | --- |
| Popularity | #192 |
| Groom Needs | Weekly Brushing |
| Kids Friendly | Yes with supervision |
| Dog Friendly | Yes with supervision |
| Watch Dog | |
| Family Dog | Yes |
| Litter Size | 4-8 puppies |
Norwegian Lundehund Video
Introduction
Though there are several unique features of this breed, the most outstanding is its six toes on each paw, which is believed to be an adaptation for climbing cliffs, which was the original idea for breeding it. Other unique features include its ability to perform a wide range of movements at its joints, to enable it to squeeze into narrow crevices. It could fold its ears forward or backward to keep out foreign matter. The Norwegian Lundehund comes in a double coat, the undercoat of which is soft and covered by a dense and rough outer coat. It appears in different colors ranging from fallow to reddish-brown, a black tip usually develops as it matures.
A male Norwegian Lundehund is supposed to stand 13-15 inches tall from shoulder to paw, and weigh between 20 and 30 pounds. Females are slightly shorter at 12-14 inches tall and weigh in the same range as the males. Norwegian Lundehunds have an average lifespan of 12-15 years.
Living with Norwegian Lundehund
History
The Norwegian Lundehund was bred to hunt Puffin, hence the name (Lunde was a word for puffin). The breed was developed in a little island, Vaeroy, off the coast of Norway. The primary aim for its breeding was to hunt puffin which ingeniously hid within rocky crevices in the cliffs on the island. The physical attributes of the Norwegian Lundehund are specialized for this purpose; its extra toes for better grip of the cliff, the dog is able to reach into crevices to pick off the puffin, due to its flexibility. The Norwegian Lundehund is characteristically active, determined, and alert. However, interest in the Norwegian Lundehund declined slowly as more advanced methods for hunting puffins emerged, and even drastically when hunting of puffins was made illegal in some regions.
The Norwegian Lundehund almost disappeared as a result of the events of the Second World War and the sudden outbreak of canine distemper in Vaeroy during the period. Another outbreak of distemper struck in the 1960s, which almost spelled the death knell for this breed. It was more devastating this time, only less than seven dogs were recorded to have survived, in the whole of Norway. However, with strict and intentional breeding, Norwegian Lundehunds have slowly bounced back in their numbers. Twenty-seven years after the breed arrived in Canada, it was introduced into the United States in 1987, owned by one Paul Ross. The following year, a breed club, the Norwegian Lundehund Club of America, was established. The Norwegian Lundehund was later admitted into the American Kennel Club (AKC) Foundation Stock Service in 1996, fourteen years before it gained official recognition in 2010.