Norwegian Elkhound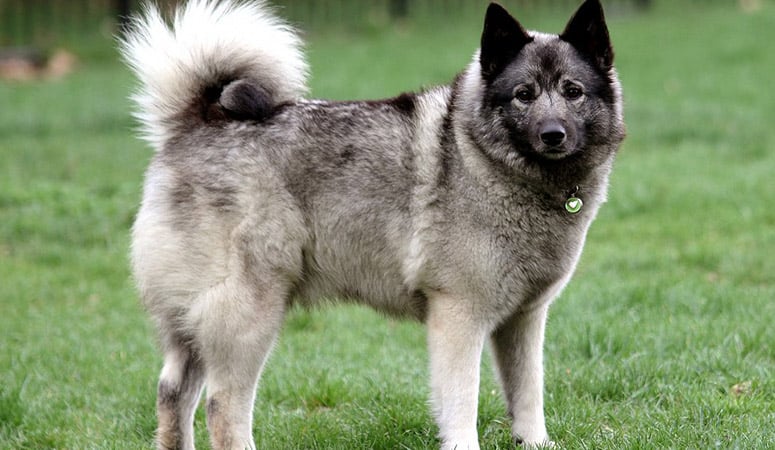 With dense silver-gray coat, deep chest, sturdy legs, and muscular thighs, the Norwegian Elkhound is the picture of an alert and steadfast dog of the north. Agility and herding trials are good outlets for their natural athleticism and eagerness. Strong and confident, this breed is intelligent watchdogs and truly sensitive souls of people.
| | |
| --- | --- |
| Other Names | Norsk Elghund Gra, Standard Gray Variety: Gray Norwegian |
| Color | Black & Gray, Black & Silver, Black White & Silver, Gray & Black, Gray Black & Silver, Silver & Black, Silver Gray & Black |
| Height | Males: 18-21 inches. Females: 17-20 inches. |
| Weight | Males: 50-55 pounds. Females: 44-48 pounds. |
| Life Span | 12-15 years |
| Personality | Friendly, Confident, Dependable |
| Exercise | Regular Exercise |
| Origin | |
| | |
| --- | --- |
| Popularity | #93 |
| Groom Needs | Weekly Brushing |
| Kids Friendly | Yes with supervision |
| Dog Friendly | Yes with supervision |
| Watch Dog | Yes |
| Family Dog | |
| Litter Size | 5-10 pups |
Introduction
The Norwegian Elkhound is a hardy fellow built to make a living from hunting; their deep chest, well-muscled outlines, and strong and powerful legs all point to that singular fact. Nowadays, the Elkhound has found domestic services at home, especially as keen watchdogs and delightful companions. A modern Elkhound is a reliable dog package in smooth and thick double coats, the undercoat being woolly and, straightened out over it is, the topcoat. They usually come in a silver-grey color, often with saddle markings. With erect ears and a broad head, an Elkhound differs slightly from most typical hounds that have dropping ears.
A typical Norwegian Elkhound is a robust, compact dog weighing close to 60 pounds (males) or 50 pounds (females). While a full-grown male measures up to 19-21 inches from shoulder to paw, a similar female stands shorter at a shoulder height of 18-20 inches. The Elkhound is filed under the Hound Group by the American Kennel Club. They make jolly good dogs with the durability of health. They live 11-15 years on the average.
Living with Norwegian Elkhound
History
The Norwegian Elkhound is believed to have originated some thousand years ago (5000 B.C), dating back to the era of the Viking. Some reports included that at the fall of the Viking, an Elkhound was found with the shield and sword lying beside it, a testament to its importance to the group. The Norwegian Elkhound is a fascinating breed with a history bathed in myth and legends. A ridiculous story is one that portrays that the Elkhound was named king in the land of Throndhjem, around the 1100s. There are isolated representations and artifacts from old Norway that depicted the Elkhound, one of which is the skeleton of an Elkhound found in the Viste Cave, in western Norway some millennia ago.
They were popular for hunting elks or moose, boar, and other wild animals, due to their developed scenting and tracking abilities. Elkhounds were of two broad types — the bandhund and the loshund — both of which can be used simultaneously in a hunting outing. The bandhund tags by a line behind the hunter, scenting the quarry, while the loshund goes before them in search of the prey, baying when it stops and barking furiously when it finds it. However, they are prized mainly for their keen scenting ability, and not for the hunting proper, which they weren't involved with.
The Norwegian Elkhound domiciled the cold and Arctic climates of the north, the mountainous ranges, and rain forests, unbeknownst to much of the dog-loving community, till the 1800s when the pedigrees for the breed were kept. The breed was recognized by the American Kennel Club in 1930.