Nederlandse Kooikerhondje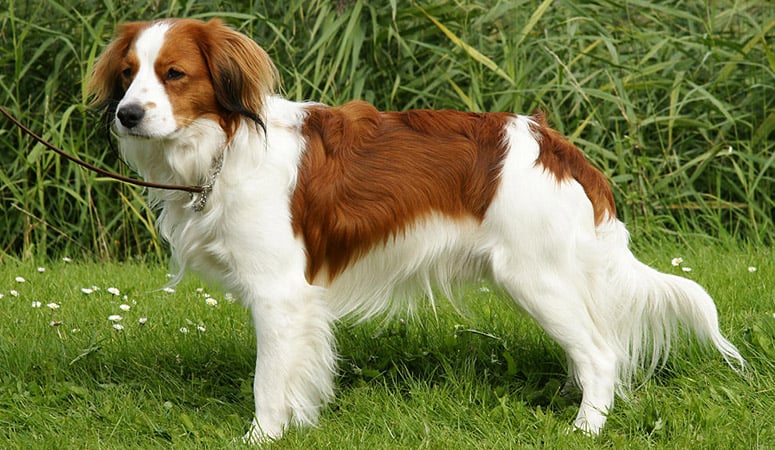 The Nederlandse Kooikerhondje is small spaniel-type breed of dog of Dutch ancestry that was originally used as a working dog to lure ducks into traps for hunting or tagging. This breed is swift, tough, energetic sporting dog, with sufficient perseverance, they enjoy working.
| | |
| --- | --- |
| Other Names | Dutch Decoy Dog, Kooiker Hound, Small Dutch Waterfowl Dog |
| Color | White & Red |
| Height | Males: 14-16 inches. Females: 14-16 inches. |
| Weight | Males: 20-25 pounds. Females: 20-25 pounds. |
| Life Span | 12-15 years |
| Personality | Friendly, Alert, Quick |
| Exercise | Regular Exercise |
| Origin | |
| | |
| --- | --- |
| Popularity | #157 |
| Groom Needs | Weekly |
| Kids Friendly | Yes with supervision |
| Dog Friendly | Yes with supervision |
| Watch Dog | |
| Family Dog | |
| Litter Size | 5-7 |
Nederlandse Kooikerhondje Video
Introduction
The Nederlandse Kooikerhondjes is a dog for all seasons– happy and friendly is its hallmark. The Kooikerhondjes have a natural tendency to want to please their owners, making fine apartment dogs, especially for their average activity level. Although they are cordial with family, they can get wary of strangers or even children who behave too wild and boisterous. The good-natured Kooikerhondjes is a small dog with square features, and walks with a self-confident air, in elegance, plus a head held high in the air. They are highly intelligent dogs and come in orange and white coats.
A standard male stands 15-17 inches from shoulder to paw and weighs around 20-33 pounds, while a similar female runs slightly smaller, measuring 14-16 inches at the shoulder and weighing in the range of 20-30 pounds. They are true members of the Sporting Group, as classified by the American Kennel Club (AKC). Nederlandse Kooikerhondjes have an average life expectancy of 12-15 years.
Living with Nederlandse Kooikerhondje
History
The Nederlandse Kooikerhondjes is not a very popular dog breed. As a matter of fact, it had only begun to gain popularity in parts of the U.S and Canada much recently. The breed was developed before the 16th century in the Netherlands. By the 17th century, it had become a household name in its Dutch homeland, especially used to lure ducks out of a traditional duck cage called eendenkooi. This cage was in the form of a water canal, the hunter (the kooiker) waited with a trap at the other end of the canal. The name for the breed was derived from this activity– with kooiker meaning hunter and hondjes, dogs, Kooikerhondjes literally translates to Hunter's Dog.
As guns that were better suited for the hunting of ducks were invented, the era of the eendenkooi began to fade away, and so did the Kooikerhondjes which served the purpose of the hunt. The decline took a more drastic turn after the First World War. Around 1939, Baronesse von Hardenbroek van Ammerstol on discovering that the indigenous Kooikerhondjes were almost totally depleted in population, set out on a mission to rescue the breed. She is credited with developing the foundation of the modern Kooikerhondjes. A Dutch parent club was founded in 1967 and, by 1971, the Dutch Kennel Club (the Raad van Beheer) recognized the breed. Ever since, the breed had been exported to different countries and across continents, although it still struggles to be recognized as a distinct breed in some countries, especially Canada. After a series of promotion and consideration, the Kooikerhondjes gained an AKC recognition in 2018.