Neapolitan Mastiff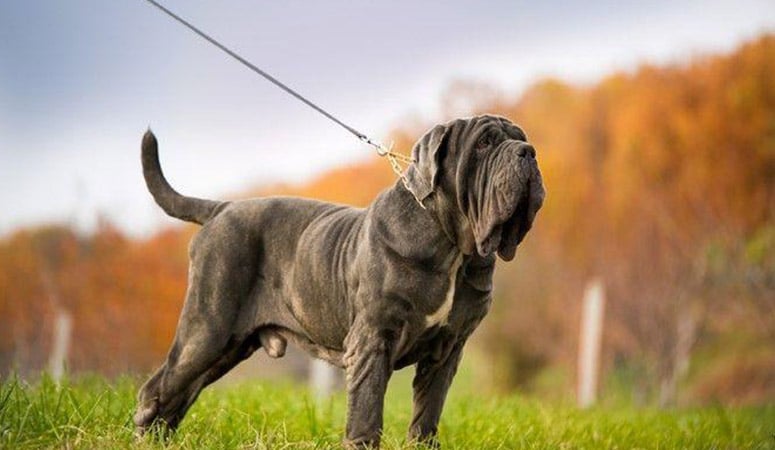 As descendants of ancient dogs, the Neapolitan Mastiff became war dogs of the Roman Empire with huge and powerful built. With astounding appearance, this breed will do what it takes to keep intruders out of their territory and away from their people. The supersized breed is loving and devoted to their families, although they are intimidating and somewhat domineering.
| | |
| --- | --- |
| Other Names | Italian Mastiff, Mastino Napoletano, Mastino Neapoletano |
| Color | Black, Blue, Mahogany, Tawny |
| Height | Males: 25-31 inches. Females: 23-29 inches. |
| Weight | Males: 132-154 pounds. Females: 110-132 pounds. |
| Life Span | 7-9 years |
| Personality | Loyal, Dignified, Watchful |
| Exercise | Regular Exercise |
| Origin | |
| | |
| --- | --- |
| Popularity | #100 |
| Groom Needs | Weekly Brushing |
| Kids Friendly | Yes with supervision |
| Dog Friendly | Yes with supervision |
| Watch Dog | Yes |
| Family Dog | |
| Litter Size | 8 puppies |
Introduction
The thoroughly wrinkled skin on their head might deceive one into assuming they were inhospitable dogs, but on the contrary, the Neapolitan Mastiffs are as good-natured and gentle with the family as their intimidating appearance suggests a scamper for the road to strangers. They are huge and majestic, clothe in short, loose coats which drop in wrinkles especially around the head. They come in gray, black, or lead gray coats.
As giant dogs, full-grown Neapolitan Mastiffs stands nothing less than 24 inches at the shoulder, regardless the gender. Males run quite bigger, approaching 32 inches, while the females run in the range of 25-29 inches. On average, a male Neapolitan Mastiff weighs around 150 pounds, where a similar female weighs about 115 pounds. These giants lead a dignified life until about 6-9 years of age before they die.
Living with Neapolitan Mastiff
History
The Neapolitan Mastiff is a descendant of a group of large-sized guard dogs, prominent in ancient Central Italy. It belongs to the Molossian breed. Similar dogs were depicted in antiquity by famous art and paintings in Italy. Historians believe that the ancestors of the Neapolitan Mastiff can be traced back to 700 BCE during the era of the ancient Roman Empire, where they served as war dogs, guard dogs, and gladiators.
By the 20th century, these large war dogs were already off the popularity list, even in their homeland of Italy. In 1914, Mario Monti exhibited a dog of the kind at a dog show, which left the judge amazed. When the show was over, the judge, named Fabio Caielli, decided to go in search of other dogs of the same type in order to develop a breed worthy of recognition.
However, further development and establishment of the breed is credited to Piero Scanziani, a writer and dog enthusiast, who was acclaimed to have seen one of such dogs at a dog exhibition in Naples, in 1946. Scanziani decided that the dog was of the extinct Molossus breed and was fascinated to develop a breed for it. A year later, he set out to find dogs of the same type, and soon he started breeding them. He called them the Molosso Italiano. In the breed standard he wrote for it, Scanziani recognized strains such as the Cane Corso, cane da presa, and the mastino. Present-day Neapolitan Mastiffs are believed to be of the mastino type.
Piero Scanziani pushed for the establishment of this breed until 1949 when it was recognized by the Ente Nazionale della Cinofilia Italiana. The Fédération Cynologique Internationale followed suit in 1956, with the American Kennel Club accepting the Neapolitan Mastiff in 2004.