Miniature Schnauzer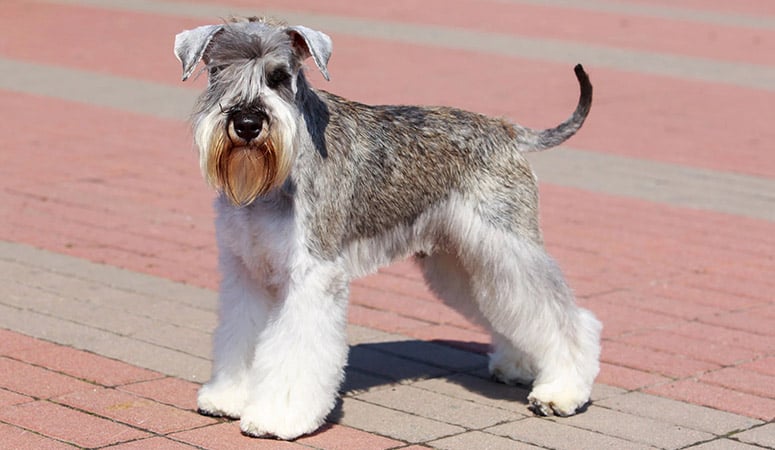 The Miniature Schnauzer is the smallest of the three types of Schnauzer, originated from Germany in the 19th century, this intelligent, affectionate, and friendly dog is a loving companion who likes spending time with his human, in addition to a handy size and sporty good look, and it is the ideal family dog.
| | |
| --- | --- |
| Other Names | Zwergschnauzer |
| Color | Black, Black & Silver, Salt & Pepper |
| Height | Males: 12-14 inches. Females: 12-14 inches. |
| Weight | Males: 9-18 pounds. Females: 9-18 pounds. |
| Life Span | 12-15 years |
| Personality | Friendly, Smart, Obedient |
| Exercise | Regular Exercise |
| Origin | |
| | |
| --- | --- |
| Popularity | #18 |
| Groom Needs | Specialty/Professional |
| Kids Friendly | Yes with supervision |
| Dog Friendly | Yes with supervision |
| Watch Dog | |
| Family Dog | |
| Litter Size | 3-8 |
Miniature Schnauzer Video
Introduction
A Miniature Schnauzer, as the name suggests, is a small-sized dog with bushy eyebrows that gives it a human-like appearance. They originated from the Standard Schnauzers of old alongside the Giant Schnauzer. Of the two breeds, the Minis ( a nickname for the Miniature Schnauzers) is the more popular. They come in three variants of colors, all maintaining that hard and wiry coat texture. Black, pepper, and salt, and black and silver are the three varieties of Minis there are.
Despite their little bodies Minis make good watchdogs and are disposed to working really hard and strenuously. Yet they are a cheerful bundle around good company, even with children. Male and female Minis are hardly distinguishable with respect to size. A standard Miniature Schnauzer reaches an even height of 12 or 14 inches and would tip the weighing scales at somewhere between 12 and 20 pounds, a testament to their lightweight.
Miniature Schnauzers are portable and added to the fact that they rarely bite like most dogs, they make the list for great companion dogs. They are small but hardy dogs, scarcely ill (if at all), and would live a full life up to about 13 or 14 years of age.
Living with Miniature Schnauzer
History
The Miniature Schnauzer breed of German roots is a modern breed of a lineage of Schnauzers, favored for its miniature size. The history of this dog breed isn't an extensive one. The Schnauzers were medium-sized farm dogs in Germany. They were involved in activities that involved herding stock, ratting, and, perhaps, guarding of the farmstead. After some time, breeders thought of developing a smaller breed of the Schnauzer dogs which could crawl into smaller spaces for the purpose of ratting. The report says, the Standard Schnauzers were cross-bred with small-sized dog breeds which probably include the Miniature Pinscher, the Affenpinscher, the Miniature Poodle, or some other smaller breeds. The Miniature Schnauzer emerged with a small size and improved variety of colors in 1888. However, it was in 1899 that the Miniature Schnauzer was first displayed on the show.
In America, the Miniature Schnauzer was introduced around 1924, being imported from Germany. It is probable that modern Miniature Schnauzers in the U.S are descendants of these first set of Miniature Schnauzers in the country. Later, in 1926, the American Kennel Club registered its first Miniature Schnauzer and with time the breed began to gain prominence amongst Americans. The American Miniature Schnauzer Club was later founded in 1933 out of an older club for Wirehaired Pinschers.