Miniature Bull Terrier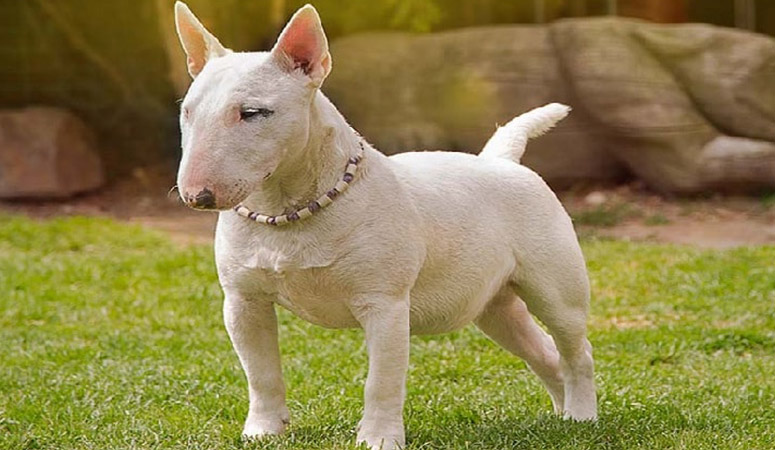 Energetic and playful, the Miniature Bull Terrier wears a keen and determined expression on its characteristic clown face and is popular among people. They have a courageous heart, although they're small. But their stubborn nature can make the training a challenge for first-time dog owners or soft trainers. Loving Mini Bull Terriers are affectionate with family, and friendly with strangers.
| | |
| --- | --- |
| Other Names | Mini Bull Terrier, Miniature English Bull Terrier |
| Color | White, black, brindle, red, fawn and tricolour |
| Height | Males: 10-14 inches. Females: 10-14 inches. |
| Weight | Males: 25-35 pounds. Females: 25-35 pounds. |
| Life Span | 11-13 years |
| Personality | Upbeat, Mischievous, Comical |
| Exercise | Needs Lots of Activities |
| Origin | |
| | |
| --- | --- |
| Popularity | #112 |
| Groom Needs | Occasional Bath/Brush |
| Kids Friendly | No |
| Dog Friendly | Yes with supervision |
| Watch Dog | |
| Family Dog | |
| Litter Size | 1 to 5 puppies |
Miniature Bull Terrier Video
Introduction
What you get with the Miniature Bull Terrier is a devoted, playful, and friendly companion – you will just love his mischievous and inquisitive nature. These spunky little dogs stand around 13 inches at the shoulders and weigh around 33 pounds. Looking at the dog, you can see he is muscular and stocky. Distinctive features of the dog are his eyes. They are triangular-shaped, small, and deep-set. He needs plenty of exercise and loves to play games. He makes a good watchdog too, even though he is not huge. He shows huge loyalty to his owners. But always remember not to leave him alone because they will become destructive then. Like bull terriers, the miniatures also have glossy, short, fine coats, so not all that much grooming is required, just a daily brush in the shedding season is adequate. The colors accepted in the ring can be white or white with another color, or fully colored. They do fine with children, but he also needs socialization from puppyhood to make him a great playmate for older kids who he will love to run and romp with. He will need a few good solid walks to keep him in shape and out of trouble.
Living with Miniature Bull Terrier
History
The Miniature Bull Terrier originated in England.
In the early years, his ears were cropped to make them look erect, but now breeders have worked to create his ear to be naturally erect, and that form part of his expression today.
When dog shows became the rage in the late 1800s, the Bull Terrier was kind of questionable; dog fanciers looked askance at this strange looking breed. Soon show fanciers started crossing the dog with white English terriers and Dalmatians which was a great success. From this doggy conglomeration emerged a terrier that was just what they wanted – excelling at hunting and killing rats in 'sporting events' and where spectators placed bets on the outcomes.
Hunters were so impressed with the breed's tenacity, they started breeding the miniature version to serve as smaller 'ratters', for the purpose of hunting small prey in tight areas. The miniature bull terrier has the same tenacity as his bigger counterpart and exhibits a strong prey drive.
Although the Miniature Bull Terrier was recognized as a breed in England in 1939, it was not until 1991 that the American Kennel Club recognized the Miniature Bull Terrier.