Miniature American Shepherd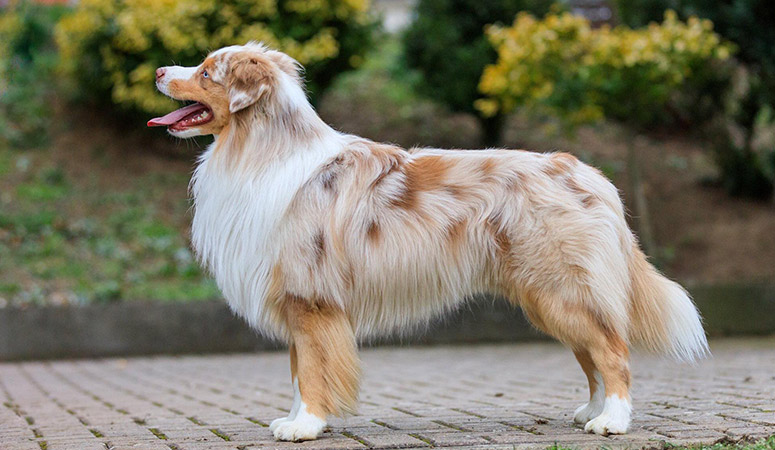 The Miniature American Shepherd is a scaled-down variety of the familiar Australian Shepherd. In spite of their mini size, Mini Aussies are true athletes, strong and agile, able to maintain energy during long periods of herding or playing sports. They are popular working dogs or family pets in the US and in Europe since 1990.
| | |
| --- | --- |
| Other Names | Mini Aussie, Miniature Australian Shepherd, MAS |
| Color | Black, Blue Merle, Red, Red Merle |
| Height | Males: 14-18 inches. Females: 14-18 inches. |
| Weight | Males: 20-40 pounds. Females: 20-40 pounds. |
| Life Span | 12-13 years |
| Personality | Good-Natured, Intelligent, Devoted |
| Exercise | Energetic |
| Origin | |
| | |
| --- | --- |
| Popularity | #29 |
| Groom Needs | Daily |
| Kids Friendly | Yes |
| Dog Friendly | Yes |
| Watch Dog | |
| Family Dog | |
| Litter Size | 2-6 |
Miniature American Shepherd Video
Introduction
With a close resemblance to their Australian Shepherd ancestors, the Miniature American Shepherds are small herd dogs with a stature that appears to be quite longer than it is tall. They are friendly and hard-working dogs with extraordinary strength for their size. They are remarkably agile and sturdy, adapted for life on rugged plains and ranches. They have always served, primarily, as herd dogs, although they still make good companions at homes, even as guard dogs. Their thick, double coats come in a variety of colors, namely, blue, merle, black or red, and occasionally a blend of any two of these colors.
Both sexes may tip the scales somewhere between 25 and 40 pound-weight, depending on the stature of specific dogs. The males run a bit bigger than the females. Where a standard male measures around 14-18 inches, a female comes close at 13-17 inches from shoulder to paw. The Miniature American Shepherds are devoted to their task as herd dogs. They have an average lifespan of around 13 years.
Living with Miniature American Shepherd
History
The history of the Miniature American Shepherd isn't a long-winded story of conquests and wars, or seas and mountains. It was simply derived from the Australian Shepherd in the 1960s. The Australian Shepherds, themselves originated from northwestern America in California, around the mid-19th century. These Australian Shepherds were small dogs used for herding cattle, goats, sheep, and other livestock across a large expanse of fields. Over the years, they were cross-bred to improve the quality of the breed while maintaining the small size and instinctive capability for herding and driving livestock.
These little Australian Shepherds are believed to be the ancestors of the unregistered dogs which were later crossed around the middle of the 20th century. The Miniature American Shepherd emerged from this cross. And it yet maintained the small size, intelligence, and attitude of its antecedents, the Australian Shepherds.
The first Miniature American Shepherd was registered into the National Stock Dog Registry in 1983, where it was formerly known as the Miniature Australian Shepherd. Later in 1990, a club was formed in the United States and it was named the Miniature American Shepherd Club of USA (MASCUSA), which was made an official, corporate body in 1993. The MASCUSA is the affirmed parent club for Miniature American Shepherds by the American Kennel Club. The official club of Miniature American Shepherds in the United Kingdom was established in 2011. That same year, the breed was registered by the American Kennel Club Foundation Stock Service as a distinct breed. The Miniature American Shepherd has grown in popularity to become an easily recognized dog breed in many parts of the world. It is ranked 34th most popular breed by the American Kennel Club (AKC).