Mastiff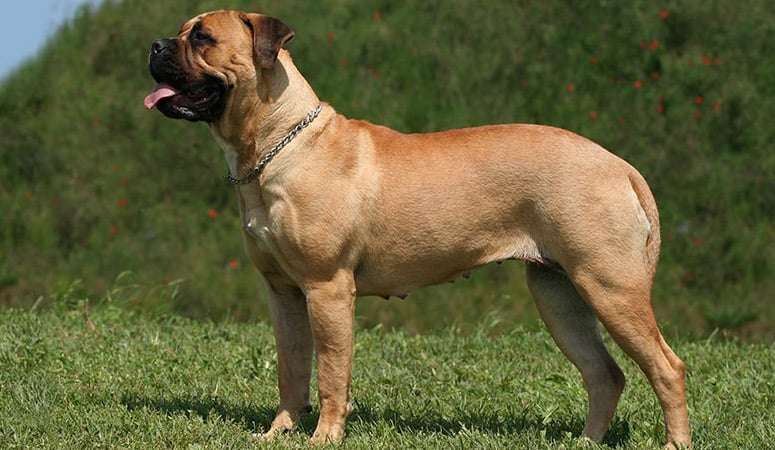 The Mastiff is one of the most ancient types of dog breeds. Mastiff is known for its huge body, massive head, short coat in a range of limited colors, and always wears an alert expression, noted for its soft and loving nature. This gentle, loyal, giant breed wants nothing more than to be near his family.
| | |
| --- | --- |
| Other Names | English Mastiff, Old English Mastiff |
| Color | Apricot, Brindle, Fawn |
| Height | Male: 27.5-30 inches. Female: 26-28 inches. |
| Weight | Males: 150-250 pounds. Females: 120-200 pounds. |
| Life Span | 6-10 years |
| Personality | Courageous, Dignified, Good-Natured |
| Exercise | Regular Exercise |
| Origin | |
| | |
| --- | --- |
| Popularity | #32 |
| Groom Needs | Occasional |
| Kids Friendly | Yes |
| Dog Friendly | Yes with supervision |
| Watch Dog | |
| Family Dog | |
| Litter Size | 6-10 |
Introduction
When you take on a mastiff as a pet, you are getting a big dog, a good-natured and faithful companion to you and your older children. They grow to be about 31 inches at the shoulders and weigh as much as 200 pounds. They have floppy ears and droopy eyes. They are short-haired, coming in colors like apricot, brindle, and fawn. They have drooping jowls and he is a well-known drooler and snorer. They tend to be suspicious of strangers, making them protective of the family. It is important to expose the mastiff to a lot of new people as a puppy to socialize him. Couch potatoes kind of allow their Mastiffs to become couch potatoes too, but he needs plenty of nutritious healthy food and plenty of exercise. He will also eat a lot, but the higher the quality of nutrition, the less he will need to eat. People often think cheap dog food is cheaper, but it will cost more in the long run in medical bills too. With their short hair, they are easy to groom; a weekly brushing is all they require.
History
The name Mastiff usually also means the old English Mastiff. These dogs come from an ancient heritage. They were found in Britain when the Romans invaded the island; some say they might have been brought there by Phoenician traders as early as the 6th century BC already.
There is evidence that Mastiff-like dogs lived in the mountains of Asia as far back as 4,500 years to 2,500 B.C. In The British Museum, there are relics showing Mastiff-type dogs that look very similar to modern Mastiffs, hunting lions in the desert. Most dog breed historians agree that the British are responsible for creating the dog we have today.
Today, this dog is well established in England, Canada, and America. A Mastiff reportedly came to America on the Mayflower, although records are scarce. The real importation of Mastiffs into the United States however didn't begin until the late 1800s.
When the military commander, Hannibal, crossed the Alps, there were several Mastiffs accompanying him. These dogs encountered a lot of local breeds, causing several new breeds to form, including the St. Bernard, which was once called the Alpine Mastiff.
There was a Mastiff called Zorba – he once held the record for the world's largest dog, setting the record in November 1989, when he was eight years old. Can you believe that he was 37 inches high at the shoulder, and weighed 343 pounds!