Maltese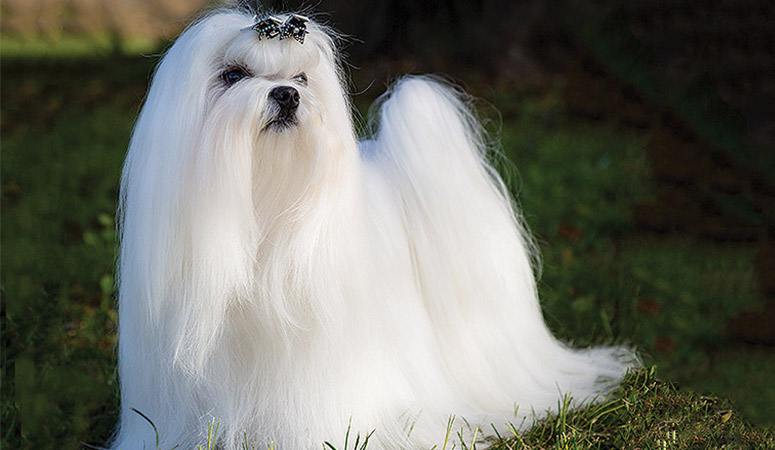 With floor-length, all-white coat and lively personality, the Maltese is affectionate, charming toy dogs and companions. They are bred with smooth gait, which help them maintain balance and elegance. Easy to get along with people, the dog can live a long life with few requirements of exercise and shedding.
| | |
| --- | --- |
| Other Names | Bichon Maltais, Bichon Maltese |
| Color | White |
| Height | Males: 8-10 inches. Females: 7-9 inches. |
| Weight | Males: 6-9 pounds. Females: 6-9 pounds. |
| Life Span | 12-15 years |
| Personality | Gentle, Playful, Charming |
| Exercise | Regular Exercise |
| Origin | |
| | |
| --- | --- |
| Popularity | #36 |
| Groom Needs | Daily Brushing |
| Kids Friendly | Yes with supervision |
| Dog Friendly | Yes with supervision |
| Watch Dog | |
| Family Dog | |
| Litter Size | 1-3 |
Introduction
This is an elegant little dog, the Maltese, part of the toy dog breeds and famed for his soft silky white hair. The Maltese does not have an undercoat of hair so he does not shed a lot of hair. They are what people might say the sweetest little dogs, alert, intelligent, and when you get one, you will find he is a devoted companion. They need plenty of attention; you can't buy one and just go off to work and leave this little pet; he needs plenty of attention and can even suffer from separation anxiety if left alone for hours on end. Then he can bark a lot and become destructive through no fault of his own. Because they are small and delicate, they are not really recommended for houses that have small children. Avoid buying so-called tea cup Maltese pups – a dog that weighs less than 4 pounds at maturity. They usually end up with genetic problems and will have a higher health risk. Maltese should be around 8-10 inches at the shoulder. Regular walks, nutritious food, and enough playing and exercises will have you blessed with what can only be said, a wonderful companion.
History
They take their name from the island of Malta. The exact origin is not known, some believe from the Isles of Malta in the Mediterranean and others say from Italy, whilst others say from Asia.
Throughout his long history, the Maltese have been given many names, such as "Melitae Dog," "Ye Ancient Dogge of Malta," the "Roman Ladies Dog," "The Comforter," the "Spaniel Gentle," the "Bichon," the "Maltese Lion Dog," and the "Maltese Terrier." But today, everyone just calls him the Maltese.
His history can be traced back to at least a couple of millennia.
Many people have immortalized this little dog in the early years of Greek, Roman, and Egyptian history.
Even Aristotle mentioned them around 370BC, dogs called "melitaei catelli," – likely to be the Maltese.
It was the Egyptians and Europeans later on who thought that the Maltese even had the ability to cure people of diseases – they would be placed on the pillows of ill people – hence the name, "The Comforter."
By the 15th century, the Maltese were popular amongst the French aristocrats but nearly destroyed in the 17th and 18th centuries when people were trying to breed with them. Finally, English breeders developed the dog to what we know today.
They were first seen in the US in the late 1800s.
They are registered with the American Kennel Club at around 37th in popularity.