Lhasa Apso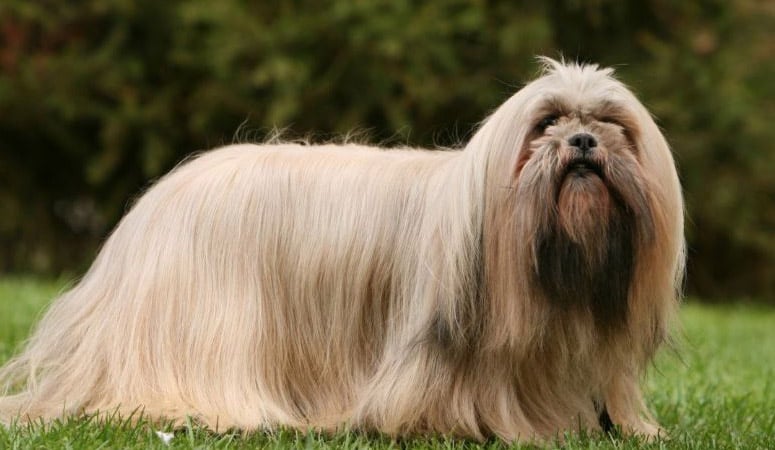 Here comes Lhasa Apso, known for a watchdog. Also good human companions nowadays. Aloof as they are, Lhasa Apsos can be friendly when people act nice to them. Responsible owners will groom them regularly not only for good appearance but for the health purpose.
| | |
| --- | --- |
| Other Names | Abso SEng Kye, Tibetan Apso |
| Color | All dog colors |
| Height | Males: 10-12 inches. Females: 9-11 inches. |
| Weight | Males: 13-18 pounds. Females: 13-18 pounds. |
| Life Span | 12-15 years |
| Personality | Confident, Smart, Comical |
| Exercise | Regular Exercise |
| Origin | |
| | |
| --- | --- |
| Popularity | #78 |
| Groom Needs | 2-3 Times a Week Brushing/ Infrequent Shedding |
| Kids Friendly | No |
| Dog Friendly | Yes with supervision |
| Watch Dog | |
| Family Dog | |
| Litter Size | 4–6 puppies |
Introduction
You might not know a lot about the Lhasa Apso dogs, but those who know them and have them, adore them. These are dogs that prefer cold weather, preferring the indoors over the outdoors. Their coats need brushing every day and come in colors such as white, black, grizzle, black and tan, and different shades of brown ranging from light cream to deep cream, and rich Irish setter red. They stand around 11 inches at the shoulders and weigh around 17 pounds. Even though they prefer the colder weather, they should never be left outside just because it is possible that they will survive the cold. They are stubborn dogs but make excellent watchdogs because they are so protective. They struggle a bit with their breathing. It's because their nostrils are often too small, and their windpipe narrow and undersized, causing their airways to be narrow and obstructed. Not only are they wonderful companion dogs, but they also love to find a special place in the home where they can 'keep watch' of things going on around them. They are happy with just a short walk of about 30 minutes each day.
History
These cutie-pies come from Tibet. It is thought this breed goes back as far as 800 BC. The Buddhists believe that these dogs are the reincarnation of Dalai Lamas – some lived in the home of lamas in the mountains. They lived with monks, serving them in the monasteries. The Tibetan Buddhists believe in reincarnation, and in the stages of reincarnation, a dog often comes right before a human. According to them, the souls of priests or lamas are frequently reborn as Lhasa Apsos just before being reborn as humans!
The two world wars just about wiped out this breed, but new blood was imported and by 1956, the breed had grown sufficiently in strength again.
Six Lhasa Apso dogs were brought to the UK by Colonel Eric Bailey and many attribute the beginnings of the dog in England by Colonel Bailey.
In the 1930s the Lhasa Apso came to the Americas. Charles Suydam Cutting received Lhasa Apsos as a gift from the Dalai Lama when he was in Tibet. He and his wife are personally responsible for introducing this wonderful breed to the United States.
The first Lhasa Apso dogs were registered at the AKC in 1935.