Lakeland Terrier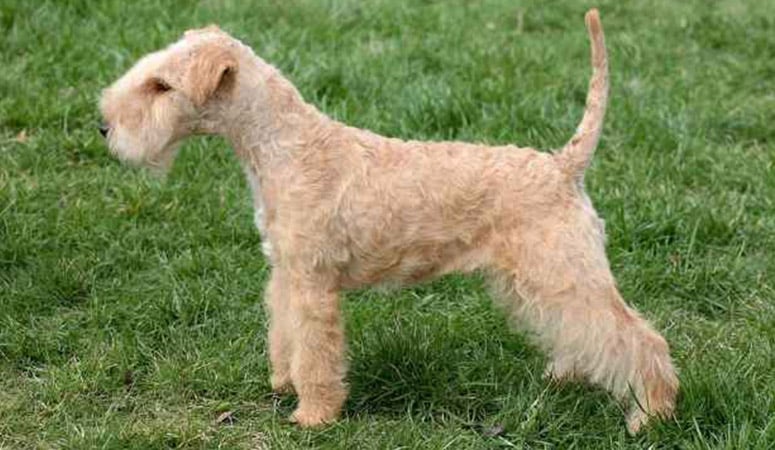 Once a dispatch dog, the Lakeland Terriers are historically raised to kill foxes and badgers. Friendly and confident as the Lakelands are, the Lakelands are not only kept by farmers nowadays, but companions of people who love them around the world.
| | |
| --- | --- |
| Other Names | Pettdale terrier |
| Color | Black, Black and Tan, Blue, Brown, Red |
| Height | Males: 14-15 inches. Females: 13-14 inches. |
| Weight | Males: 17-18 pounds. Females: 15-16 pounds. |
| Life Span | 12-15 years |
| Personality | Friendly, Confident, Bold |
| Exercise | Regular Exercise |
| Origin | |
| | |
| --- | --- |
| Popularity | #148 |
| Groom Needs | Weekly Brushing/Infrequent Shedding |
| Kids Friendly | Yes with supervision |
| Dog Friendly | Yes with supervision |
| Watch Dog | |
| Family Dog | |
| Litter Size | 3-5 puppies |
Introduction
Farmers' years back in the Lakeland District looked for a stealthy hunting dog, one that had athleticism and agility, health and robustness, and yet still was a companion. They found all these wonderful characteristics in the Lakeland terrier and those characteristics are still in this dog today. Their cousins are the Welsh terrier and Wire Fox terrier. In the USA, they are a rare breed, so when taking him on a walk, he invites friendly curiosity; people guess at him being a miniature Airedale, maybe an Irish terrier, or is he just a pup still? As a pup, getting him socialized is important so you end up with a well-rounded companion. If not treated fairly or spoilt and over-indulged, you will miss all the wonderful attributes. Then they can be fearful. They are affectionate and have even been affectionately called Laplanders because they can literally curl up and fit on your lap. They are gentle like nursemaids but dutiful and diligent as service dogs, particularly emotional support dogs. They have a knack of knowing how to make you feel safe – watching over you and caring for you. They make them good watchdogs but without the necessary training, will just bark at anything. Their coat is beautiful when maintained properly; they're a non-shedding breed. Coat colors include black, blue, red, liver, and wheaten. They are OK with kids and when properly socialized will tolerate some light hugging – no abuse for them. As far as exercises go, you can't turn a Lakie loose and expect him not to go exploring, and that's why you will need a fenced garden.
Living with Lakeland Terrier
History
The Lakeland terrier comes from the Lake District of Northern England near the Scottish Border.
He was developed to protect sheep from fox in the hills and mountains; to actually go right into the fox's den to face the foe, fight it, and kill it underground. Records show of some dogs being stuck underground for 10-12 days – to come out. That's how determined and tenacious he is!
The Lakeland terrier has been part of the Lake District since the 1700s.
One man, Alf Johnston, started Oregill Kennels in 1921. The first red champion he bred was called Oregill Captain and probably most Lakeland terriers go back to him.
In 1921 the Lakeland Terrier Association was formed, and it wasn't long before the Kennel Club recognized them as a breed, giving out their first certificate in 1931.
The American Kennel Club registered this rare dog in 1934.