Lagotti Romagnoli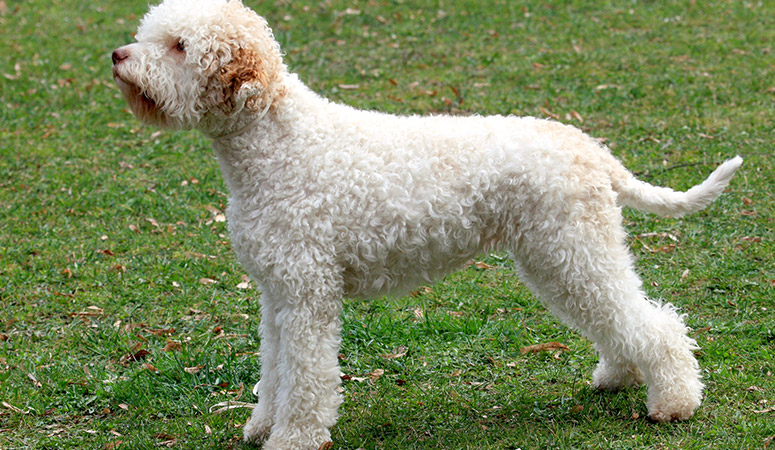 Lagotto Romagnolo is an adorable dog, famous for finding truffle. Once a truffle hunter cultivated by Italians, they are favored by more people all over the world nowadays. They shed hairs infrequently, perfect for people who hates cleaning hairs on the floor. With a plush-toy looks, Lagotti is actually smart and intelligent.
| | |
| --- | --- |
| Other Names | Italian water truffle hunter, Romagna water dog, Lagotto Romagnolo |
| Color | white, brown, tan, grey |
| Height | Males: 17-19 inches. Females: 16-18 inches. |
| Weight | Males: 28.5-35 pounds. Females: 24-31 pounds. |
| Life Span | Affectionate, Keen, Undemanding |
| Personality | Affectionate, Keen, Undemanding |
| Exercise | Regular Exercise |
| Origin | |
| | |
| --- | --- |
| Popularity | #90 |
| Groom Needs | Occasional bath or brush and infrequent shedding |
| Kids Friendly | Yes with supervision |
| Dog Friendly | Yes |
| Watch Dog | |
| Family Dog | |
| Litter Size | 6-8 puppies |
Introduction
Also known as the Romagna Water Dog, the Lagotto is a small-to medium-sized dog with a full curly coat, which is water-resistant as in most water dogs. It is blessed with lavish eyebrows and beards, and held in high regard for its competency in water hunting — its powerful scenting ability is second to none. In recent times, however, the Lagotto is more commonly associated with truffles' than with waterfowls' hunting.
There's hardly a conspicuous difference between both sexes of the Lagotto breed as regards size. Where a full-grown male stands at around 17-19 inches, a similar female measures 16-18 inches. The males are, however, slightly sturdier and more muscular and weigh between 28 and 35 pounds, while the females are likely to tip the scales at 24-32 pounds. They are caring and undemanding sporting dogs, as well as good companions. Lagotti have an average lifespan of 14-16 years.
Living with Lagotti Romagnoli
History
The Lagotto Romagnolo has probably existed since the Etruscan times, around 7th century B.C. It constitutes an ancient breed regarded by many as the ancestors of most modern water dogs and duck dogs. The term Lagotto is a Romagna word that translates into "water dog". Some authorities consider it the Italian equivalent of the Irish Water Spaniels.
Historians believe that the Lagotto Romagnolo had originated in the marshlands of Ravenna and the lowlands of Comacchio, in Italy. This dog breed assisted their owners primarily in hunting waterfowls in the marshes. It wasn't until the late 19th century that the role of this dog breed slightly changed. During this time, the marshlands were drained of their water to enable the set up of modern civilization. Upon this, the era of the waterfowl began to fade out, and Lagotti were assigned to hunting for truffles underground.
Its keen sense of smell, agility, and ability to access deep underground crevices, set it up as an excellent hunting dog. This was also the basis for the crosses that followed later, in a bid to develop better hunting breeds. Gradually, the gene pool of the Lagotto breed was being diluted, and by the 1970s, pure breeds were almost extinct. The divergence kept on widening as more crosses were made. This prompted a group of workers from Romagnolo, who were breeders and dog enthusiasts alike, to set out on a rescue mission for their only native dog breed. Twenty years of persistent legislation and awareness creation, merged with recording and inbreeding of the pure breeds, was what it took to drag the Lagotto Romagnolo out of the cold jaws of extinction. The FCI recognized the Lagotto in 1995, while the American Kennel Club followed suit 20 years later.