Kuvasz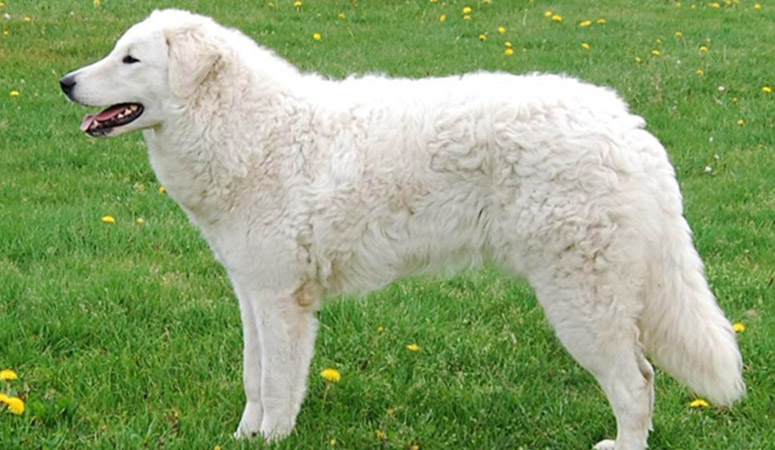 As an ancient breed of livestock dog, The Kuvasz is Hungary's hunting companion of kings and majestic guardian breed with white, thickly coat and medium bone. He combines power and agility stems from versatile roots, which also makes him a good herder. They are skill at problem solving with a great sense of humor. Kuvasz usually is gentle with children, but quick and agile to protect their loved ones.
| | |
| --- | --- |
| Other Names | HUNGARIAN Kuvasz |
| Color | White |
| Height | Males: 28-30 inches. Females: 26-28 inches. |
| Weight | Males: 88-137 pounds. Females: 66-110 pounds. |
| Life Span | 10-12 years |
| Personality | Loyal, Fearless, Courageous |
| Exercise | Regular Exercise |
| Origin | |
| | |
| --- | --- |
| Popularity | #166 |
| Groom Needs | Weekly Brushing |
| Kids Friendly | Yes with supervision |
| Dog Friendly | Yes with supervision |
| Watch Dog | Yes |
| Family Dog | |
| Litter Size | 6–8 pups |
Introduction
Kuvaszok are well-muscled and balanced, not appearing sluggish or too bulky. They are the ideal dogs for one who wouldn't want to stress about training a dog, as these dogs are least interested in learning new tricks. A Kuvasz (singular) comes in a white coat, that varies from straight to wavy in appearance. The muzzle should be black and the stop, not abrupt. They are highly intelligent and humorous in a strange way, although they can get into their independent mode and withdraw from the crowd (especially toward strangers). Originally bred to guard farmsteads, and herd livestock, Kuvaszok have migrated into homes to become loyal members of the family.
A male Kuvasz is likely to stand between 28 and 31 inches from shoulder to paw, weighing around 100-110 at maturity. Females come in smaller molds, weighing 70-90 pounds on a frame that measures 26-29 inches at the shoulder. The Kuvasz is a true member of the Working Group and has an average life expectancy of 9-12 years.
History
The Kuvasz breed is an ancient breed known to have its origin in Hungary. It is believed to have originated from local herding dogs of many centuries ago. The Magyars are cited to have stirred up the roots for the creation of the breed. During their migration around the 2000s B.C, according to historians, they settled in Central Asia and other parts of the world in their numbers. It is believed that the Magyars conquered Hungary around the 896 A.D, invading the Carpathian Basin. When they entered the region, they came along with their dogs. In the 1970s, fossils of dog skeletons (dating back to the 9th century AD) resembling the modern Kuvasz dog were excavated in Fenékpuszta. These are believed to have been remains of the ancient dogs of the Magyars, which were ardent herd dogs of the wet uplands and mountain regions. These dogs are believed to be ancestors of the Kuvasz breed.
By the 1400s, the Kuvasz had gained favor amongst the highly placed, even the royals of Hungary kept a special kennel for these dogs. A notable example was King Matthias Corvinus, who promoted the popularity of the breed, gifting Kuvaszok to dignitaries. After his death, the popularity of Kuvaszok in Hungary declined. A major setback to the Kuvasz breed came during the Second World War, when the German and Soviet troops to Hungary destroyed these dogs, taking some of them to their homelands. After the war, it was estimated that the population of Kuvasz available for breeding was fewer than forty. The problem was later solved by adopting open studbook systems till extinction was averted. The Kuvasz was officially recognized by the American Kennel Club (AKC) in 1931.