Komondor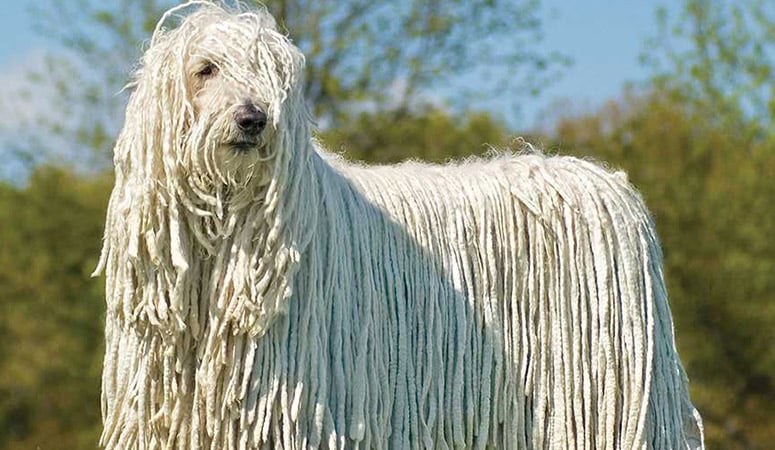 Also known as the Hungarian sheepdog, the Komondor is a large, white-coloured Hungarian breed of livestock guardian dog with a long, corded coat, and sometimes they are called as "mop dogs". They still retain a strong protective instinct and will defend their family and property with their life.
| | |
| --- | --- |
| Other Names | Hungarian Komondor, Hungarian Sheepdog |
| Color | White |
| Height | Males: 25-32 inches. Females: 23-30 inches. |
| Weight | Males: 100-135 pounds. Females: 80-110 pounds. |
| Life Span | 10-12 years |
| Personality | Loyal, Dignified, Brave |
| Exercise | Regular Exercise |
| Origin | |
| | |
| --- | --- |
| Popularity | #181 |
| Groom Needs | Specialty/Professional |
| Kids Friendly | No |
| Dog Friendly | No |
| Watch Dog | |
| Family Dog | Yes |
| Litter Size | 3-10 |
Introduction
The Komondor (plural, Komondorok), is a stocky and well-muscled large dog, with a heavily corded coat which looks more like a mop. They have strong, long legs supporting a trunk (or back) which is rather short. The double coat comprises a soft undercoat and a coarser and harsher topcoat. The coat requires care and maintenance to keep it attractive. They are normally white in color. A typical Komondor maintains a torpid, rest state in the day and turns a patrolling police truck at night. They are wary of strangers but friendly and sociable with their family. They were originally bred to guard farmsteads and livestock at night.
Komondorok are large-sized dogs; the males grow more than 27 inches from shoulder to paw and weigh above 100 pounds. Females run smaller than the males, normally above 25 inches tall (measured from shoulder to paw) and weighing above 80 pounds. They are members of the Working Group according to the American Kennel Club (AKC) studbook. Komondorok have a life span of 10-13 years.
History
The Komondor is one of the three native breeds of herding dogs of Hungarian descent. They were primarily involved with guarding the sheepfolds at night, rather than leading them to pasture. The origin of the breed is somewhat twisted since there are two separate theories that attempt to explain the development of the Komondor breed. One theory agrees that the Komondor had descended from Tibetan dogs brought into Hungary by the Magyars during their migration from Central Asia. Another theory tries to refute the former one, claiming that the Komondor had been brought into Europe (and Hungary) in the 12th and 13th centuries by the Cumans (a tribe of Turkic-speaking nomads from Asia). According to the latter theory, the Komondor derived its name from "Koman-dor", meaning dogs of the Cuman peoples. What is clear is that the Komondor had descended from Tibetan dogs, whether of the Magyars or the Cumans is yet to be ascertained.
The Komondor has gene strains that link it to several other breeds that were probably bred into its gene pool, including the Puli, Pumi, South Russian Ovcharka, Mudi, Pyrenean Shepherd, Bergamasco Sheepdog, etc. The breed became quite popular in the 1920s when breeders and fanciers engaged them in the dog show circuitry. The population of Komondorok in their Hungarian homeland was depleted after the Second World War, locals explained that the Germans had to kill these dogs before they could access and take over farm holds. The Komondor is fairly more famous in Hungary than it attained after it arrived in the United States. It was recognized by the American Kennel Club (AKC) in 1937.