Italian Greyhound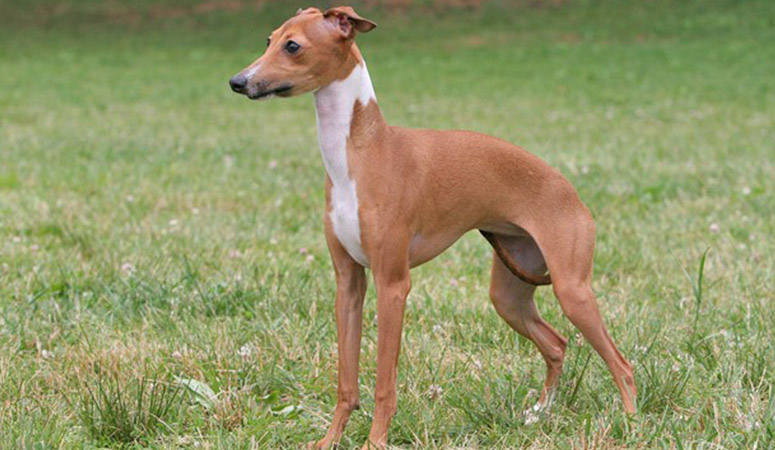 With determination, endurance and speed to hunt small game, the Italian Greyhound makes decorative couch breed with high affection. In the Middle Ages, they are favorite companion of the noblewomen, especially in Italy with long, fine-boned legs. The IGs were bred for centuries to be doting companions and jesters who need special care in cold weather.
| | |
| --- | --- |
| Other Names | Iggy, Piccolo Levriero Italiano |
| Color | Black, Blue, ,Blue Fawn, Cream, Fawn, Red, Sable, Seal, White & Black, White & Blue, White & Fawn |
| Height | Males: 12-15 inches. Females: 12-15 inches. |
| Weight | Males: 8-11 pounds. Females: 8-11 pounds. |
| Life Span | 14-15 years |
| Personality | Playful, Alert, Sensitive |
| Exercise | Regular Exercise |
| Origin | |
| | |
| --- | --- |
| Popularity | #67 |
| Groom Needs | Occasional Bath/Brush |
| Kids Friendly | No |
| Dog Friendly | Yes |
| Watch Dog | |
| Family Dog | |
| Litter Size | 3-5 puppies |
Introduction
The Italian Greyhound is a family dog, beloved by many for its beauty and athleticism. Of course, many like to use these dogs for rally competitions as they can reach top speeds of about 25 miles an hour. He is about 15 inches at the shoulders and weighs around 15 pounds. They making loving companions that fit well into a family and they are easy to groom as well. That's because their hair is short, glossy, and soft. His coat comes in colors such as fawn, cream, red, blue, or black, either solid or with white markings. Like a lot of other dogs, the Italian Greyhound also doesn't like being left alone as they are highly sensitive dogs, needing plenty of companionship, love, play, and exercise – then see what a devoted pet this makes. Don't ever leave this pet out in the cold; he loves warmth and does not like being cold or wet. That being said, they are not the easiest of dogs to housetrain, actually never being fully trustworthy inside the house. He has a good deep bark for such a small dog, so that makes him quite a good watchdog. Some breeders don't sell these dogs to families that have children under 10 because they are small dogs, and children need to be taught to deal gently with such a dog; remembering it needs appropriate handling and is not a toy.
Living with Italian Greyhound
History
This lean and lithe little dog originates from Italy.
He was a favorite companion to noblewomen during the Middle Ages when he made his way to southern Europe – hence its name, Italian Greyhound
If you are a lover of art, you might have seen the Italian Greyhound gracing many a century-old portrait. That's because in early times, he was bred to hunt – today, he still has that hunting instinct.
In Greece and Turkey, there are some archaeological diggings that show them to be the remains of Greyhounds.
They arrived in England around 1600 and Mary Queen of Scots, Queen Victoria, Charles I, to name a few, were great fans of this dog.
The American Kennel Club registered its first Italian Greyhound in 1886.
During World Wars I and II, when dogs and dog breeding were unaffordable to many, the number of the Italian Greyhounds dwindled a lot, but the British breeders made use of the American-bred Italian Greyhounds to restore the breed in Europe.