Irish Setter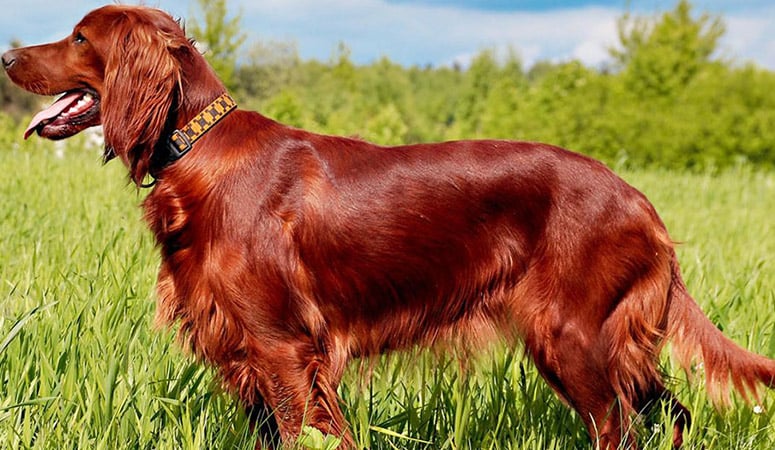 Here comes Irish Setter, energetic and smart. They're always high-spirited so owners need to offer them time and place to run off their energy. Appropriate measures should be taken to train Irish Setters, they may ignore owners directions if there're no fun or reward.
| | |
| --- | --- |
| Other Names | Irish Red and White Setter, Irish Red Setter |
| Color | red |
| Height | Males: 23-27 inches. Females: 21-25 inches. |
| Weight | Males: 70-75 pounds. Females: 50-65 pounds. |
| Life Span | 12-15 years |
| Personality | Active, Outgoing, Sweet-Natured |
| Exercise | Needs Lots of Activity |
| Origin | |
| | |
| --- | --- |
| Popularity | #79 |
| Groom Needs | 2-3 Times a Week Brushing/ Infrequent Shedding |
| Kids Friendly | Yes |
| Dog Friendly | Yes |
| Watch Dog | |
| Family Dog | Yes |
| Litter Size | 3-5 puppies |
Introduction
The Irish setter is a versatile, energetic, outgoing hunting dog and a wonderful companion to the family he joins. He reaches about 27 inches at the shoulders and weighs about 70 pounds. His body is longer than how tall he is, with a long thick tail, coming in colors from mahogany to rich chestnut red – sometimes you might see patches of white. His coat is soft and flat. His hair needs daily brushing to maintain his coat and prevent matting. He is active, outgoing, and full of energy. Because of their high energy levels, they need a lot of training and exercises; exercises should be at least twice a day. They are especially sensitive to voice tones, and will not respond if you shout at them or are harsh with them. They aren't really guard dogs, although they've been known to step in and protect their people as needed. They are, however, excellent watchdogs and will bark to let you know of visitors or intruders. Irish Setters are slow to mature and will retain their puppy enthusiasm for several years and often throughout their life.
History
These dogs originated from Ireland and rose in popularity in the 1700s. They were bred to be hunters.
People say the Irish setter was developing by mixing the Irish water spaniel, the English setter, the Irish terrier, the spaniel, Gordon setter, and the pointer. But anyway, the first Irish setters were sometimes called red spaniels – and that is a good clue to their heritage. They were also called modder rhu, which in Gaelic means "red dog."
The original Irish setters used to be red and white, but the white color was bred out of the dog – the first Irish setter that was all-red appeared in 1812.
In the 19th century, the Irish setter was imported to America and eventually split into 2 breeding lines, one was for fieldwork and the other was for conformation. The name of the first Irish setter to be imported to the United States was called Elcho.
Around 1878, the American Kennel Club (AKC) recognized this dog and Admiral was the first Irish Setter to be registered by the AKC.
The Irish Setter quickly became one of the most popular breeds in America and a favorite in the show ring. Their popularity soared to new heights in the 1960s and 1970s, thanks to books and a movie featuring an Irish setter named Big Red.