Ibizan Hound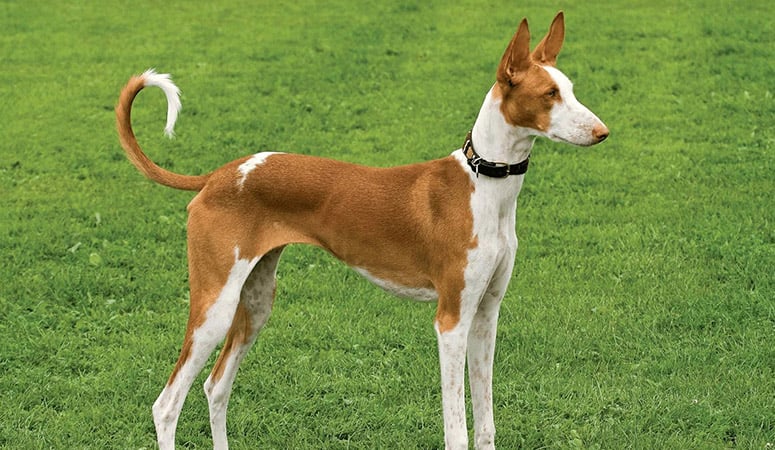 The Ibizan Hound is an ancient hunting breed, who appears to conform to the stereotypical build of a sighthound. They were bred to hunt rabbits and small game on the Balearic island of Ibiza. But they don't hunt by sight alone, but also they use their sense of sound to orient the location, use scenting ability to detect the presence of prey. This breed also compete in lure coursing, agility, obedience, conformation, and tracking, which also make them good family companions.
| | |
| --- | --- |
| Other Names | Ca Elvissencs, Ibizan Podenco, Ibizan WARREN Hound, Podenco Ibicenco |
| Color | Red, Red & White, White, White & Red |
| Height | Males: 23-29 inches. Females: 22-27 inches. |
| Weight | Males: 45-55 pounds. Females: 40-50 pounds. |
| Life Span | 11-14 years |
| Personality | Family-Oriented, Even-Tempered, Polite |
| Exercise | Needs Lots of Activity |
| Origin | |
| | |
| --- | --- |
| Popularity | #171 |
| Groom Needs | Occasional Bath/Brush |
| Kids Friendly | Yes with supervision |
| Dog Friendly | Yes |
| Watch Dog | |
| Family Dog | Yes |
| Litter Size | 6-12 puppies |
Introduction
The Ibizan is a very active dog, agile and, literally, so jumpy that they can scale a low fence. They require a high-walled fence to keep them from escaping now and again. They are friendly, especially around children and families. From afar, they appear like deer but at close quarters, they give the appearance of a dog built for elegance and speed due to their long legs and neck. They have great strength and intelligence, laid-back with confidence when they walk. They come in smooth-coated and wire-haired varieties, usually red and white in color. Ibizan Hounds were bred to hunt rabbits, in the main.
A standard male of this breed stands 23-28 inches from shoulder to paw and weighs around 45-55 pounds. The females come smaller than the males, normally 22-26 inches tall measured at the shoulder. They tip the weighing scale at about 40-50 pounds. The Ibizan Hound has an average lifespan of 11-14 years.
History
The Ibizan Hound was thought to be an ancient breed dating back to 3000 years ago. It originated in Ibiza, Spain. Phoenician travelers around the 800s BC were said to have settled on the Spanish island of Eivissa with their Egyptian hunting dogs. However, recent DNA study of the breed's genetic make-up has suggested that the Ibizan Hound had probably developed from more recent breeds than is purported by the theory above. The Ibizan Hound is similar in appearance and probably strain, to the Pharaoh Hound, the Portuguese Podengo, Cirneco dell'Etna, and the Podenco Canario. The FCI had categorized these breeds as primitive breeds, of which the Ibizan Hound is the largest. They were originally bred to hunt rabbits and hare, primarily. Although recently, this has been enhanced into a sport where a number of Ibizan Hounds chase after a darting rabbit.
Around the 1950s, a pair of Ibizan Hounds were imported into the Rhodes Island, which sired the first set of American puppies. This set formed the foundation of the Ibizan Hound in the United States. It was only a matter of time before the breed scaled the boundaries of Spain into kennels in different parts of the world. It gained an American Kennel Club (AKC) recognition in 1979 and, the following year, it debuted in the Westminster Kennel Club Dog Show. Although it is a well-recognized breed in different kennel clubs, including the Kennel Club of England, the United Kennel Club of America, the New Zealand Kennel Club, and even the Fédération Cynologique Internationale, the Ibizan Hound remains a rare breed.