Harrier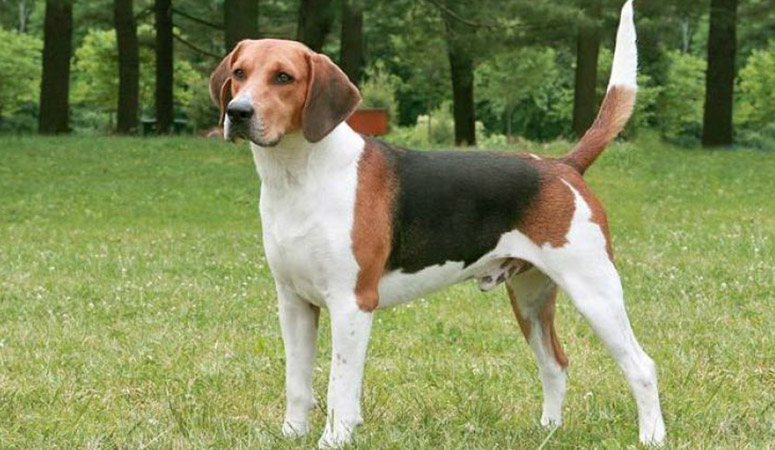 What a loquacious dog. Here comes Harrier, this talktive breed can bark longlasting if not trained well. Stubborn as Harriers are, they can be perfect at hunting. Active owners'll be happy to have good athletic companions. However, it takes some efforts to groom them as they shed alot.
| | |
| --- | --- |
| Other Names | Non |
| Color | Black, White & Tan, Lemon & White, Red & White |
| Height | Males: 19-21 inches. Females: 19-21 inches. |
| Weight | Males: 40-65 pounds. Females: 40-65 pounds. |
| Life Span | 12-15 years |
| Personality | Friendly, Outgoing, People-Oriented |
| Exercise | Needs Lots of Activity |
| Origin | |
| | |
| --- | --- |
| Popularity | #186 |
| Groom Needs | Weekly Brushing and Occasional Shedding |
| Kids Friendly | Yes |
| Dog Friendly | Yes |
| Watch Dog | |
| Family Dog | Yes |
| Litter Size | 2-8 puppies |
Introduction
The cheerful and good-natured Harrier is a medium-sized dog used for hunting hare, hence the name. Due to their resemblance to the Beagle, Harriers have been humorously described as Beagles on steroids since they appear quite bigger than Beagles. It is a muscular dog endowed with large bones, enhancing its strength and stamina. They are generally friendly and accommodating. They are playful around children but should be monitored around other household pets. Harriers appear longer in the back than they are tall. The short, dense coat is usually harsh to withstand harsh weather conditions except for the extreme cold. They come in almost any color.
A standard Harrier stands 19-21 inches from shoulder to paw and weighs around 45-60 pounds, regardless the gender. They have an average life expectancy of 11-15 years.
History
The Harrier is often mistaken for a Beagle or an English Foxhound due to its appearance, but its size is somewhat likened to a large Beagle or a small Foxhound. In fact, some accounts have described the Harrier as a bred-down version of the English Foxhound. The origin of the Harrier has brought historians out in an array of conflicting stories. A popular opinion claims that the Harrier descended from a cross between the Greyhound and the Southern Hound. Another theory links the Harrier to Talbot Hounds, Bloodhounds, and Basset Hounds. Still another theory traces the Harriet to a possible cross between English Foxhounds, Greyhounds, and Fox Terriers. In any case, it is widely believed that the ancestors of the Harrier were probably dogs brought into England during the Norman invasion of 1066.
The Harrier is mainly used as a hound dog for hunting hare and foxes and is popular as a pack dog. During hunts, the Harrier is released after the quarry, while the hunter follows closely behind by foot, unlike hunts with the English Foxhound where hunters rode on horsebacks. It was one of the earliest breeds recognized by the American Kennel Club (AKC). It had existed in America since colonial times, although, in recent years, the Harrier breed has become a very rare one. In 1885, it gained an AKC recognition alongside 14 other breeds. It is not popular amongst Americans. Although the Harrier had existed in England probably as far back as the 1200s, it is still not recognized in the country.