Greater Swiss Mountain Dog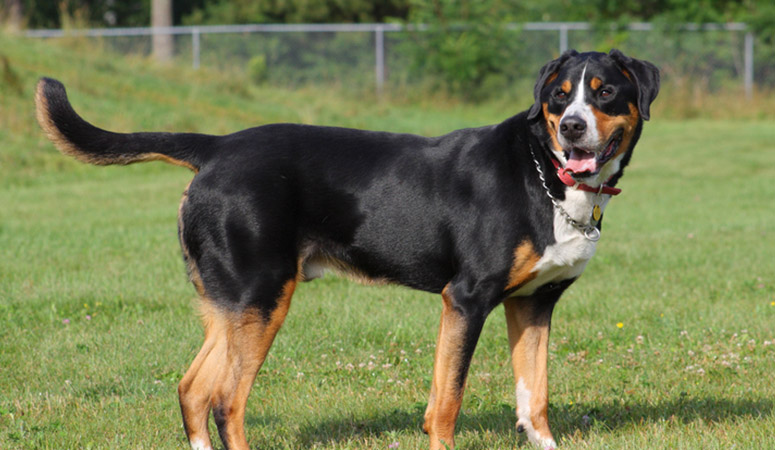 Giant, and strong, the Greater Swiss Mountain Dog is a working dog famous for a dense coat of striking black, red, and white markings. This dog breed is believed a descendent of Roman Molossian dogs, and they were used mainly for herding and guarding since the Middle Ages. Today, Swissies enjoy living a family pet life, but they like to be busy because of their working heritage.
| | |
| --- | --- |
| Other Names | Gran Boyero Suizo, Grand Bouvier Suisse, Great Swiss Mountain Dog, Grosser Schweizer Sennenhund |
| Color | Black, White & Red, Blue White & Tan, Red & White |
| Height | Males: 25-29 inches. Females: 23-27 inches. |
| Weight | Males: 132-155 pounds. Females: 110-133 pounds. |
| Life Span | 8-11 years |
| Personality | Faithful, Family-Oriented, Dependable |
| Exercise | Energetic |
| Origin | |
| | |
| --- | --- |
| Popularity | #73 |
| Groom Needs | Weekly |
| Kids Friendly | Yes |
| Dog Friendly | Yes with supervision |
| Watch Dog | |
| Family Dog | |
| Litter Size | 5-10 |
Greater Swiss Mountain Dog Video
Introduction
The Greater Swiss Mountain dog has plenty of fans, and these fans love to call this much-loved dog "Swissy." He is a powerful breed and excels in many kinds of dog sports. He is also playful and affectionate. If you are new to having a pet dog, you might find this well suited to the family. This dog will fit into an active family who intends to spend heaps of time with this pet. They're good with kids too, but just remember, he is a big dog; so can accidentally knock over a small child. Because of his working heritage, he enjoys being a busy dog. He stands about 28 inches at the shoulders and weighs around 140 pounds – he's a big handsome dog as you can see. They have a deep loud bark which makes them a good watchdog – he also needs plenty of space to stretch his legs. It's important to start early with obedience training and socialization classes for this dog. You will notice with the Swissy, if you buy a pup, they are slow to mature physically and mentally, staying like a puppy until they are around 3 years old! Their coat color is distinct, with a black outer coat and rust and white markings on the face and body. Grooming this dog is not hard at all as his coat his short. Just a brush once or twice a week will keep this dog in tip-top condition, naturally with nutritional food and plenty of healthy exercises.
Living with Greater Swiss Mountain Dog
History
This magnificent, mighty dog originates from Switzerland. He was developed to be an all-around working dog; to herd cattle, and pull carts, but also to stand guard. He is considered one of Switzerland's oldest dog breeds, but as with many of the dog breeds, there are a few theories as to the Swissy's origins. A long-standing one though is that they descended from the Mastiffs who were brought to the Alps by invading Roman Legions.
There was a time when this dog was thought to be the most popular dog in Switzerland but by the 1900s their numbers had started dwindling.
In 1908 a man called Albert Heim noticed two dogs at a Swiss Kennel Club jubilee, which were listed as "short-haired Bernese Mountain Dogs" at that time. Heim tried hard to get the dogs recognized as a separate breed and in 1909; the Swiss Kennel Club listed the Greater Swiss Mountain Dog (Grosser Schweizer Sennenhund) in the Swiss Stud Book.
In 1968 the first Greater Swiss Mountain Dogs were brought to the US, and the Greater Swiss Mountain Dog Club of America was formed. The Swissy was recognized by the American Kennel Club in 1995, as a member of the Working Group, ranking around 97th at the AKC.