Great Dane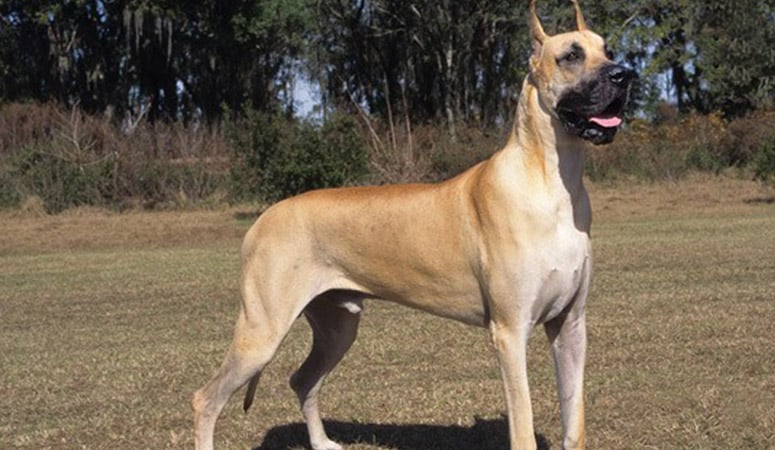 The Great Dane has a large body and heart and combines great size and power with elegance, earned the name of "Apollo of Dogs". They have a strong and powerful gait and easy strides, and their coat is short, thick and glossy. The Great Danes were bred for hunting and guarding the German nobles, and now they are bred as beloved companions, family guardians and service dogs.
| | |
| --- | --- |
| Other Names | Deutsche Dogge, German Mastiff |
| Color | White, black, blue, brindle, merle, fawn, and black and white (including mantle and harlequin variations) |
| Height | Males: 30-34 inches. Females: 28-32 inches. |
| Weight | Males: 119-200 pounds. Females: 99-130 pounds. |
| Life Span | 7-10 years |
| Personality | Friendly, Patient, Dependable |
| Exercise | Energetic |
| Origin | |
| | |
| --- | --- |
| Popularity | #17 |
| Groom Needs | Occasional |
| Kids Friendly | Yes with supervision |
| Dog Friendly | Yes with supervision |
| Watch Dog | |
| Family Dog | |
| Litter Size | 8-10 |
Introduction
The tallest dog to have ever lived is a Great Dane called Zeus. An incredible giant, Zeus was about 44 inches tall when he died. The Great Dane, as the name suggests, is a breed of domestic dogs prominent for their giant size. Although variations are common, a standard Great Dane would grow to an average size of 31 inches from paw to shoulder. With a massive weight of between 135 and 180 pounds, a male Dane weighs more than a professional featherweight boxer! At 100-140 pound-weight and 28-31 inches tall, the female isn't too different in tally.
The Giant Dane is well-composed, in gait and manner; noble and friendly, it is not easily provoked. Deutsche Dogge is a nickname for this dog, alluding to their German origin. They come in coats of different varieties, the most common being the black and white type, known as the Harlequin. This breed is ranked 16th in popularity amongst U.S dog breeds by the American Kennel Club. Despite their large size, Great Danes aren't aggressive or unruly unless you've breached boundaries. Only then would you witness something great about this dog! Great Danes live up to a not-too-great age of 7-9 years before they die.
History
Great Danes aren't Danes, in fact. They are just large-sized dogs that probably have some Danish links, hence the name. The fact is, it isn't exactly clear what the origin of the Great Dane is, yet some reports claim that the breed had originated from Germany. It is believed that the Great Dane descended from cross-breeding Old English Mastiffs and Irish Wolfhounds.
Around the 16th century, long-limbed dogs became the forte of many European royal courts. In Germany, such dogs were imported from England for use in the noble courtyard to hunt boar, deer, and bears. And yet, it wasn't odd to find them as guard dogs in Chambers at night.
The dog was initially known as the Englische Dogge until 1878 when the Germans changed the name to Deutsche Dogge, although it was recognized as the German-boarhound in the United Kingdom. The Great Danes were developed from this breed subsequently, and a standard for their breeding was formed. Later on, due to growing tensions between Germany and other countries as regards the name of the dog, it was finally named Great Dane.
The Great Dane came into the United States around the mid-19th century where it was welcomed with a knowing look for its reputation had traveled around. Dog breeders quickly took a shine to this dog breed with numerous fascinating qualities and magnificent height. It was only a matter of time before the breed was developed with more desirable features to suit their purpose.