Gordon Setter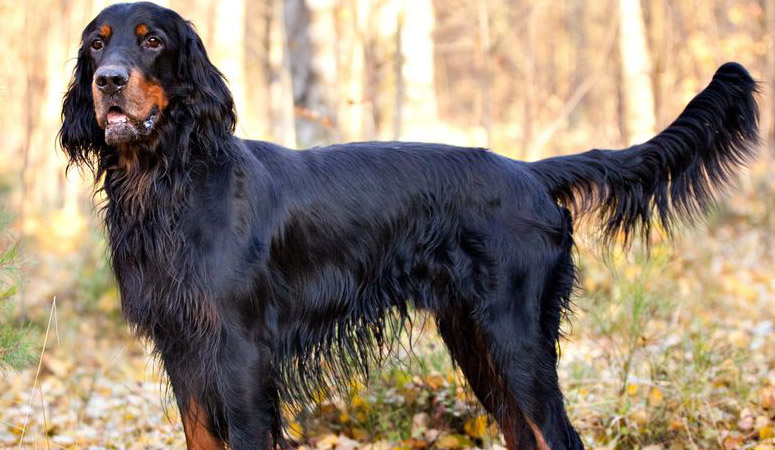 The Gordon Setter is a large breed of dog, and was a member of the sporting group. They were originally developed from spaniel types to work alongside their owners as hunting dogs, now they are still great hunting companions. And Gordon Setters are very suitable to a family with an active lifestyle.
| | |
| --- | --- |
| Other Names | Setter Gordon |
| Color | Black & Tan, Red, Tan |
| Height | Males: 24-27 inches. Females: 23-26 inches. |
| Weight | Males: 55-80 pounds. Females: 45-70 pounds. |
| Life Span | 12-13 years |
| Personality | Affectionate, Confident, Bold |
| Exercise | Needs Lots of Activity |
| Origin | |
| | |
| --- | --- |
| Popularity | #113 |
| Groom Needs | Weekly |
| Kids Friendly | Yes with supervision |
| Dog Friendly | Yes with supervision |
| Watch Dog | |
| Family Dog | Yes |
| Litter Size | 6-8 |
Introduction
The Gordon setter is focused and determined, used for hunting. They love their family, devoted their loved ones. There are 3 setter breeds of which the Gordon setter is the heaviest. He is actually quite a muscular dog and sturdy, with great stamina and strength, standing around 27 inches at the shoulders and weighing around 70 pounds. That means he needs plenty of exercises outdoors, keeping him in a fenced area so he doesn't roam. He has a soft flat coat and distinctive colorings of black and tan – every now and then in this breed you might notice a white spot on his chest – it's not unusual. His coat requires regular brushing. These dogs can adapt easily to different situations but being alone isn't one of them or being crated for long periods of time. He's smart, a bit stubborn, and averse to harsh discipline. Gordon Setters are good with children and other pets. They are considered not to be the best guard-dogs.
Living with Gordon Setter
History
The Gordon setter originated in Scotland way back in the 17th century. He was used as a sporting dog and became very popular in the 19th century when others noticed them – bred by the 4th Duke of Gordon. The dogs he bred were suited to the Scottish rough terrain where strength over speed was preferred. History has it that the Duke wouldn't shoot around his Setters until they were 5 years old, as they were very playful and wild when they were young and slow to mature. When he died, his son carried on looking after the kennels and breeding the dogs. A dog from this kennel appeared in the first dog show in 1859 and the Setter won the first prize.
They were imported to the USA in 1842 by a man called George Blunt. He and Daniel Webster bought a breeding pair to the US and they started the Gordon Setter Club of America in 1924. The American Kennel Club added the breed in 1884.
In the first Stud Book of the Kennel Club, covering the years 1859-1874, there were 126 Black and Tans listed. Only in January 1924 did the Kennel Club accept the name of Gordon setter as a registered breed.
This dog has often been called a "one-man shooting dog".
Some writings say "
They are not fast dogs, but they have good staying powers and can keep on steadily from morning until night".