German Wirehaired Pointer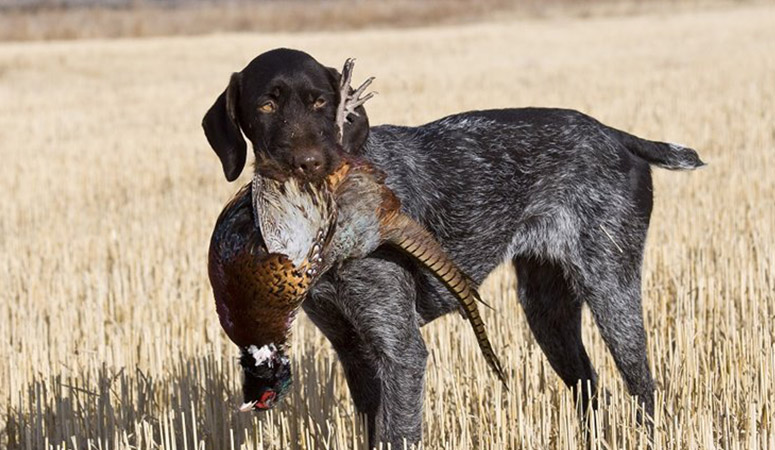 The German Wirehaired Pointer has a sturdy build and wiry hair that can help him hunt and retrieve, and suit for different terrain and hunting style. This breed is friendly and loves to spend time with their family, and they are great companions who are loyal and eager to please.
| | |
| --- | --- |
| Other Names | Deutsche Drahthaar, Deutscher DrahthaarIGer Vorstehhund |
| Color | Liver, Liver & White, Black & White |
| Height | Males: 21-24 inches. Females: 19-22 inches. |
| Weight | Males: 50-60 pounds. Females: 45-55 pounds. |
| Life Span | 14-16 years |
| Personality | Affectionate, Eager, Enthusiastic |
| Exercise | Needs Lots of Activity |
| Origin | |
| | |
| --- | --- |
| Popularity | #63 |
| Groom Needs | Weekly |
| Kids Friendly | Yes with supervision |
| Dog Friendly | Yes with supervision |
| Watch Dog | |
| Family Dog | |
| Litter Size | 6-10 |
German Wirehaired Pointer Video
Introduction
Placed under the Sporting group of dogs by the American Kennel Club, the German Wirehaired Pointer is an optimistic dog with a free spirit, as though to satisfy a constant urge to break into a run. They are independent and willed, good attributes for a breed that was once a renowned hunting dog. They come in a harsh wired coat which protects them from the harsh conditions of the elements, as they are versatile gun dogs, built to work in all terrains and weather conditions.
They are well-muscled and balanced dogs with a sturdy build. Coat colors are liver or black, both with white markings and some solid patches, especially around the chest. The German Wirehaired Pointer (GWP) is a medium-sized dog, the male of which stands to a shoulder height of 24-26 inches, and 22 inches or more for a full-grown female. They weigh around 55-70 pounds and have an average lifespan of 13-16 years.
Living with German Wirehaired Pointer
History
The name German Wirehaired Pointer is a direct translation of the German name for the dog, Deutsch-Drahthaar. They were first developed in Germany around early 1800s, when German breeders had a frenzy to create a versatile breed of gun dogs which could engage in pointing in uplands and in the waters, serve as a retriever for waterfowls and yet possess adaptable features to enable it to travel the mountainous Alps, the flatlands of the farmstead and the thick forests. Although at that time in England, breeders preferred to breed separate dogs for different purposes, other European countries had begun to revolutionize the sport dog industry, so to speak.
Baron Sigismund von Zedlitz und Neukirch, a popular German breeder at the time was believed to have been instrumental to the development of the German Wirehaired Pointer (GWP) breed. Although it isn't clear which breeds specifically went into the lineage of this dog breed, it is agreed by some experts that the Pudelpointer, Stichelhaar, Wirehaired Pointing Griffon, and Deutscher-Kurzhaar were probably ancestors of the GWP.
By the mid 19th century, when the classification of dogs was based on breed and not merely type, these dogs were later distinctly recognized as the German Wirehaired Pointer. Today, the German Wirehaired Pointer is a well-recognized breed in most countries of the world. However, North American breeders only began to import this breed around the 1920s and, in 1959, the American Kennel Club registered its first German Wirehaired Pointer. The German Wirehaired Pointer Club of America was founded in 1959 and the breed is ranked 63rd most popular dog breed in the U.S by the American Kennel Club.