German Shorthaired Pointer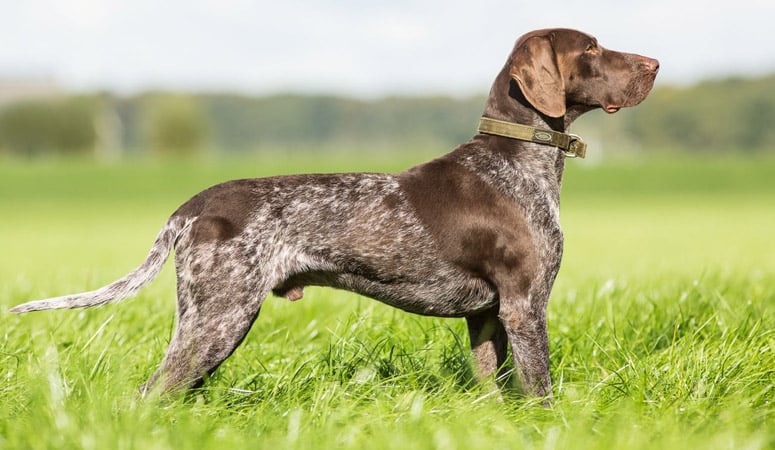 German Shorthaired Pointer is a breed that needs lots of exercises, sized in medium to large. And they are intelligent and friendly that love to work and move, so they can be trained to hunt and retrieve on land or from water. The GSPs is a great family companion, but you need to provide them with the mental and physical challenges they crave.
| | |
| --- | --- |
| Other Names | GSP, Deutsch Kurzhaar, Vorstehhund |
| Color | Black, Black & White, Black Roan, Liver, Liver & White, Liver Roan, White & Liver |
| Height | Males: 23-26 inches. Females: 21-25 inches. |
| Weight | Males: 55-70 pounds. Females: 45-60 pounds. |
| Life Span | 10-12 years |
| Personality | Friendly, Smart, Willing to Please |
| Exercise | Needs Lots of Activity |
| Origin | |
| | |
| --- | --- |
| Popularity | #9 |
| Groom Needs | Weekly |
| Kids Friendly | No |
| Dog Friendly | No |
| Watch Dog | |
| Family Dog | |
| Litter Size | 8-12 |
German Shorthaired Pointer Video
Introduction
They are a fine breed of gundogs with thick, solid liver (or reddish-brown) coats, which are water-repellent. They can be as domestic as they can equally be highly exuberant! The GSP, short for the German Shorthaired Pointer, is well known for its aristocratic disposition and vibrancy. With the combined features of webbed paws and highly developed sense of smell, these dogs are well-suited as hunting, pointing, and tracking dogs. They are notorious for hunting waterfowls in water.
Being large-sized dogs, male GSPs measure anywhere between 23 and 25 inches in height and would weight 55-70 pounds while a similar female weighs about 45-60 pounds and presents a slightly smaller size, approximately 2 inches short of the male's.
Though versatile gun-dogs, GSPs exude a high spirit of friendliness and fervor around their family. They see service in domestic chores, or as exercise buddies. They make for good pets and would thrive in an atmosphere of care and support. They have a marked life expectancy of about 11 years.
Living with German Shorthaired Pointer
History
The German Shorthaired Pointer has a winded origin. It is believed to be a hybrid of multiple crosses between diverse breeds of dogs, which could be traced back to the 17th century. Quite frankly, it would be difficult to trace every breed of dog that went into developing the German Shorthaired Pointer (GSP) hybrid. While the American Kennel Club suggests that the German Shorthaired Pointers might be descendants of the German Bird Dog, (itself a hybrid between Bloodhounds and the Spanish Pointer), some authors also link their bloodline to that of the English Pointer as well as of several tracking dogs. Yet, it originated in Germany.
The first German Shorthaired Pointer in America was probably recorded in 1925, bred by Dr. Charles R. Thornton. It was a female dog imported from Austria. Before then, the GSP wasn't recognized as a breed by the American Kennel Club until 1930 when it gained full recognition in the United States.
In the build-up of World War II, heightened tension in West Germany for fear of rampage and conquest prompted many breeders to ship their finest dogs and choice valuables over to Yugoslavia. The era of the Iron Curtain after the war changed everything when Yugoslavia merged with the Eastern Bloc.
The story was quite different in the U.S after the World War. The German Shorthaired Pointer caught America's attention as breeders deliberately set a standard for its breeding, while several novelists keep featuring the breed in their works.