French Bulldog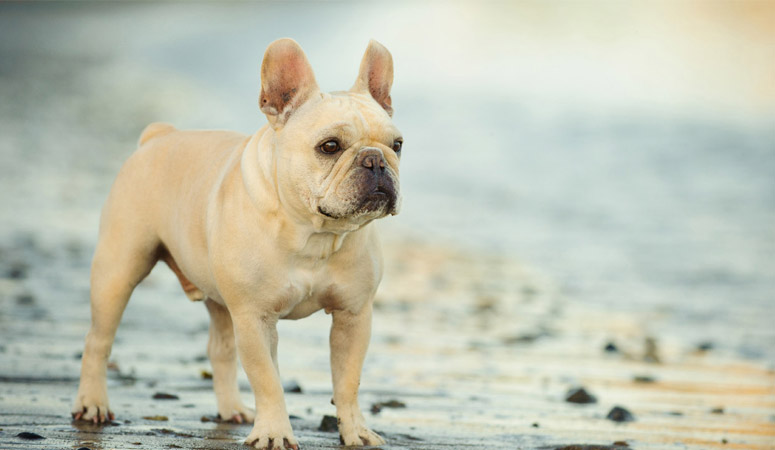 As one of the most popular companion dogs in the world, French Bulldogs are intelligent, curious, friendly, affectionate, active, and well-tempered. These stocky compact dogs are characterized by their short faces, snout-like noses, large bat ears, smooth coats, and muscular legs. French Bulldogs are good at socializing. Most of the time, they show curiosity towards other dog breeds and could get along with them pretty well.
| | |
| --- | --- |
| Other Names | Bouledogue Francais, Bulldog Frances, Franzosische Bulldogge |
| Color | Brindle, Fawn, Cream, Pied, Black, White |
| Height | Males: 11-13 inches. Females: 11-13 inches. |
| Weight | Males: 20-30 pounds. Females: 16-26 pounds. |
| Life Span | 10-12 years |
| Personality | Calm, Well-mannered |
| Exercise | Calm |
| Origin | |
| | |
| --- | --- |
| Popularity | #4 |
| Groom Needs | Occasional Bath/Brush, Regularly Shedding |
| Kids Friendly | Yes |
| Dog Friendly | Yes with supervision |
| Watch Dog | |
| Family Dog | Yes |
| Litter Size | 3 |
Introduction
Most people describe it as an even-tempered home dog that demands attention than any other dog breed you probably know. The dog breed is recommended for individuals living alone as it would compete for your attention with other room occupants. If you are living in a city, this would be the best dog breed to acquire – you won't need a large yard.
With a French bulldog, you will love the fact that they are calm, active, and friendly dogs. Training them won't be a big issue as they capture things quickly. The French bulldog is a playful breed that can keep you or your kids/family members entertained. They are said to be excellent watchdogs that will sport strangers at a distance and alert you instantly.
Living with French Bulldog
History
The French bulldog is allegedly said to have descended directly from the Molossians dogs (Molossians refers to a tribe in the ancient Greek). The dog breed is believed to have been spread to other regions of the ancient world by the elite Phoenician traders. During this time English Mastiff was developed from the British Molossians. The first sub-breed of these Mastiffs was the Bullenbeisser – used mostly for bull-baiting.
In 1835, blood sports were illegalized in England thus rendering bulldogs unemployed. This saw them changing their roles from sporting to being a companion dog. Some of these bulldogs were crossed with Terries in the slums of England to reduce their body size. By 1850, Toy Bulldogs were popular in England and they weighed between 16 to 25 pounds.
During this period, lace workers working in Nottingham lost their jobs as a result of the industrial revolution and they began settling in Normandy, France. They brought almost everything they had including Toy bulldogs. The dog breed received a warm welcome in France where they were referred to as the Bouledogue Francais. Within no time, they were the most popular dog breeds in France. People loved them because they are friendly, playful, active, and smaller in size. No big yards were needed to domesticate this dog and a result; they were sought after by the Parisian prostitutes as well as society ladies. The breed was later discovered in America and in 1896 it gained official recognition from the Westminster Kennel Club. The breed is currently the most popular in France where it has adopted an affectionate nickname "Frenchie".