Flat-Coated Retriever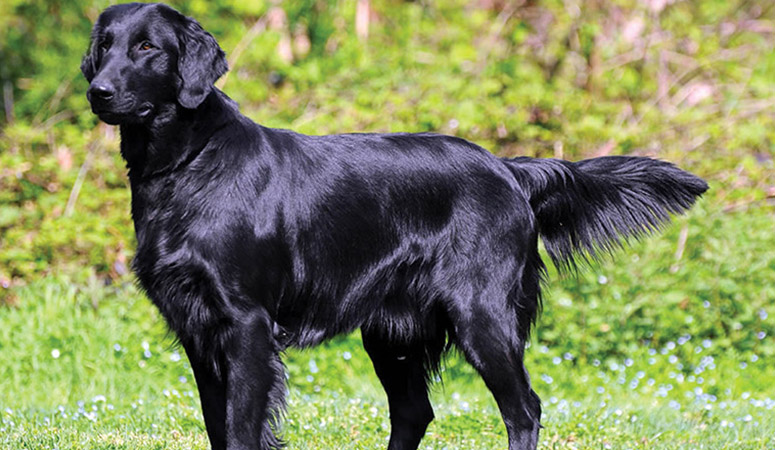 Energetic, puppy-like Flat-Coated Retrievers greet people with a wagging tail and an invitation to play. They have a lighthearted, happy nature, which makes them persist into adulthood. Though incredibly intelligent and eager to please, the Flat-Coated Retriever has a stubborn streak. Their Flat Coats have made a steady come-back as companion dogs, as well as a field and water dogs.
| | |
| --- | --- |
| Other Names | Cobrador De Pelo Liso, Flat Coated Retriever, Retriever A Poil Plat |
| Color | Black, Liver |
| Height | Males: 23-25 inches. Females: 22-24 inches. |
| Weight | Males: 60-80 pounds. Females: 60-70 pounds. |
| Life Span | 8-10 years |
| Personality | Cheerful, Optimistic, Good-Humored |
| Exercise | Needs Lots of Activity |
| Origin | |
| | |
| --- | --- |
| Popularity | #104 |
| Groom Needs | Weekly Brushing |
| Kids Friendly | Yes |
| Dog Friendly | Yes |
| Watch Dog | |
| Family Dog | Yes |
| Litter Size | 4 – 8 pups |
Flat-Coated Retriever Video
Introduction
What a beauty is the Flat-Coated Retriever! Being animated, alert, sociable and friendly, they are wonderful friends and companions for the family, also towards children. Flat-Coated Retriever is a typical retriever, always wanting to carry something in his mouth. As pets go, he is noted to be a dog that chews excessively. He stands around 24 inches at the shoulders and weighs around 60 pounds. He needs a lot of exercises, at least 40 minutes every day. This beauty won't cope well for hours on end – he is prone to get separation anxiety, which can contribute to him barking and being destructive. His coat is medium length and comes in colors such as solid black or a liver color; he is a low maintenance dog, needing his beautiful coat to be brushed only about once a week, and requiring no trimming at all. He has so much youthful exuberance that an owner needs to realize that he seems to stay like a forever-young pup, right into adulthood. They enjoy being on the go. And they love swimming, running and enjoying all the activities his family does with him. They're not such good watchdogs because they are so friendly.
Living with Flat-Coated Retriever
History
The flat-coated retriever originates from England; developed as a retrieving breed in the middle of the 19th century. This period for shooting birds for the sport was a popular time, and this dog was bred to retrieve the birds when they hit the ground. The Flat-Coated Retriever, it is believed, comes from a mix of the St. John's water dogs from Newfoundland, possibly collies and water spaniels.
It was gamekeeper J. Hull's dogs, Old Bounce and Young Bounce, who are credited with laying the foundation of the modern Flat-Coated Retriever (it was originally known as the "Wavy Coated Retriever").
Sadly, by the end of World War II, these dogs were facing extinction. Fortunately, loyalists to the breed managed to save them. The man most credited with the Flat-Coated Retriever breed's development was S.E. Shirley – he helped mold them into a stable breed. Contributing to their advancement was H.R. Cooke. He had a kennel called Riverside which produced many top show Flat-Coats.
The dog gained a lot of popularity after being introduced into the USA as a gun dog. It was officially recognized as a breed by the American Kennel Club in 1915. They never proved to be very popular dogs, being eclipsed by Labradors and Golden Retrievers. He is still a rare breed today.