Finnish Spitz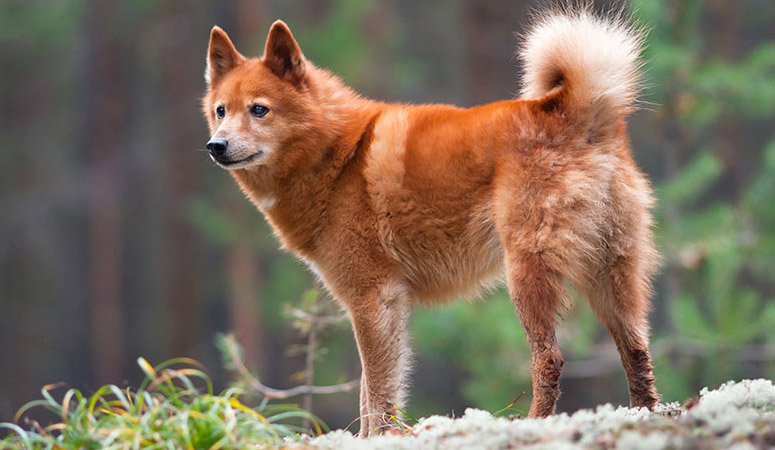 Fearless and loyal as The Finnish Spitzs are, they are one of hounting breeds in history. However, this breed have a good-natured and lively inner world. As they still have some instincts of tracking things. You can find them in many training competitions.
| | |
| --- | --- |
| Other Names | Finnen-Spitz, Spitz Finlandais, Spitz Finlandes, Suomenpystykorva |
| Color | Black, Brown, Gray, Red |
| Height | Males: 17-20 inches. Females: 15-18 inches. |
| Weight | Males: 26-35 pounds. Females: 15-31 pounds. |
| Life Span | 13-15 years |
| Personality | Friendly, Good-Natured, Lively |
| Exercise | Needs Lots of Activity |
| Origin | |
| | |
| --- | --- |
| Popularity | #183 |
| Groom Needs | Weekly Brushing and Seasonal Shedding |
| Kids Friendly | Yes |
| Dog Friendly | Yes with supervision |
| Watch Dog | |
| Family Dog | |
| Litter Size | 2-8 puppies |
Introduction
The Finnish Spitz is known for its barking instinct at any out-of-place thing in its surroundings, and this is their basic mode of hunting. Like bird dogs, they hunt mainly by barking at the direction of the game bird for the hunter to notice it. Finnish Spitzes have a square build; leggier than their backs are long. Females are slightly longer in the back than males. They have a well-balanced and symmetrical body. The normal color of adult Finnish Spitzes is golden-red with little variations in shade.
A full-grown male of the breed should stand roughly 17-20 inches at the shoulder and weigh around 25-35 pounds. A similar female stands 15-18 inches at the shoulder and weighs about 20-30 pounds, at maturity. Finnish Spitz dogs have an average lifespan of 12-15 years.
Living with Finnish Spitz
History
The Finnish Spitz is easily the most popular dog with origin in Finland– it became the national dog of Finland in 1979. In Finland, they are known as Suomenpystykorva. Finnish Spitz are Spitz-type dogs that are believed to have originated from native dogs bred by the Finno-Ugrian tribes of Central Russia, some centuries ago. Primarily, these people bred dogs to serve their specific purposes which mainly involved hunting for their livelihood. Hence, the dogs were famous for hunting wild games such as boars. These clans were said to have migrated into Finland with their dogs, which were further bred into what is now known as the Finnish Spitz.
The Finnish Spitz had become a well-recognized breed in Finland and beyond, by the 1800s. Transportation was easily obtainable and there was a steady movement of these dogs across locales. This facilitated the interbreeding of Finnish Spitz with other breeds, and soon there was hardly a purebred Finnish Spitz around Finland. Most of the dogs of the breed available at the time were products of hybrid crosses. Hugo Roos and Hugo Sandberg, both Finnish sportsmen, had spotted and carefully regarded a pure-bred Finnish Spitz in the woods while on a hunt. They noted its unique features and peculiarities, then set out to find other pure-bred Finnish Spitzes to breed into a standard form. The foundation stock they formed is believed to be the basis of modern Finnish Spitz.
The Finnish Spitz came into America in the 1960s, a breed club was established in 1975, and by 1988, they had begun to compete in the AKC Non-Sporting Group.
Helpful Information
Breed Club: THE FINNISH SPITZ CLUB OF AMERICA
Breed Club Link: http://www.finnishspitzclub.org/
Breed Club Rescue: The Finnish Spitz National Rescue