Field Spaniel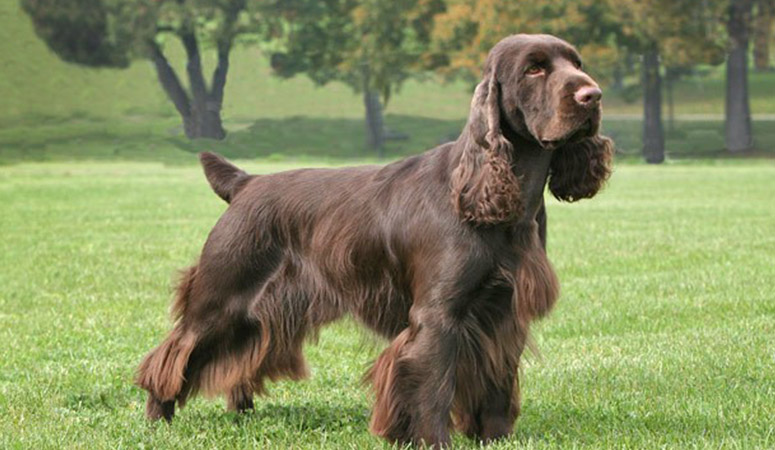 | | |
| --- | --- |
| Other Names | Fields |
| Color | Black, Blue Roan, Golden Liver, Golden Liver Roan, Liver, Liver Roan |
| Height | Males: 16-18 inches. Females: 14-17 inches. |
| Weight | Males: 40-55 pounds. Females: 35-45 pounds. |
| Life Span | 12-13 years |
| Personality | Sweet, Fun-Loving, Sensitive |
| Exercise | Regular Exercise |
| Origin | |
| | |
| --- | --- |
| Popularity | #153 |
| Groom Needs | Weekly Brushing |
| Kids Friendly | Yes |
| Dog Friendly | Yes with supervision |
| Watch Dog | |
| Family Dog | |
| Litter Size | 4 to 6 puppies |
Introduction
This sturdy, medium-sized dog, the Field Spaniel was years back developed to retrieve game from either the water or land. Today, they still retain their excellent hunting skills. Now they are wonderful friends and companions today for owners who love to have them – they give their family much entertainment with their high energy. And that means he has high exercise needs too; he needs plenty of space to run and go on daily walks. He loves water too, so prepare for him to make quite a mess around his watering dish! He stands around 7 inches at the shoulder and weighs around 45 pounds. They are good with children but don't like rough and loud play. Although they are alert and will bark when visitors approach, they do not make the best guard dog. Field Spaniels are extremely sensitive dogs and do not respond well to loud tones of voice or harsh handling. If they are not getting plenty of human companionships and kept in a kennel or a yard alone, they are going to become neurotic and experience behavioral problems. His coat needs to be brushed regularly; it comes in colours such as black, liver, roan, golden liver, or any of those colours with tan points. There are some who have small amounts of white on the chest or throat.
Living with Field Spaniel
History
This dog originates from England.
In the later part of the 19th century, he was developed to be a medium-sized all-black dog. This was quite unusual as hunters usually looked for white dogs so they could be seen easily in the field.
In 1901 they were divided by weight, and if a dog weighed more than 25 pounds he was rated a field spaniel, and if he weighed less than 25 pounds, he was classified as a cocker spaniel.
The field spaniel started out as a popular breed, but he ended up being cross-bred by some breeding fanciers that the public was not impressed with. A man, Mortimer Smith, made an effort to bring back the field spaniel to look good again. There was a time, too, when they were on the verge of going extinct and it was only thanks to some dedicated breeders in England who kept the breed alive. Some were imported into the States and the revival of the breed began. But it's a rare breed.
The AKC registered its first Field Spaniel, Colehill Rufus, in 1894. Unfortunately, there was a fire that destroyed a major kennel in 1909, and the breed disappeared in the United States, with the last registration occurring in 1930. Three dogs were imported in 1967, and it's these three dogs form the basis of the breed today.