Entlebucher Mountain Dog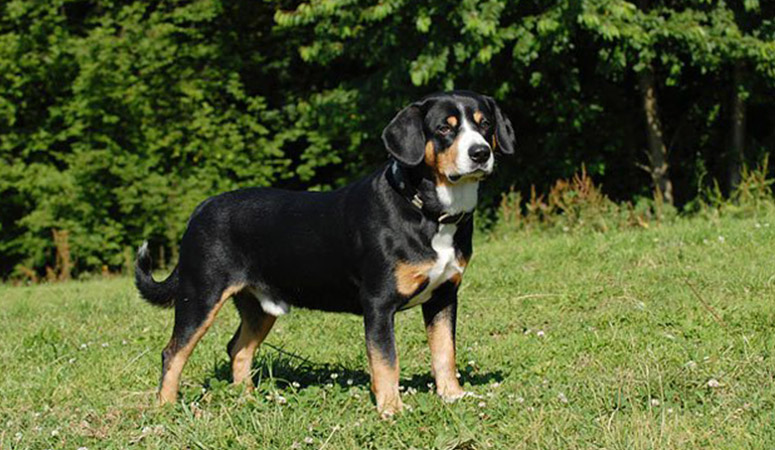 The Entlebucher Mountain Dog is the smallest of the four Swiss Mountain and Cattle Dogs, named after the valley of Entlebuch. He is a medium-sized herding dog with short, sturdy legs and strong muscle. They are known for agility, balance, and boundless enthusiasm, and need lots of exercise, family time, and direction to reach their full potential.
| | |
| --- | --- |
| Other Names | Entelbuch Mountain Dog, Entelbucher Cattle Dog, Entelbucher Mountain Dog, Entlebuch Cattle Dog, Entlebuch Mountain Dog, Entlebucher |
| Color | Black, Black White & Tan |
| Height | Males: 17-21 inches. Females: 16-20 inches. |
| Weight | Males: 55-65 pounds. Females: 55-65 pounds. |
| Life Span | 11-13 years |
| Personality | Loyal, Smart, Enthusiastic |
| Exercise | Needs Lots of Activity |
| Origin | |
| | |
| --- | --- |
| Popularity | #167 |
| Groom Needs | Occasional Bath/Brush |
| Kids Friendly | Yes with supervision |
| Dog Friendly | Yes |
| Watch Dog | Yes |
| Family Dog | |
| Litter Size | 7-8 puppies |
Entlebucher Mountain Dog Video
Introduction
Entlebucher Mountain Dogs are good-natured companions of the house, active and large enough for the hard jobs that come from time to time. Generally, they have a square build although the females are more squared. Entles have a well-proportioned head to their bodies and can get aggressive towards strangers. This breed requires lots of exercises as they are very active and energetic. They come in a tricolor of black, with white markings and tan (or mahogany). The coat is short, hard, and shiny.
A standard male of this breed stands 17-22 inches from shoulder to paw and weighs around 50-65 pounds. A similar female should stand between 15 and 20 inches at the shoulder and tip the weighing scale at 40-55 pounds. They belong to the Herding Group, and would normally span a period of 10-13 years before they eventually die.
Living with Entlebucher Mountain Dog
History
Switzerland has built quite a reputation for dairy and cattle products– meat, milk, cheese, and some chocolates. For centuries, Swiss farms and pastures have been occupied by grazing livestock, which generated a significant bulk of revenue. As would be expected in such farming practices, a herder or shepherd had to be involved. The Senn people of the region had their own share of agrarian life and were popular for their herding dogs which were of four distinct breeds, namely the Greater Swiss Mountain Dog, Bernese Mountain Dog, Appenzeller Mountain Dog, and Entlebucher Mountain Dog. They are collectively referred to as the Sennenhund-type dogs, of which the Greater Swiss Mountain Dog is the largest, and the Entlebucher Mountain Dog, the smallest. They are mountain dogs, all believed to have originated from molosser dogs brought into the region by the Romans, about 2000 years ago.
The Entlebucher Mountain Dog had originated in the valley of the Entlebuch river, where it was bred mainly to herd cattle and guard farmsteads. They were so hard-working and zealous that they earned a nickname synonymous to "Laughing Dog". The breed was well recognized in Switzerland and was registered into the Swiss Kennel Club Studbook. However, the First World War decimated their numbers and by the end of the war, there was hardly any dog to continue the bloodline of the Entlebucher Mountain Dog. Later in 1926, a breed club was founded in Switzerland, and, by 1927, breeding restarted with a few members collected across Switzerland. The Entlebucher Mountain Dog was recognized by the American Kennel Club in 2011.