English Foxhound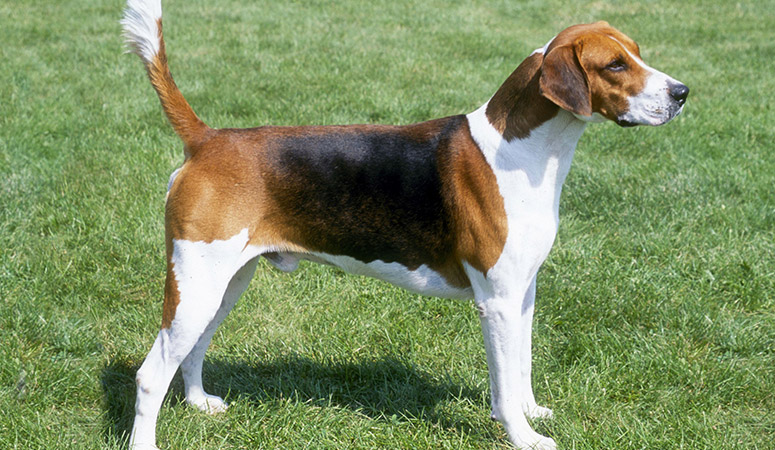 Here comes a English Foxhound. What an affectionate and gentle dog when accompanying their favorite human indoors, yet this breed can be stubborn and independent in training, competitive and energetic in all-out running. Good companions for active owners to hiking and running together.
| | |
| --- | --- |
| Other Names | FoxHound Ingles |
| Color | Black, White & Tan, Lemon & White, White |
| Height | Males: 22-25 inches. Females: 21-24 inches. |
| Weight | Males: 65-70 pounds. Females: 65-70 pounds. |
| Life Span | 10-13 years |
| Personality | Affectionate, Gentle, Sociable |
| Exercise | Energetic |
| Origin | |
| | |
| --- | --- |
| Popularity | #193 |
| Groom Needs | Occasional Bath/Brush and Regularly Shedding |
| Kids Friendly | Yes |
| Dog Friendly | Yes |
| Watch Dog | |
| Family Dog | |
| Litter Size | 2-8 puppies |
Introduction
An English Foxhound is ready to hit the road running, literally, at any point in time. They are well-built for it– level-backed, with straight and muscular legs, and a deep chest. The English Foxhound gets along with all that lives, people and animals alike, little wonder they hunt in packs! An active breed that was meant, obviously, for hunting foxes, but today has migrated to being a good friend to the children and a loyal member of the family. They come in a short, shiny coat which is weather-resistant. English Foxhounds appear in all hound colors, including tan, red, black, and white, with tricolors also acceptable.
Generally, English Foxhounds are roughly 23-25 inches tall, measured from shoulder to paw, and they normally tip the weighing scale towards 65 or 75 pounds. They live up to 10-13 years, on average.
Living with English Foxhound
History
It is widely accepted that the English Foxhound had been developed in the 1700s due to the depletion and scarcity of deer in England. Before that time, deer formed the target prey for hunts and sports, enjoyed by the sportsmen and the British Royals. The popular hounds for such a sport were the Deerhounds and Staghounds. But then, as the deer was gradually disappearing, there was a growing concern as to which prey was to be considered for gaming and sporting while the deer regained its former glory. That was how foxhunting became famous in 18th century England, birthing several breeds that were indispensable to hunting foxes. Amongst these, was the English Foxhound, widely believed to have descended from crossing Fox Terriers, Greyhounds, and Bulldogs, although a few other breeds have entered the gene pool over the years.
The Greyhound was probably bred in for its speed, the Fox Terrier for its hunting instinct, and the Bulldog brought its unwavering tenacity into the mix. The breed later became popular for sports and gaming, even in the royal kennels. During the British Raj, English Foxhounds were taken to India to participate in jackal coursing, but they were soon decimated by the sultry weather condition. The importation of English Foxhounds into America by British travelers began the history of some native American breeds, including a few coonhounds and foxhounds. The breed remains quite rare in America, being overshadowed by the native American Foxhound. The English Foxhound was recognized by the AKC in 1909.