Dalmatian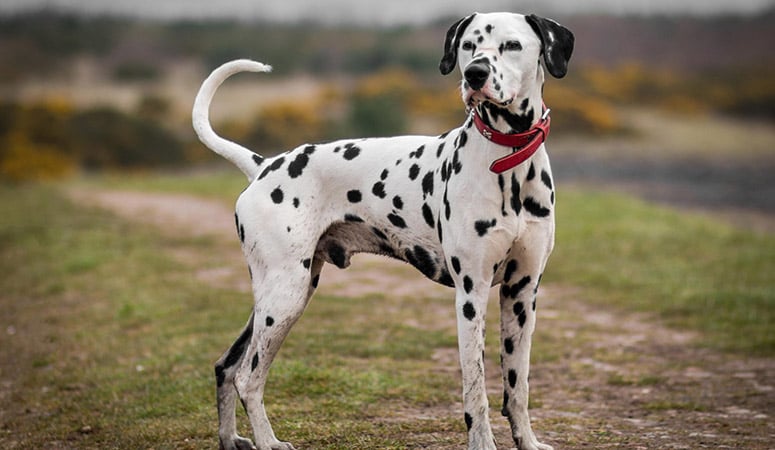 The Dalmatian is famous for its unique spotted coat, this dog breed has a history that could go back several hundred years. As highly active and intelligent, Dalmatians can be trained to be a coach dog and other positions, such as firehouse dogs, hunters, and circus performers. Now, they become a popular family pet.
| | |
| --- | --- |
| Other Names | Dal, Dalmata, Dalmatinac, Dalmatiner, Dalmatinski Pas |
| Color | White & Black, White & Liver Brown |
| Height | Males: 22-24 inches. Females: 19-23 inches. |
| Weight | Males: 59-71 pounds. Females: 53-64 pounds. |
| Life Span | 11-13 years |
| Personality | Dignified, Smart, Outgoing |
| Exercise | Energetic |
| Origin | |
| | |
| --- | --- |
| Popularity | #59 |
| Groom Needs | Weekly |
| Kids Friendly | Yes with supervision |
| Dog Friendly | Yes with supervision |
| Watch Dog | |
| Family Dog | |
| Litter Size | 6-12 |
Introduction
The Dalmatians which are today popular family pets and companions were once reputed as carriage dogs, tagging beside the coaches of noble people and were hardly a property of common people. They were also once prized by firefighters. The Dalmatian has a short and smooth coat that is darkly spotted. The spots are mostly black or liver in color. The Dalmatian is born with a plain white coat, after which spots begin to appear within the first ten days.
They are large-sized dogs with enough muscles to afford them a high level of endurance and incredible stamina. A mature Dalmatian stands anywhere from 18 to 25 inches height measured from paw to shoulder and weighs 45-70 pounds, with little variations between males and females. They are as reliable as watchdogs as they were wonderful coach dogs. They lead dignified and robust lives until about 11-13 years, around which most Dalmatians eventually die.
History
The earliest documented evidence of the existence of the Dalmatian breed dates back to early18th century Croatia in the archives of the Archdiocese of Dakovo, where Bishop Petar Bakić described a dog he referred to as Canis Dalmaticus in the church chronicles. Again, the name was used by another bishop in 1739. According to the FCI, Dalmatians originates from Croatia, although some historians link them to an Egyptian ancestry. The history of this dog breed has been traced back to the 1600s in paintings and Frescos in ancient Croatia where they were called the Dalmatinski Pas.
Thomas Pennant, in 1771, described this dog breed as Dalmatians, claiming that the origin of this breed is Dalmatia. It was in 1790 that the Dalmatian was referred to as Coach Dog in Thomas Bewick's General History of Quadrupeds. This was due to the tolerance of the Dalmatian to horses, and its spotted coat which endeared it to the upper class. So, in those days it wasn't an uncommon sight to find a Dalmatian trotting beside a carriage or coach. There are reports that say that Dalmatians were even used as guard dogs over the horse stables at night.
It wasn't until the breed was introduced to England in the 18th century that it began to develop progressively into what we know today as Dalmatians. The first standard for the breeding of Dalmatians was drafted in England by Vero Shaw in 1882, but it only became officially accepted in 1890 after the founding of the first breed club in England. In America, these dogs have come to be associated with water wagons and firefighting, even as mascots for firefighters.