Dachshund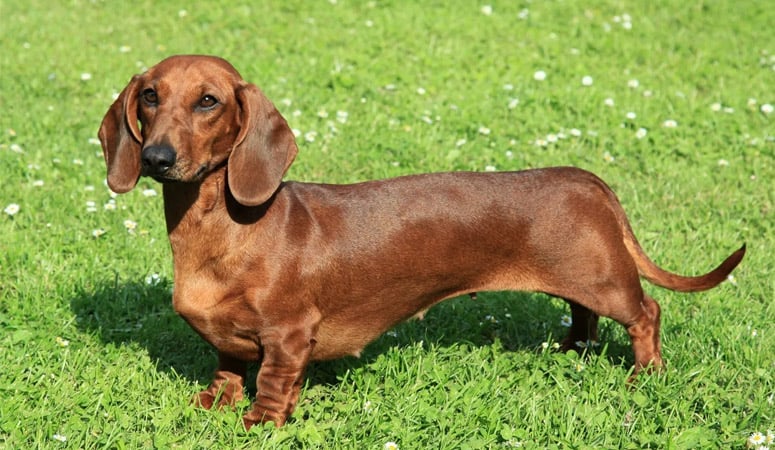 Dachshund is a long-bodied, short-legged, hound-type dog breed, in two sizes and in three coat types which can be smooth-haired, wire-haired, or long-haired of various colors and patterns. Dachshunds were developed to scent and chase badgers or other tunneling animals, rabbits and mice. Nowadays, they are wonderful family companions with alert expression and vivacious personality.
| | |
| --- | --- |
| Other Names | Dackel, Kaninchen (Rabit), Normalgrosse, Normalgrosse (Standard), Normalschlag, Normalschlag (Standard), Teckel, Zwergteckel (Miniature), Zwert (Miniature) |
| Color | Black, Black and Tan, Blue, Brown, Red, Silver, White |
| Height | Males: 14-18 inches. Females: 13-17 inches. |
| Weight | Males: 12-32 pounds. Females: 11-31 pounds. |
| Life Span | 12-16 years |
| Personality | Friendly, Curious, Spunky |
| Exercise | Regular Exercise |
| Origin | |
| | |
| --- | --- |
| Popularity | #11 |
| Groom Needs | Weekly |
| Kids Friendly | Yes with supervision |
| Dog Friendly | Yes with supervision |
| Watch Dog | |
| Family Dog | |
| Litter Size | 4-8 |
Introduction
A pure hybrid between a variety of hounds and terriers, Dachshunds are a unique blend of fascinating features. Imbued with short, sturdy legs and elongated trunks, Dachshunds make for excellent crawling and burrowing dogs. Their ability to scent keenly singles them out as exceptional tracking and hunting dogs. Little wonder they lived through the times hunting badgers, mice, and rabbits.
The Doxie or Wiener dog, as they are popularly nicknamed come in two sizes distinguishable either by their weight or their height. While the standard-sized type weighs between 16 and 32 pounds, the miniature size packs around 11 pounds at best. Of course, the standard size presents a huger appearance (8-9 inches in height) than their miniature fellows that rise to a mere 5 or 6 inches at the shoulder. A remarkable thing about Dachshunds holds that varieties are easily distinguished by the circumference of their chests.
Smooth, wirehaired and longhaired are words which have been used to refer to the coats of different varieties of the breed. Dachshunds have an average lifespan of about 13 years. When they aren't burrowing or hunting badgers, they are a bundle of vivacious and lively companions. The American Kennel Club (AKC) ranked Dachshunds 12th most popular among dog breeds in the U.S.
History
The search into the history of Dachshunds has met with certain disagreements, notable amongst which is the confusion as to when the dachshunds were bred for badger hunting. Generally speaking, Dachshunds have a German origin dating as far back as the Middle Ages. The original German breeds were larger than the present-day breeds and had discrete straight-legged and crooked-legged varieties, as opposed the modern Dachshunds which are only crooked-legged.
To say that the veritable history of Dachshunds is in doubt is to belittle its complexity. Earlier reports had it that the smooth-haired type was a cross between the Bracke, German Shorthaired Pointer, and Pinscher. Others maintained that they were hybrids of the St Hubert's Hound. Notable authors have also linked the smooth Dachshunds to the French Pointers as well as the Basset Hounds.
The Long-haired Dachshunds have a less critical origin. There are claims that longhaired Dachshunds were birthed from a cross-breed between smooth Dachshunds and several small Spaniels of the land and water types. A second account has suggested that smooth Dachshunds occasionally gave birth to offsprings with long hair. A deliberate cross between these long-haired offsprings probably resulted in the longhaired Dachshunds.
The most recently developed variety of wire-haired Dachshunds are probably hybrids of a cross between a smooth Dachshunds and several terriers.