Collie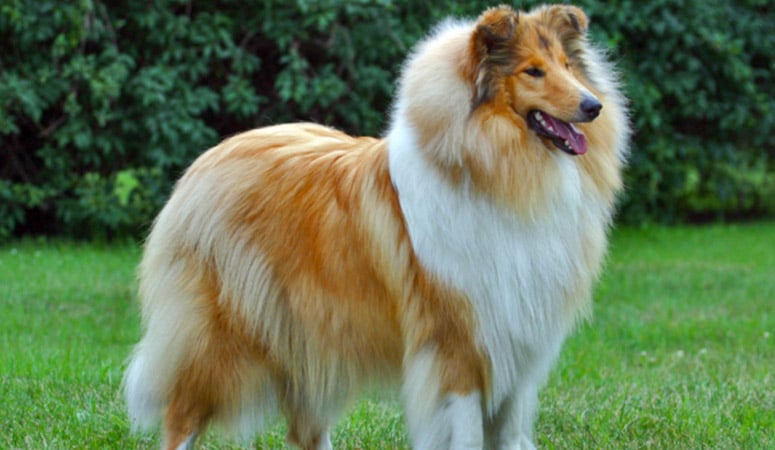 The Collie is an active, lithe, strong dog that combines strength, speed, and grace. They were bred for herding sheep in Scotland, they have two types of coat. Collies may be one of the best family dogs as they are devoted to the entire family, easy to be trained, and they need little grooming.
| | |
| --- | --- |
| Other Names | Collie, Rough, Rough Collie, Scotch Collie, Scottish Collie, Smooth Collie |
| Color | Black, Black and Tan, Red, White |
| Height | Males: 22-26 inches. Females: 20-24 inches. |
| Weight | Males: 45-75 pounds. Females: 40-65 pounds. |
| Life Span | 12-14 years |
| Personality | Devoted, Graceful, Proud |
| Exercise | Regular Exercise |
| Origin | |
| | |
| --- | --- |
| Popularity | #38 |
| Groom Needs | 2-3 Times a Week |
| Kids Friendly | Yes |
| Dog Friendly | Yes with supervision |
| Watch Dog | |
| Family Dog | Yes |
| Litter Size | 8-12 |
Introduction
The Collie is the kind of dog that everyone says in their lifetime; 'I want to have a dog like that one day'. Many thousands of people still remember the star of the famous, evergreen true movie, that of Lassie. Lassie is so typical of the real-life Collie of today; extremely intelligent, sensitive, just an all-round amazing dog! They are medium-sized, weighing around 70 pounds and standing around 26 inches at the shoulders. They are easy to train, devoted, protective dogs, with a friendly disposition – but of course always suspicious of strangers. Even though good watchdogs, they are not aggressive. They are beautiful to look at too; possessing a full coat of hair that indeed needs grooming. The Collie comes in four colors: sable (like Lassie), tricolor (black with white markings and tan shadings), blue-merle (silvery blue and black), and white (predominately white with markings). Nutritional food for this dog is a must and plenty of exercise; they bark a lot if they are bored.
History
The Collie originates from Scotland, primarily from the Highland regions.
Some historians believe that the name Collie comes from the Scottish black- faced sheep that the dog used to guard so much in earlier years because the word Collie is the Anglo-Saxon word for 'black'. Others say that the Collie's ancestors were brought to the British Isles by some Roman conquerors, at least 2000 years ago.
William Secord, an author, says that the Collie was originally introduced to England by shepherds that brought their flocks over the borders. By 1895, there were seven breed clubs. What was once a rough and ready working-dog became, by 1896, a refined and elegant show-dog.
Queen Victoria loved all animals, but she particularly loved the Collie. She had a sheep farm on her estate at Balmoral. Sharp was the name of her favorite collie. The Queen's loyalty to the Collie was enough to catapult it into prominence in the show ring, even though she was not a major exhibitor.
In 1879 the first English Collie was imported to the USA. It was from England that American fanciers sought their big winner and a good foundation for future stock. The Collie Club of America started in 1886, making it one of the oldest American specialty clubs in existence. The Collie was recognized by the AKC in 1885.
Today, the Collie ranks around 36th in popularity at the American Kennel Club.